This month we are going to the Western Cape of South Africa for one of my favorite wines of all time Jam Jar Sweet Shiraz.  Shiraz is also known as Syrah elsewhere in the world.  The Western Cape is absolutely gorgeous, something I can attest to having visited  in 2008. Cape Town is famous for the Stellenbosch wine region, the area that produces the grapes used in Jam Jar.
Jam Jar Sweet Shiraz is a beautiful deep burgundy red, and the nose is just as beautiful and fragrant. I smell pepper, chocolate, red berry, spice, and cassis.  This wine pairs well with anything from pizza to red meat, to roasted chicken – but it is a wine that could easily be sipped alone – which is how I usually drink it. This Shiraz also works well with a rich, decadent chocolate dessert.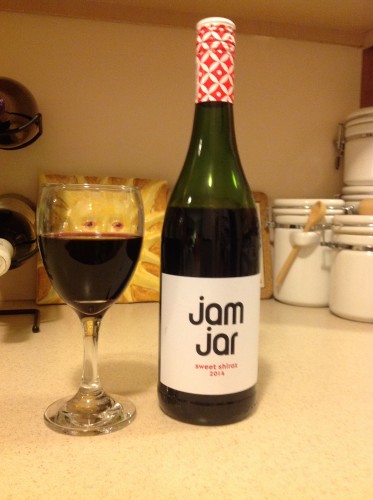 Jam Jar Sweet Shiraz has a nice medium body but it does not dry your mouth out. (Meaning it is not overly tannic.  The tannins in very dry wines are what can make your mouth feel like you dried it out with a paper towel)  It is an easy drinking wine that is balanced nicely between sweet and spicy.  The finish  is somewhat medium. I find it does not linger in my mouth but at the back of my throat, which I think works really well when being consumed with food.
At $7.99-9.99  per bottle,  this wine is a steal! If you are like me, you'll buy at least two bottles or up to half a case at one time. I think this is a great wine to take to a party  because it works well for those who love wine but is also well received by those who are not seasoned wine drinkers.  I hope you go out and try Jam Jar Sweet Shiraz.  If you do, please leave a message bellow and tell us what you think.  Until next month, warm regards and stay warm!