Happy New Year!! Well, it's already the end of the month,  so I'm sure by now any and all resolutions made on New Year's Day are either in full swing or have fallen by the wayside.  Nonetheless, it's time for another review and this month we are reviewing Vin De Pays Du Val De Loire Chenin Blanc.  Since it's the New Year, we are trying something new and  going to the Loire Valley in France!
I happen to really like Chenin Blanc and this one did not disappoint. Would I call it top 10? No, more like top 15… it's definitely a good one. This is a very light clear wine with a tinge of green straw. The aroma is earthy; you do not smell fruit or sugar, but more mineral aromas.  This wine opens a bit sweet but it does not last, it almost immediately turns to a more earthy, rocky taste and that is what lingers.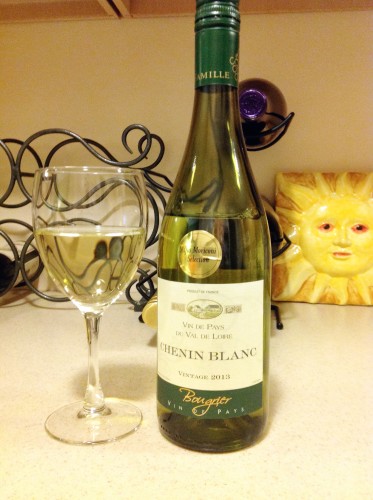 I find this wine has a lot of acidity, which to me always goes great with spicy and Asian food.  I would also love this wine with some fresh oysters. (Now that would be divine!) One might also want to serve this with a cheese board. This wine is only 10% alcohol so it's on the lighter side, which is great. It retails between $9-10 per bottle. Finally, do not be turned off that this is a screw top bottle, from France no less. Though not as sexy as a cork, a screw cap helps to keep down the cost of your wine.
Have you tried Chenin Blanc and are you a fan? Please let us now by leaving a comment. Also if there are any wines you'd like us to consider tasting, drop us a comment.