No one I know is completely happy with their body. We look at ourselves and no matter how "perfect" we appear to others, we almost always find something to fuss about.  One such area for me is my stomach. As I get older the ability to shed belly bloat/fat or camouflage it is becoming trickier with each cocktail consumed. And some days I'm okay with that, on other days, I'm not. This is where the Thong Shaper By Amia can help.
Now, while I want my stomach to be "controlled," I don't necessarily want my butt squished, nor do I want to feel like my whole body is in traction. I'm not about that waist trainer life that we see proudly paraded on social media. I want to be able to move freely and stay cool, especially in the summertime.

FEATURES
Power latex panel for firm compression
Two row hook and eye closure gusset for bathroom convenience
Adjustable shoulder straps
RESULTS
Visibly reduced waistline
Smoothed midsection and back
Improved, more confident posture while wearing it
No visible panty line
The shaper is available in S, M, L and XL — because I like to do things the hard way, of course I am in between sizes.  When I was first sent the Thong Shaper By Amia,  the medium was almost like a death grip on my waist, shaving off a whooping 1.5 inches, and it was more difficult to get into than a weekend performance of Hamilton. While the waist cinching is impressive, my waist is not really the problem area for me, it's the area below my waist that needs 'assistance'. The large offered some great cinching of the waist but only average stomach control below my navel — the area where I'm most concerned.  After I lost a few pounds (gym 3-4 times per week) the medium was a much better fit.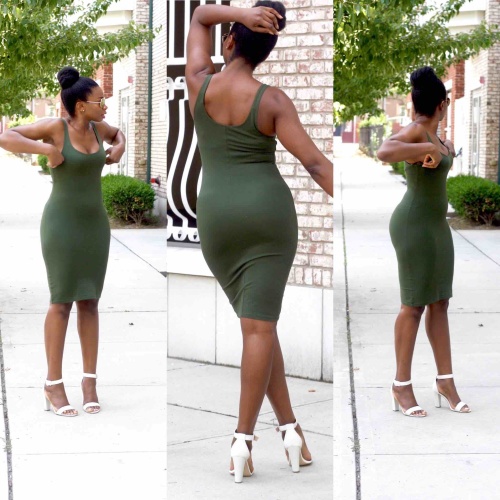 The thong design is ideal if you want to smooth your stomach and cinch your waist without flattening your butt.  HOWEVER, the thong in the butt can become uncomfortable after a while…especially if you pick the wrong size.  The large was more comfortable but didn't offer the tummy support I needed. I wear the medium but I cannot wear it for an extended period — maybe 3-4 hours.  I most definitely cannot wear it all day.
This design has a hook in the crotch to allow you to relieve yourself without taking it off. This is essential  because I can guarandamntee that you would pee on yourself if you had to pull it down for every bathroom visit. I'm serious — this is not a test!
The Thong Shaper By Amia comes up over the waist and stops below the breast. It has two straps and allows you to wear your own bra. This is perfect because finding the right bra is another challenge. In a pinch, if you are wearing a strapless dress, something with spaghetti straps or a racer back, you can tuck the straps into your bra. The garment won't slip down… at least it didn't on me.
My dress size is between an 8 and a 10 and I can now wear the medium.  If I move up to a 10-12 then the large is the one I would select. The bottom line — It works! It will smooth your stomach and cinch your waist. The degree to which it does so depends on how much discomfort you are willing to tolerate and for how long.  If you are in between sizes, size up.  If you have birthing hips like I do, size up!  If you want to wear this on a steamy date that you think will end in a romp — SIZE UP!
Thong Shaper By Amia is available in beige and black and retails for $54 (on sale now for $31.99).  You may find it here.
Do you have a favorite shaper?