We are always striving to have perfect even-toned skin, that exactly matches our natural skin color – however the reality is sometimes we need a bit of help.  Even after applying a foundation to create a smooth canvas on the face, there can still be color issues that need to be addressed.  Foundation too yellow? Need a bit of brightening? Still struggling with some redness?  This is where color correcting products can be your best friend – helping to easily offset any skin tone issues.  MAC's newest collection, Prep + Prime CC Colour Correct is aptly named and offers 4 shades in both cream and powder products to address color flaws on the face.  Here is a look at the entire collection: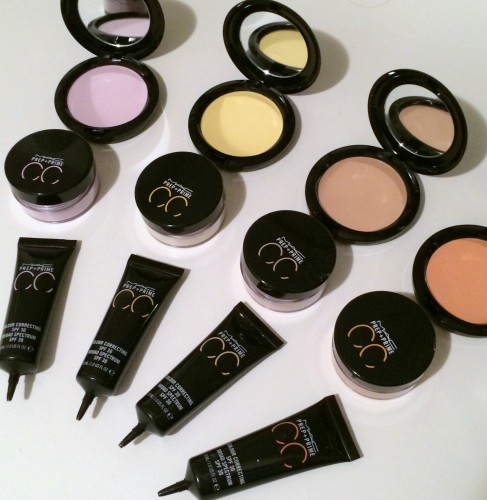 The four shades of the collection with swatches are:
Illuminate – lavendar – best for brightening up sallow skin or counteracting too much yellow
Neutralize – yellow – best for treating redness in the skin
Adjust – peachy beige – best for subtle brightening
Recharge – apricot – best for adding warmth to the skin
Prep + Prime CC Colour Correcting SPF 30: These are lightweight creams that can be used under makeup to address any irregularities in the skin tone.  The texture is extremely lightweight and wear beautifully under any foundation.  If the problem area is only on one part of the face, don't be afraid to spot treat only the places that need the correcting.  Available for $30.00.
Prep + Prime CC Colour Correcting Loose Powder: Finely milled is an understatement with these powders – they are incredibly sheer and stunning on the skin.  Use with a large fluffy powder brush all over the face, or take a sponge/powder puff and spot treat areas on the face such as redness in the cheeks or darkness under the eyes. Available for $24.00.
Prep + Prime CC Colour Correcting Pressed Powder: Color correcting on the go – is there anything better? A quick dusting of one of these powders can help to tone down redness, brighten under the eye or give a glow back to the skin after a long day.  The texture is identical to the loose but in a pressed form so it glides on effortlessly and is undetectable on the skin.  Available for $29.00.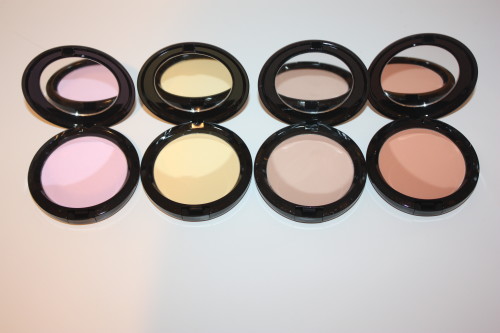 The collection is available now online at maccosmetics.com and will be available in store February 6th.