I remember the first time I tried an alternative to the traditional deodorant — my armpits broke out in little red blotches, a reaction to the propylene glycol which was the base of this  "natural" deodorant.
Fast forward several years and I can honestly say I have found another appropriate alternative to  the traditional deodorant — ROCK Deodorant Body Spray. ROCK is formulated with purified water, natural mineral salts and fragrances to block odor causing bacteria. The deodorant works to protect against odor for up to 24 hours, even under strenuous conditions (such as: working out, going on a job interview or meeting the Mother-in-law for the first time).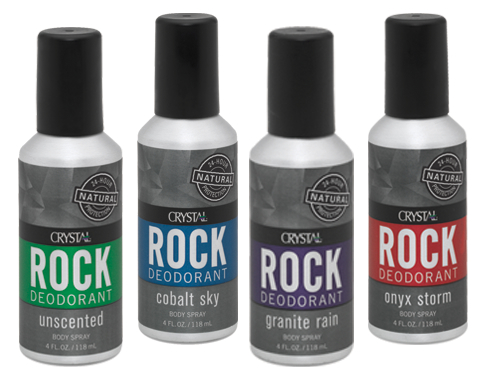 While I sweat quite a bit, I totally respect that "man sweat" is an entirely different animal (pun intended).  With this in mind I had my fiance try Rock Deodorant Body spray. I held my breath for his feedback because he is someone that has been using the same deodorant for more than 7 years, I mean the same brand, scent, everything. He was not concerned about the chemicals in his current deodorant but when I informed him of the differences and asked if he would switch to ROCK, he delivered a resounding "yes." He went on to say "I like it more than I expected to and it really does work."
Bottom line — if you are using a deodorant that contains harsh chemicals and you are looking for an alternative, ROCK Deodorant Body Spray may be right for you. Though this product appears to be marketed to men, I think it is good for both men and women.  I used the unscented version because the other fragrances are distinctively male.
Fragrances include: Onyx Storm, Cobalt Sky, Granite Rain and Unscented. For more information on Rock Deodorant Body Spray visit www.rockdeodorant.com. The Body Spray is also available at: Rite Aid, Duane Reade, Raley's, Wegman's, ShopRite and select Whole Foods Markets. Rock Deodorant Body Spray retails for $6.99