I used to think great skincare had to cost a lot. Boy, was I misguided, ill-informed…and maybe a tiny bit *gasp* snooty. But, hey — the recession (2008 was soooo painful) has a way of 'learning' you. The recession PLUS honing my craft as a Beauty Editor has taught me that good skincare need not compete my your car note. Which brings me to RoC Daily Resurfacing Disks…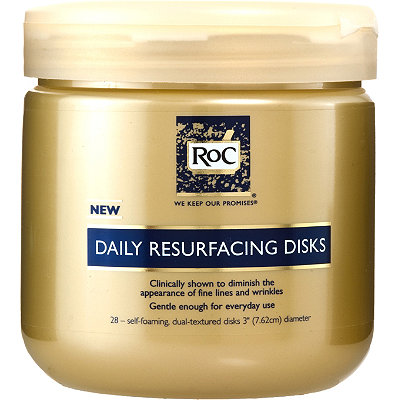 I'm TEXTURE OBSESSED and smooth skin is next to godliness (no it's not). I loooove smooth, even texture. Even if I have a dark spot that's healing (from a hormonal breakout…wahh!!), what matters most is that my skin texture stays smooth. And as vain as it may sound, makeup can do a lot to cover up a dark spot…but not so much when it comes to rough texture.
HERE'S WHAT RoC HAS TO SAY
Dual-sided cleansing disks incorporate a self-foaming cleanser to rid your skin of dirt, oil, makeup and other impurities on one side. The opposite side offers a gentle texture that exfoliates. Daily Resurfacing Disks by RoC diminish the look of fine lines and wrinkles. Reveals younger-looking skin.
HERE'S WHAT I HAVE TO SAY
RoC Daily Resurfacing Disks
can 100% stomp with the big dogs, meaning — this product performs just as well, if not better, than comparable anti-aging, resurfacing pads that you might find at a department store beauty counter or Sephora. If you want a polished, refined glow to your skin,
RoC Daily Resurfacing Disks
is a must add to your daily routine. The dual-sided pads pads cleanse and exfoliate, which is great for tailoring your skin care needs. Need a little buff?…flip the pad! Need a gentler cleanse?…use the other side. Honestly, these resurfacing disks couldn't be any easier to use. And the results? …glowy, brighter, more radiant skin with the first use!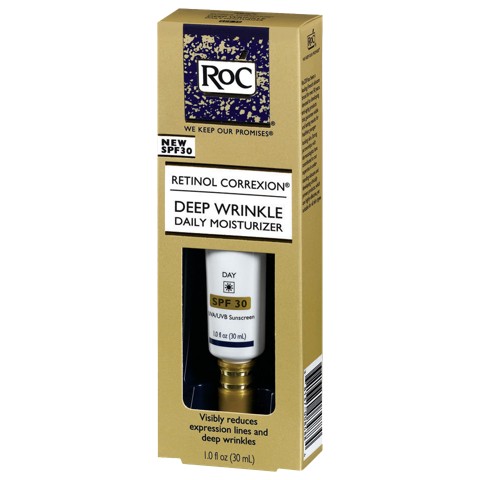 For long term results, I'm juuuust starting to test out the
RoC RETINOL CORREXION
line….and will report back shortly. But briefly: With all of the latest and greatest skin care developments out there, Retinol remains the gold standard/ #1 dermatologist recommended ingredient for anti-aging. If you're over 21 and you have skin — you should be working in a retinol product.
Do you have a drugstore steal you'd like to share?
Comment below!