While I hate to admit it — blemishes happen. True story! Currently, they seem to 'happen' mostly on my chin. . . my wretched, rude, hormonal chin. No matter how hard I try, the occasional zit is bound to pop up on my chin. Obviously, covering the little stinker is a given — all the world need not witness my struggle. But, what about healing as well as concealing the zit? That's where CoverFX Blemish Treatment Concealer comes in. . .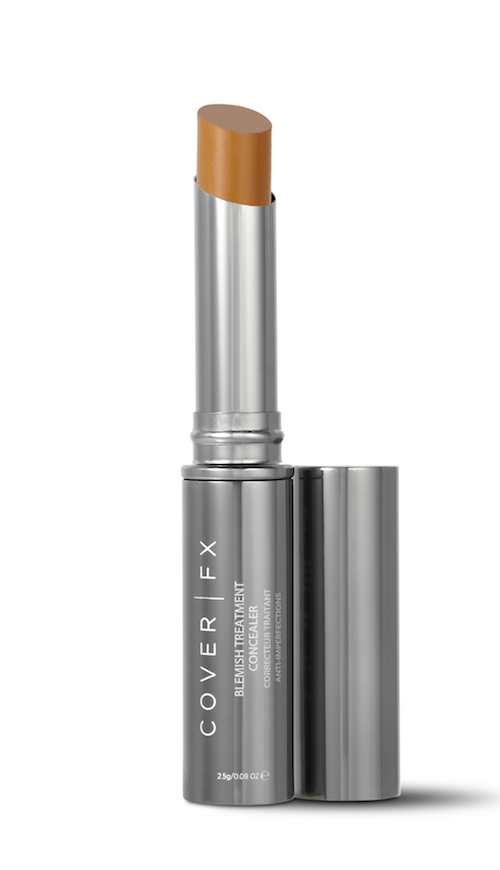 If you're keeping track of my CoverFX product reviews and Twitter chats over the last year (and I know you are:)) you know that CoverFX Blemish Treatment Concealer is the fourth product to launch in the brand's Banish Blemish Line — proof that CoverFX takes clear skin seriously! The entire Banish Blemish line includes BB Gel Mattifying Anti-Blemish Treatment, Blemish Treatment Primer, Blemish Primer Brush and now – CoverFX Blemish Treatment Concealer.
JUST THE FACTS
CoverFX Blemish Treatment Concealer has 1% Salicylic acid for attacking blemishes/breakouts
Bakuchiol (Babchi Seed Extract) increases cell renewal, producing Retinoid-like results without irritation or sun sensitivity
Dermaxyl and Oligopeptide help repair skin and reduce scarring caused by blemishes.
Hytosphingosine, a natural occurring lipid found in the skin, plus Bisabolol, a chamomile-derived anti-inflammatory, help reduce redness and soothe inflammation.
30% pigment load for full coverage.
Not recommended for use around the eyes (because of the 1% Salicylic acid).
Clinically tested.
Vegan.
Free of the Inflammatory 5: Paraben-free, Fragrance-free, Gluten-free, Mineral Oil-free and Talc-free.
 BOTTOM LINE
Zits suck! And while covering up is crucial, it's also important to treat and heal the skin properly to limit the appearance of post pimple scarring. The 1% dose of Salicylic acid is perfect…skin is calmed without any irritation. I love that CoverFX Blemish Treatment Concealer offers full coverage…I honestly hate sheer coverage — well let me rephrase that — When it comes to covering blemishes, nobod'y got time for cutesy, sheer build-able coverage. You want a concealer that can hide your indiscretion with a single tap. CoverFX Blemish Treatment Concealer delivers full on coverage with just a single swipe of the convenient little stick….speaking of "little stick" — the size of CoverFX Blemish Treatment Concealer scores major points in my book because it's so tiny and discreet. It's like an itsy bitsy little a secret weapon that banishes blemishes in a nano second. I generally apply directly to the affected area and blend/ pat with my finger tip. But the Concealer Brush works really well for targeted application.  For all day complexion perfection I recommend starting with CoverFX Blemish Treatment Primer and then CoverFX Blemish Treatment Concealer. Finally, set everything it with CoverFX Matte Setting Powder. And, voila!
SEEING IS BELIEVING
Check out my video below as I demonstrate how I apply  CoverFX Blemish Treatment Concealer:

WIN IT
Giveaway/Contest Rules:
This contest is open to US residents 18 and older. If you have won a prize from ThisThatBeauty in the last six months you are not eligible to win. This prize cannot be redeemed for cash. Please do not contact the makers and manufacturers of the items being given away  regarding this contest. While we do take every precaution to ensure packages are delivered to contest winners, we do not take any responsibility for items lost or stolen during the shipping process once we have confirmed shipment from our end.