When winter hits, finding the time to go get pedicures can be a challenge.  And even if you do find the time, you have to remove several layers of clothing just to give your pedicurists access to your feet. One of the best ways to keep your feet in tip-top shape during winter is to do your foot maintenance at home and not allow your feet to get too out of hand.  I don't want you ripping through sheets, defuzzing blankets  and scratching up loved ones, so, I have put together the foot care routine you need this winter as a guide to help you keep  your feet smooth and moisturized throughout the season.
It all starts with proper cleansing of the feet.  Some people may not have the extra few minute each day to thoroughly cleanse their feet and apply moisturizers and that's okay — I'm not judging you, 'adulting' is hard and I don't know your life.
Here's a quick trick that I use for a mini foot soak and scrub: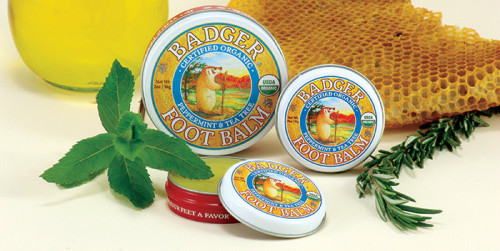 About once per week (usually on the night before I'm going to clean my tub) I plug the tub before I take my shower and add a little baking soda to the bottom. While I take my shower, water accumulates in the tub and my feet get a quick soak in the baking soda while I shower.
At the end of my shower I use the foot file to quickly scrub away the dead skin revealing smooth, soft feet.
I rinse my feet (and the tub) pat dry, apply my lotion then, massage a liberal amount of Badger Foot Balm into my feet before putting on my socks.   If you use this method once per week (all winter long) your feet will be happy!
Ok, let's say you don't want to do mini foot scrubs once per week but you prefer to Netflix and Pedicure — here is the routine for you!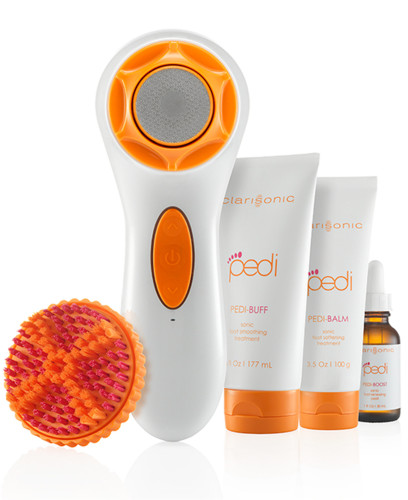 Your wine is poured, your movie is selected and you are ready to get your happy feet on:
If you are wearing nail polish remove it and start with a 30 minute soak in a basin or foot spa. ( Did this a lot in college and not because winter but because my coins were spent elsewhere.)
Dry feet with a towel, take a sip of wine and grab  Clarisonic Sonic Pedi Pro Foot Transformation System and go to town.  With this device professional pedicures are strictly optional.
Use a cuticle pusher to push back cuticles and apply Sally Hansen Instant Cuticle Remover. Wait about 5 seconds (max) and brush away dead cuticles.
Rinse feet and apply Karuna Foot Mask. These foot masks are formulated with -Shea Butter, avocado and coconut oils to moisturize as well as glycolic and lactic acids to soften and gently exfoliate feet.
Remove foot mask to reveal soft, super hydrated feet
Honestly,  with so many options available to get feet in the condition you want them, having rough, dry feet, cracked (aka jacked up) feet during winter or any other time for that matter, is strictly a choice. Hopefully these tips will help keep your feet nice and smooth until open toe season when pedicures can happen on a whim.