If you do your own makeup, consider yourself an artist. Whether you use brushes, sponges, or your fingers with liquids, powders, or creams, you are using color to create art on your face. With art comes color theory. The Art of Color Correcting will get you that much closer to creating flawless makeup looks without piling on product.
Color Correcting uses certain colors to make imperfections disappear…albeit temporarily. Use the color correcting tips below  to camouflage everything from red pimples to dark circles and everything in between.
For Dark Skin Tones: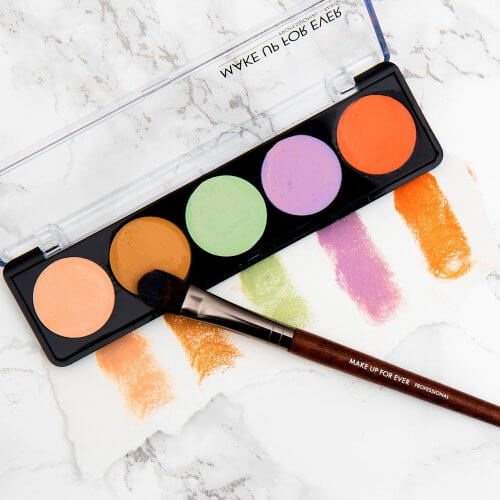 Red or dark orange colors will cancel out any dark spots, such as old acne scars or dark circles. You can put your favorite red lipstick on double duty by using a little as a corrector or grab a color corrector palette by one of your favorite brands.  (Christene shares hers here). Make sure you pick out the one for dark skin tones. You'll know it's for you when you see a dark orange in the mix. Makeup Forever 5 Camouflage Palette $40.00
For Medium Skin Tones:
Orange, peachy colors, and yellow go a long way with medium skin tones. Use these colors to correct dark under eye circles, acne scars, or even blue or purple colored bruises. For any redness on the skin, use green to neutralize it right away. It'll look like it was never there in the first place and that's without adding a drop of concealer or foundation. Motives Color Corrector Quad $38.50
For Light Skin Tones: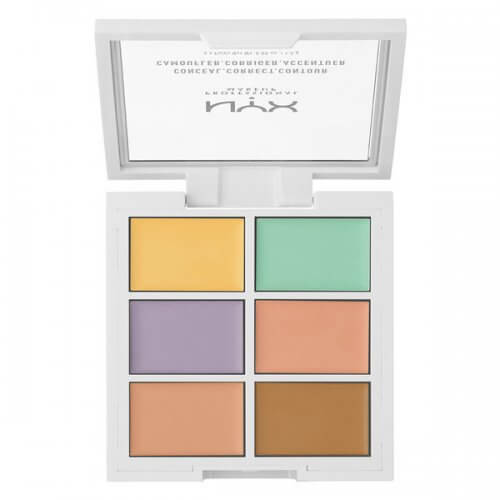 Pastels such as pink and lavender are your go-to it you have a fair to light skin tone. A light pink corrector will cancel out discoloration and brighten the skin, while lavender neutralizes yellow or sallow looking skin. Lighter skin tones can also use green in order to neutralize redness on cheeks and around the nose. NYX Color Correcting Concealer $12
The right color correctors will brighten and even out skin tone without the use of concealers or foundations. It's seriously an art and I'll even go as far as saying it's simply magical.