Temperatures are sky high right now and getting outside to enjoy the last few weeks of summer seems to be the only thing on anyone's mind. Between the music festivals, weddings, and other shindigs, a hostess with the mostess has to make a plan of attack for hors d'oeuvres just as much as she does her face and attire. 
As an event planner, I know that putting the finishing touches on your decor, balancing a tray of cocktails in heels, and tending to your guests can leave a girl a little hot under the collar. But this is the prime time for entertaining, so, I've put together a few tips to help you beat the heat and look fantastic doing it.

1. Hydrate – It is beyond a fail to over-serve anyone, but as the host(ess), you need to be on your Ps and Qs. For every clink you make, double that in H2O — and, that goes for before, during and after the bash. Your skin will thank you, and you'll be able to keep your wits about you long enough to actually enjoy the festivities.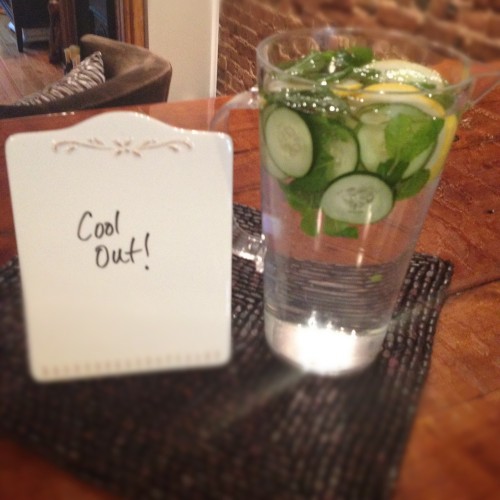 Whether it's a refreshing pitcher of cucumber water, or making a snack out of summer's favorite fruit, a fresh take on hydration often helps make it feel less like a chore. Currently lusting over BKR's "Gloss" bottle (shocker), which is too pretty not to use.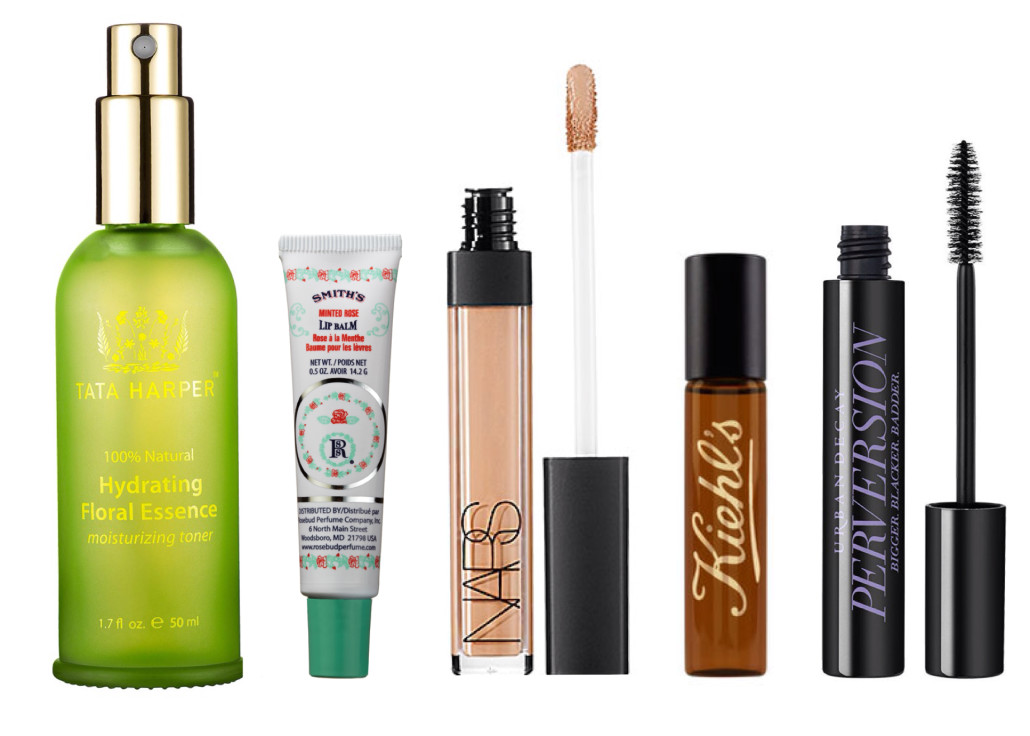 2. Dress Lightly, and Carry a BIG Bag – As an NYC transplant, I have mastered the art of stuffing my wares for an entire day into a chic tote. I tend to wear my uniform of a mini shift dress, and party shoes for when things actually get underway, BUT my secret arsenal tends to go something like this: 
Facial Mist: Tata Harper's Hydrating Floral Essence ($85) is the best treat on the days when you go sans makeup, or as a base for the perfect face. 
Makeup Essentials: Nars Radiant Creamy Concealer ($29) for a quick touch-up, Urban Decay Perversion Mascara ($22) gives my eyes the wakeup call that they need after a long day, and Smith's Minted Rose Lip Balm (the tube cuts down on risk of a literal meltdown) as the final touch to a summery glow. ($5.99)
Roll-on scent: I'm obsessed with my Essence Oils with Roller Ball Applicator, not only for the purse-perfect size, but also because the subtle scent won't overpower, or leave you not faking the funk. 
Elastics and Bobby Pins: These babies go hand in hand for quickly touching up your coif, or creating magic when the heat and your hair aren't getting along. 
Always have a spare: shoes, dress, you name it. ALWAYS. Once you're running on enough adrenaline not to notice your shoes, stacked heels are all the rage, BUT until then – get a festive flat to run around in. If they're fancy enough, you may not even want to change. 
3. Plan ahead – Prime example for me to test these tips? The NYC Lady Project's Summer Bash — the show most certainly still went on even after a torrential downpour, and very much during some sweltering temperatures. But, with a summer-friendly spread of light bites, cool cocktails, and warm-weather blooms, the festivities went off without a hitch.