For me, a conversation about great skin always starts with radiance and even tone. While I now know far more about skin care and product ingredients than I did 6 years ago (when I first started blogging,) it is always interesting for me to try new products and learn about new ingredients. When those products and ingredients promise radiance and even toned skin I am that much more intrigued. I was recently introduced to Revelations RX — a line of skincare products that was born from wound healing technology and uses "patented Celluation technology clinically proven to deliver up to 26 times more vital ingredients below the skin surface."
What Does Revelations RX Offer?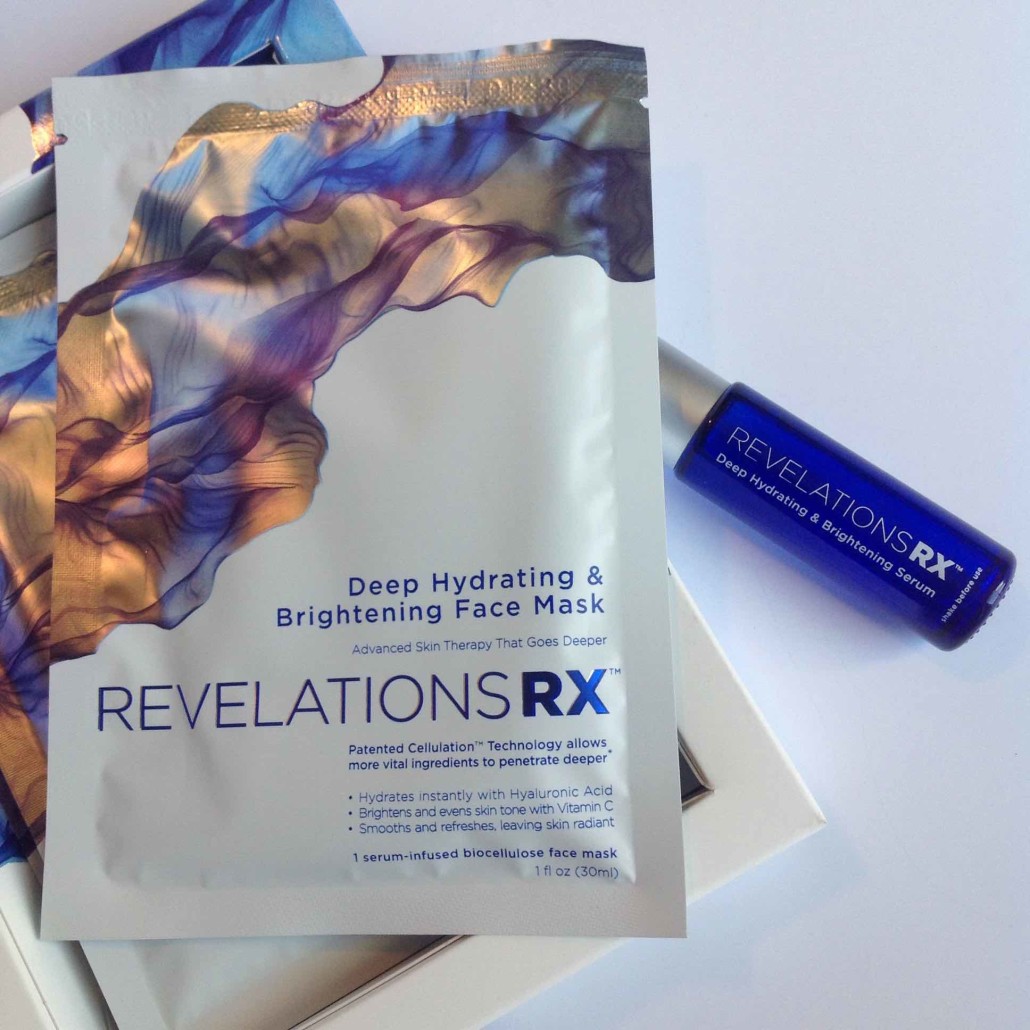 Deep Hydrating & Brightening for Face – a sheet mask and a super lightweight serum with a roller ball applicator that uses hyaluronic acid to restore moisture and vitamin C to improve tone. (Masks $60, Serum $40)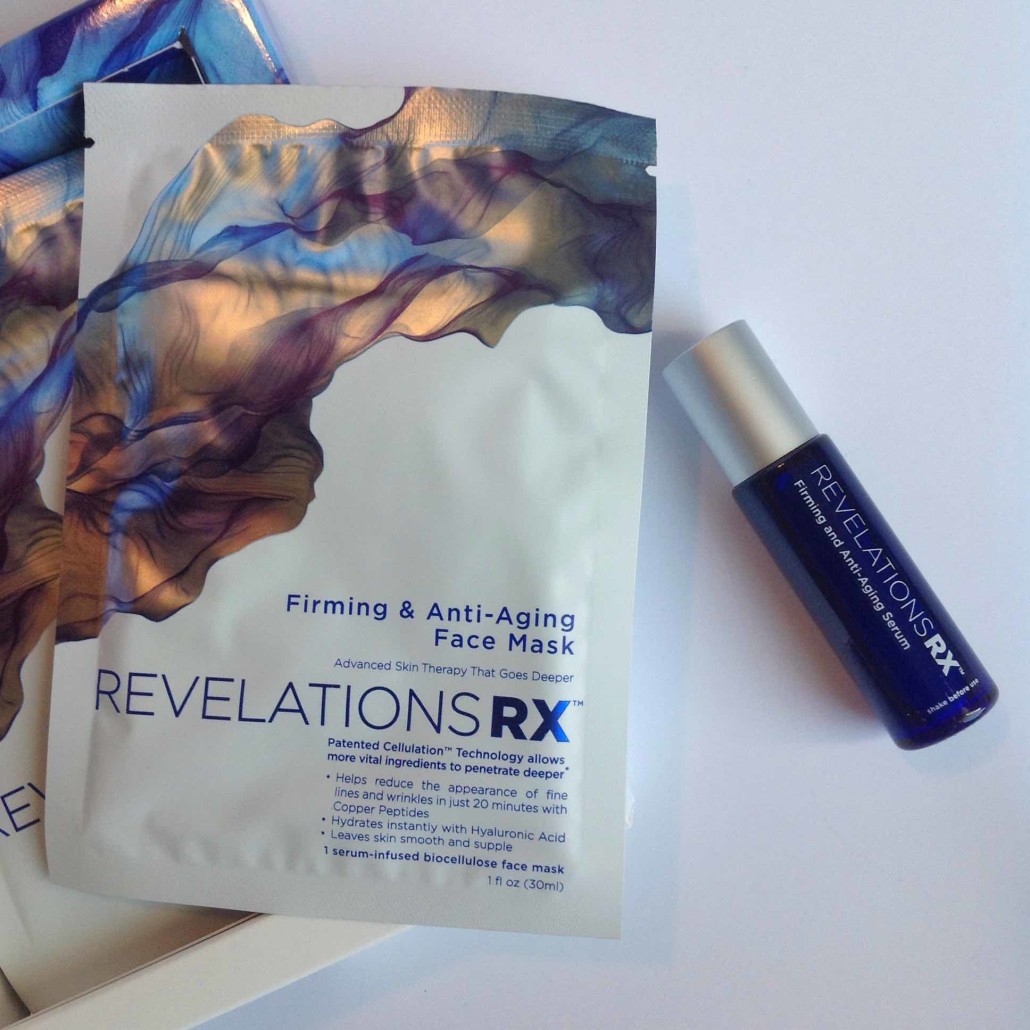 Firming & Anti-Aging for Face – also uses hyaluronic and contains caffeine, DMAE (an ingredient clinically proven to help tighten skin), Vitamin C and E and other ingredients to help smooth out wrinkles, hydrate and nourish skin. (Masks $60, Serum $40)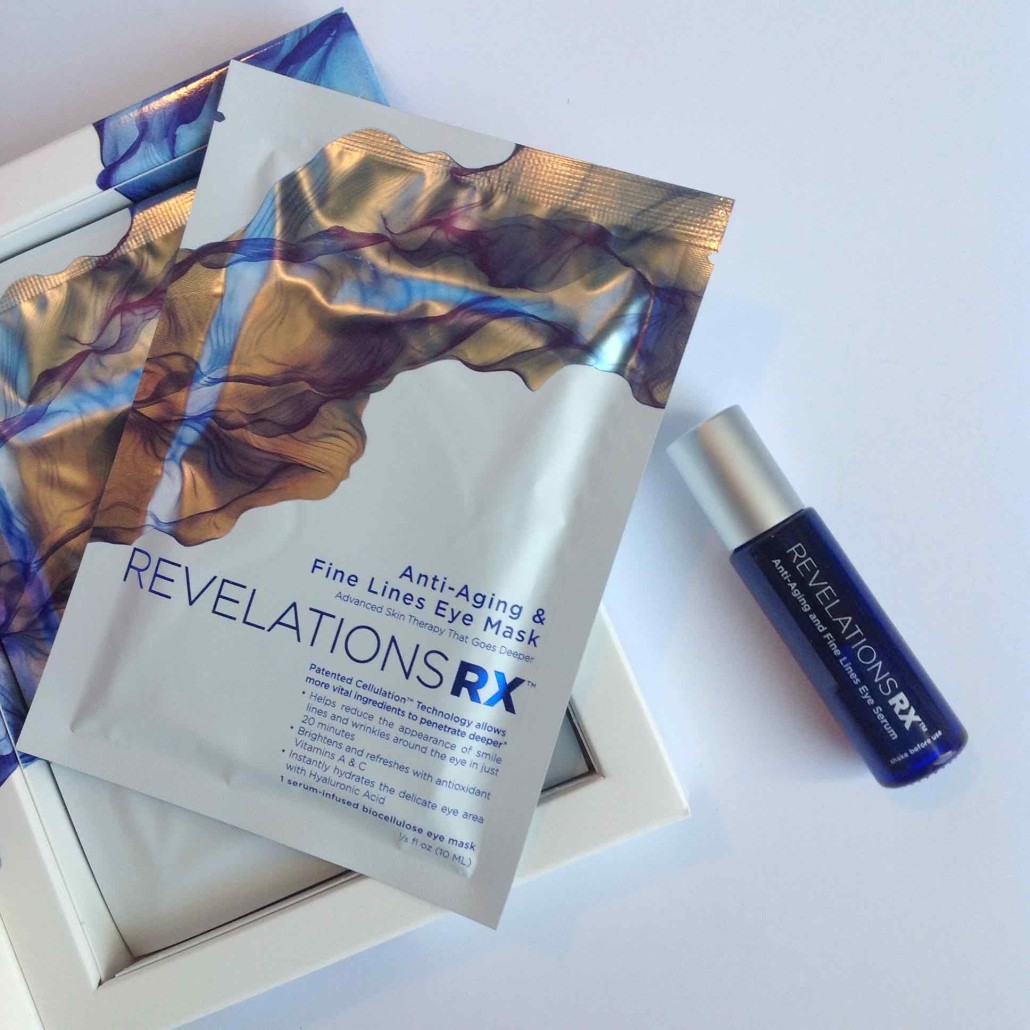 Anti-Aging & Fine Lines for Eyes – features an eye mask that promises an eye "pick-me-up" in 20 minutes and an eye roller serum to enhance the results of the mask. Both use a blend of hyaluronic acid, copper peptides, and essential vitamins and nutrients to target fine lines and uneven texture around the eyes. (Masks $54, Serum $40)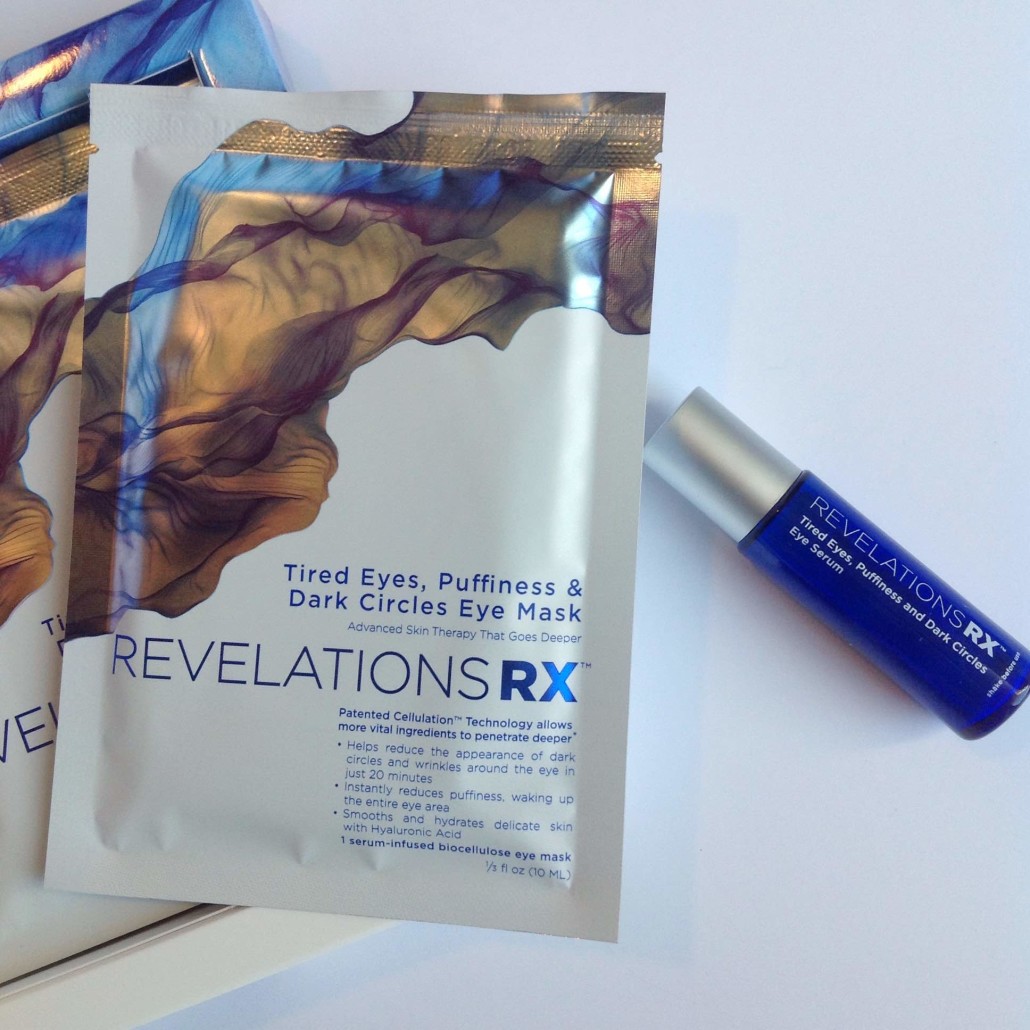 Tired Eyes, Puffiness, & Dark Circles for Eyes – this line uses vitamins A and K is formulated specifically for the delicate under-eye area. The Eye Mask and Anytime Eye Serum Roller work together to refresh and revive the eyes. (Masks: $54, Serum $40)
I kicked off my Revelations RX experience with the Deep Hydrating & Brightening for Face because based on the condition of my skin, that was the most logical place for me to start. Praise the Gods I don't need anything for fine lines, wrinkles dark circles or sagging skin — but if I did, Revelations RX would have me covered.
I have used one Deep Hydrating & Brightening for Face masks and it does offer instant hydration.  Seriously. The masks are made of natural biocellulos and molds like skin to the face, allowing the serum to work its magic. I followed up the mask with the roller ball serum and it left my face refreshed. If you are used to products feeling heavy or sticky on your face, you are in for a treat with Revelations RX. After removing the mask and applying the serum, it felt like I had just spritz my face with floral water — my face felt and looked refreshed, like my skin just had a ice cold glass of water.
I think the Revelations RX products are great add-ons to a basic skincare routine. While the serums give skin a boost daily, the eye and face masks are perfect for once weekly targeted treatment of your  area of concern — whether it be dull skin, loss of firmness or fine lines and wrinkles.
Check me back in a couple of weeks for a complete review of the Revelations RX Deep Hydrating & Brightening for Face and  Tired Eyes, Puffiness, & Dark Circles for Eyes.  In the meantime, if you are looking for a line of products to give your skin a boost, try Revelations RX.
Each set of four Revelations RX face and eye masks retails between $54 and $60 and each serum retails for $40.  You may find Revelations RX on the company's website www.revelationsrx.com.
---
DISCLAIMER: This post is sponsored by Revelations RX.  As always, all opinions are my own and they were not edited by the sponsor.