Beyonce has made it difficult for me to say XO without singing, so, I have been singing every time I use XO from Mischo Beauty.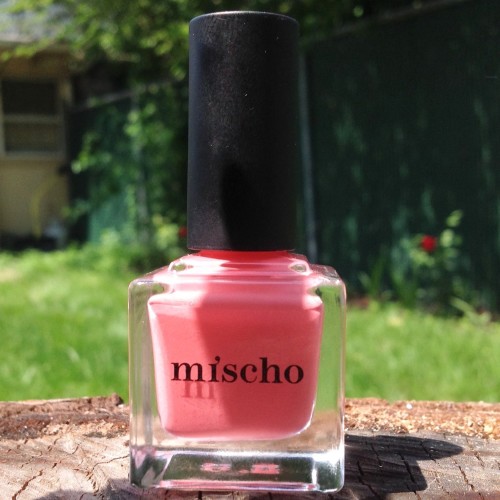 XO is a part of the Mischo Beauty Summer 2015 collection and is so very appropriately named…it just makes me happy.  I used three light coats to get the look below.
There are tons of tips out there regarding extending the life of a manicure, but my tried and true method is to:
Start with a base coat and allow it to dry completely (I'm loving this one from a recent GlossyBox)
Apply 1 thin coat of color and allow to dry completely (or at least about 80%)
Apply a second thin coat and allow it to dry completely.
Apply a third thin coat and allow to dry completely. (Optional)
Apply top coat
This might seem like it would take a longer time than applying coats back-to-back, but it actually doesn't. The drying time you add between coats, cuts down on the drying time you need after the manicure is complete. (This method routinely gives me 7+ full days of chip free wear across brands and price points.)
I'm on my second application of XO from Mischo Beauty and I see a third in my very near future.  So far this summer, it's one of my favorite shades.
All Mischo Beauty polishes are 5 free and retail for $18.  Look for them at Mischobeauty.com and on Amazon.