Since we are finally getting into warm weather, it's time for a white wine — and what better way to go than with a wine just about anyone can enjoy.  Kitchen Sink White Table Wine Reserve is very appropriately named as it is made from Viognier, Muscat, Semillon, and Sauvignon Blanc from various vineyards across California.  This straw colored white wine has hints of with a citrus, sweet apple and peach.  I wish I could tell you what it smells like but due to these gosh darn allergies my sense of smell is off. What I could smell was a bit of peach and honeysuckle – reminiscent of my recent trip to Hilton Head/Savannah (perhaps I was hallucinating.)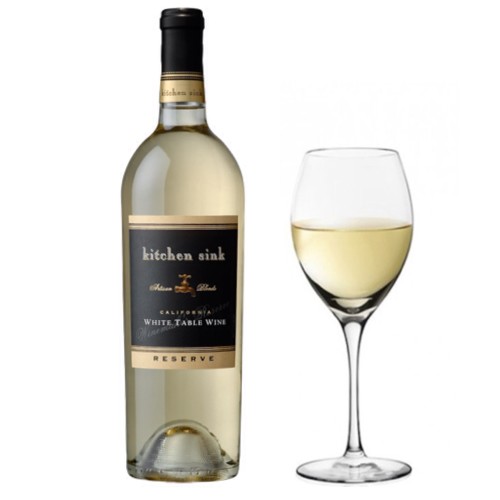 In addition to the fruits, there is also a slight oaky taste which I normally do not like, but it's good in this particular wine. If you are familiar with wines made from the grapes mentioned above, you can actually taste them if you allow it to sit on your tongue and linger for a while. [Something best done on your second glass :)]
I was turned on to an amazing fig spread while on my recent girls weekend  – each night we would take a cracker, a piece of cheese, and a smear of the fig spread and a sip of wine.  Kitchen Sink Table Wine wine would go perfectly with that combination and some fruit.  The beauty  and deliciousness of this wine would also be brought out when paired  with a light pasta or seafood dish.
Kitchen Sink White Table Wine Reserve retails between $9.99 and $11.99 per bottle and should be very easy to find. I highly recommend Kitchen Sink White Table Wine Reserve for this upcoming Summer.
Enjoy responsibly and be sure to pop back over and tell us what you think.