If you're going to take matters into your own hands, literally, and do your own facial at home — you have to have the proper accouterments. If you want to be pampered and luxuriate…light a candle & prop up your feet. But if you want to give yourself the most boss at-home facial ever…one that will make your regular aesthetician jealous — read on as I share the need-to-know on "How To Do An At Home Facial Like A Boss"…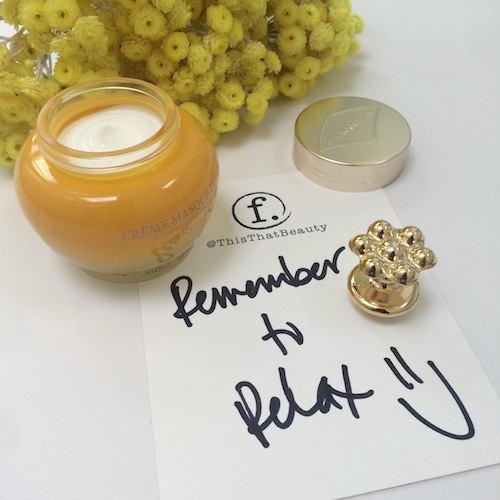 Log off:
Bye-bye social media…no smart phones allowed because a smart phone during a spa day is the opposite of smart. Nobody needs beeps, bleeps and updates disturbing the peace. Seriously, step away from the device for at least one hour. You will survive. Promise!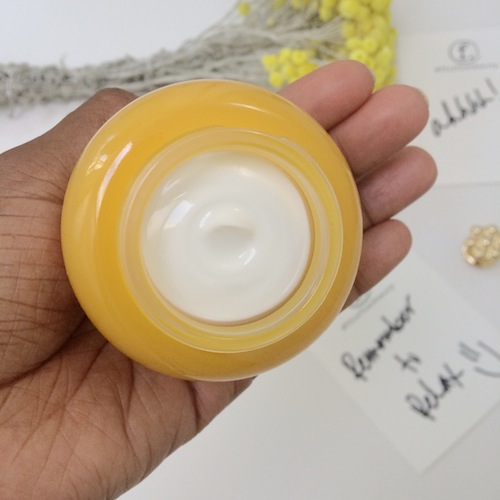 Use the best treatment products you can afford:
Now, this doesn't mean you have "break the bank"…but it does mean that your at-home spa day should feel special and it should involve products that are a bit more luxurious and higher performing than your usual face cleansing wipes and drugstore SPF.
I always double cleanse with a creamy cleanser and follow up with miceller water [This blog post explains what miceller water is and why you need it]. You might even want to enhance your cleansing experience with a Clarisonic, or my new fav cleansing tool, FOREO Luna.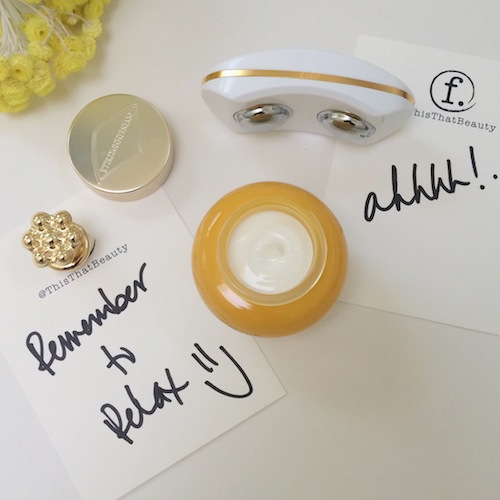 Feeling like doing the most? Incorporate steam after cleansing…. I've used the Huetiful steamer for years, but a bowl of warm water with a towel (carefully) draped over your head is totally adequate.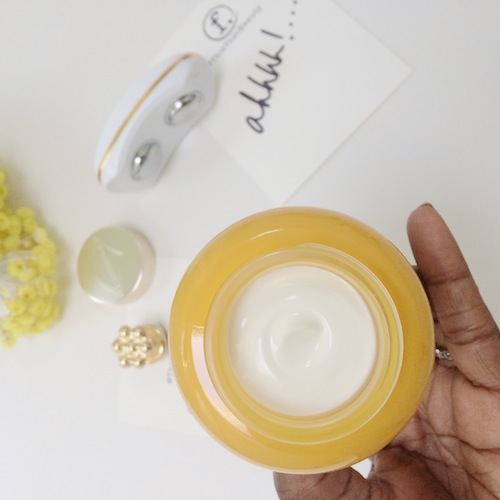 After a thorough cleanse, "masking" is an essential part of the at home spa experience. Now, I don't want to go so far as saying it's the ONLY thing that matters, but – it's definitely the star of the show. It's no secret that I turned 40 this year (#WaitWhatSheIs40 is a real Insta hashtag) so my masking options typically need to address anti-aging. I'm newly devoted to L'Occitane's Divine Cream Mask, a weekly facial treatment that's formulated to soften the signs of aging (dehydration lines, uneven tone, the look of fatigue, etc.) and impart skin with a radiant glow. What's really unique and different about the Divine Cream Mask (aside from the plant derived complex of anti-aging ingredients) is the special 24K gold-plated massage applicator that's used to help skin better absorb the good-for-skin benefits of the mask. Infused with Immortelle, an organic essential oil, skin immediately reaps amazing benefits like added nutrition and increased elasticity…a major plus as skin ages! The mask also includes Shea Butter to soothe and Cistus, an aromatic concentration that relaxes the skin and smooths the feeling of tightness.
Use the smooth side of the applicator, on bare skin. This helps to relax facial muscles (hey smile line, I'm talking about you!). To encourage circulation, use the textured side to massage the mask (once applied to skin) into skin.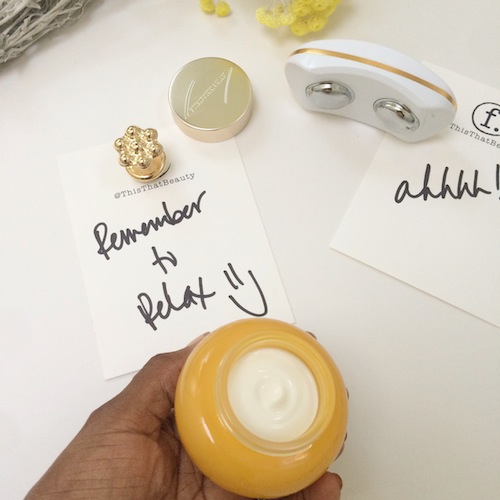 Get ZIIP-y with it:
I love being hip-to-the-tech on the beauty front, and ZIIP is one of the latest/ greatest beauty tools I've recently added to my at-home spa routine. The nano current skin care device is a great day-to-day treatment as well as a weekly boost to your at-home spa routine. While I'm all about my lifting and firming (because 40) my main use for ZIIP is to zap acne causing bacteria. Yep, tiny little nano currents zap away acne causing bacteria. And with regular use, ZIIP helps keep nasty bacteria at bay. Sound confusing? Well, there's a (super cool user friendly) app for that. When paired with the ZIIP app, flawless skin is now fool proof.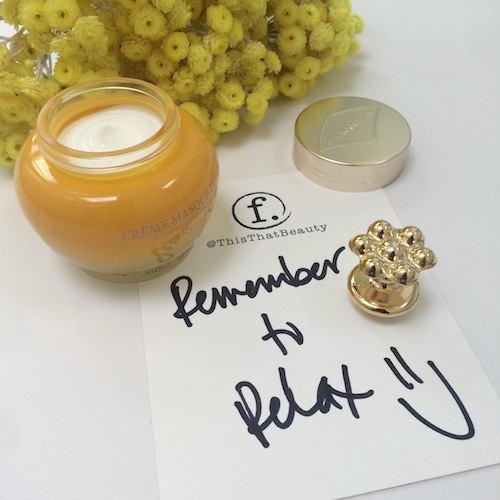 Protect your investment:
If going outdoors post at-home facial, remember to protect your skin with a broad spectrum SPF.
So there you have it…go forth like a boss and flaunt your amazing "at-home" facial. Girl, you're looking good!
*Post sponsored by L'Occitane. Opinions all my own.