It's finally October! That means it's prime time for, PSL, apple and pumpkin picking, and planning our Halloween beauty looks.
Halloween is great for discovering hidden beauty talents, and trying out all the new  makeup techniques and products that piqued your interest. While anyone can be a sexy firefighter or policeman, or even a mouse (duh!), we're far more interested in costume ideas that use elaborate and creative techniques that really push our limits on the face beat.
Ahead, check out our favorite Halloween costume ideas that are just screaming to be duplicated by beauty girls. Everyone at your next Halloween party should be afraid — of how awesome you'll look.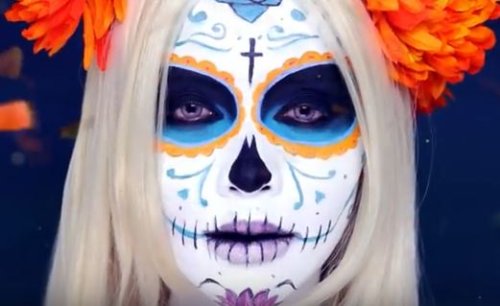 It goes without saying that skulls are a key part of the Halloween tradition. For a fresher take on the holiday skull, a traditional "Day of the Dead" version complete with floral head dress is a softer, more feminine take on what some might consider a scary idea.
Use white face paint as a base for the look, then add eyeliner or black face paint to define teeth and bone outlines. Use bright pops of color to add flowers around both eyes and finish the makeup look.
Tutorial:  Day of the Dead Sugar Skull
Photo Credit: Michelle Phan/YouTube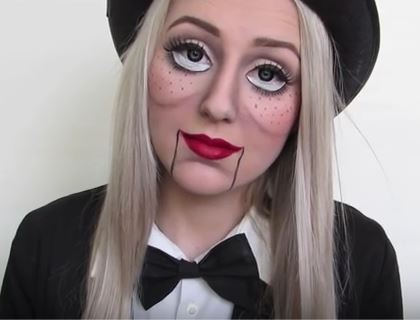 Ventriloquist dolls can be downright scary, which is perfect for the 31st. Although this look is simple, that doesn't take away from its creep factor. Add freckles, two black lines down the sides of your chin, and long faux lashes for that added doll factor.
Tutorial: Ventriloquist Doll
Photo Credit: Bonnie Corban SFX/YouTube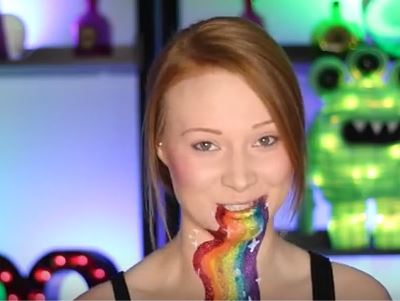 The rainbow filter on Snapchat is very recognizable, and perfect for a colorful Halloween beauty look. Use white eyeliner to define waterline, and an array of colors to create the rainbow drip from the bottom lip to the middle of the neck. Add lengthening mascara for an added eye pop!
Tutorial: Snapchat Rainbow Filter
Photo Credit: Madeyewlook/YouTube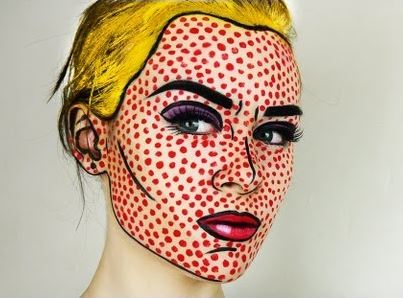 If you've always wanted your makeup skills to reflect a work of art, now is your chance. Lichtenstein paintings are  well known, and make for a clutch Halloween costume. Outline your face and facial features in black face paint, then add dots in the color of your choice across your face to mimic your favorite Sunday comic.
Tutorial:  Lichtenstein Pop Art
Photo Credit: Emma Pickles/YouTube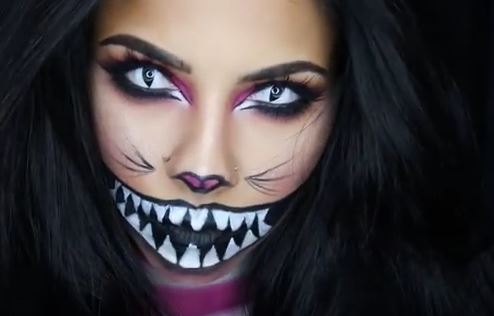 The Cheshire Cat is not only awesome in Alice in Wonderland stories, but also for Halloween gatherings, or even trick-or-treating at the neighbors'. Similar to the makeup for the sugar skull, use black face paint or makeup to outline the cat's wide smile, and white paint or shadow to define its teeth. Lastly, add a touch of pink for a nose.  As the Cheshire Cat was known to scheme, use the look as extra incentive to get all the candy you can – sneakily, of course.
Tutorial: Cheshire Cat
Photo Credit: TinaKpromua/YouTube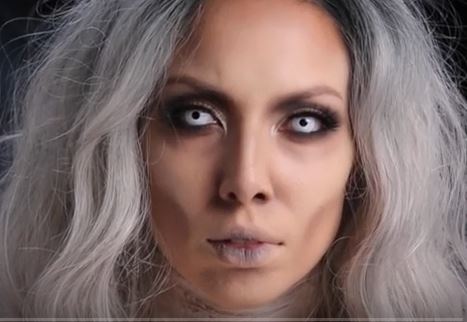 Another classic Halloween beauty look is the mummy, but you can take things up a notch by becoming the most glam mummy ever. Add in a gray wig and eerily colored contacts and you'll be looking undead in no time. 
Tutorial:  Mummy
Photo Credit: LustreLux/YouTube
7. Cleopatra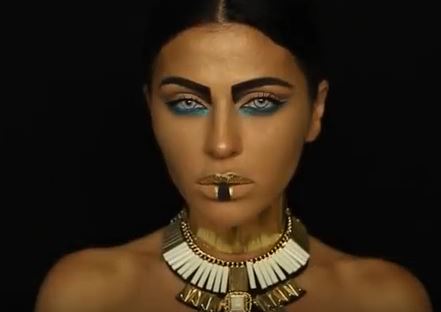 Who wouldn't want to be royalty for a night? Gold tones are key with this makeup look, so don't be stingy with the shadow! Add a few swipes of blue shadow underneath the eye for an additional pop of color, and a swipe of gold along the top, and center of the bottom lip for more statuesque definition.
Tutorial: Cleopatra
Photo Credit: Teni Panosian/YouTube
If Lion King is one of your favorite movies of all time, you might want to try the Lioness makeup look on for size. Don't forget your lion ears, and to create the biggest hair possible. We're talking max volume.
Tutorial: Lioness
Photo Credit: Desi Perkins/YouTube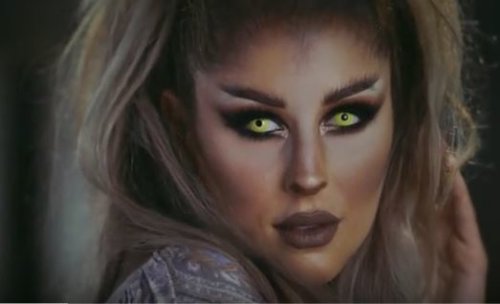 Along the same lines as the Lioness, there's something about Halloween that makes us want to release our inner animals. With this look, your friends will be convinced that you've gone through a physical change. Keep eyebrows more on the wild side, and stick with earth tones to create definition in the face. There's never been a better time to go crazy with contour.
Tutorial: Werewolf
Photo Credit: Chrisspy/YouTube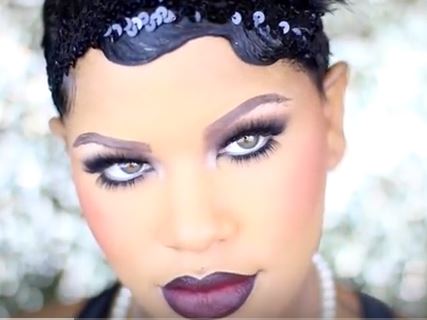 Want to go for ultimate glam this Halloween? The 20's flapper is the perfect look to evoke all things classic and over the top in the best way possible. Just like your outfit, don't be afraid to go big or go home with your makeup. Add a bold lip and sultry eye in the color of your choice, and The Great Gatsby ain't got nothin' on you.
Tutorial: Flapper
Photo Credit: Alissa Ashley/YouTube