How many 'miracle' hair products have you seen in magazines or on television in the last year?  With each of these miracle products there is always one or two ingredients on which all the claims are based. While some of these ingredients have scientific proof and live up to their claims to miraculously transform hair, many more do not. Coconut oil has stood the test of time and has much scientific evidence to support claims to help one achieve healthy hair. Coconut oil is currently experiencing a bit of a revival, thanks in part to the natural hair movement among women of color.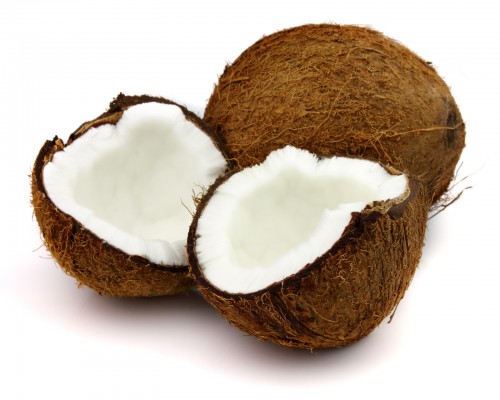 What is Coconut Oil?
Coconut oil is extracted from the kernel of mature coconuts. It is composed of medium chain fatty acids that contain saturated and unsaturated fats and has a melting point of 76 degrees Fahrenheit.  Virgin coconut oil has a shelf life of about two years if stored in a cool, dry place. Some fatty acids found in coconut oil include: caprylic, capric, lauric, myristic, palmitic  linoleic, oleic, ferulic and stearic. Taken separately these fatty acids found naturally in coconut oil have a myriad of applications, including cosmetic and otherwise. However, we will look at coconut oil as whole rather then individual elements, and focus on virgin coconut oil.
How To Use Virgin Coconut Oil on Hair
Studies have shown coconut oil has an affinity for protein (hair is protein) and reduces protein lost for healthy and damaged hair. One study found that coconut oil penetrated the hair fiber when it was applied and left on the hair over night.
The experiment did not detect the amount of oil that penetrated the hair only that the oil was present in the hair fiber after a pre-shampoo over night treatment.
To Replicate at Home:
Coat hair completely with coconut oil and cover with a plastic cap and leave on hair overnight. Follow the next morning with shampoo, conditioner and styling as usual.
Coconut oil also acts a sealant on dry hair for short term immersions in water and has been shown to reduce hair swelling by as much as 48%. This means that coconut oil completely coats the hair fiber and prevents water from getting into the hair shaft, which can cause damage to the hair, especially during wet combing.
To Replicate at Home:
Apply coconut oil directly to hair as the final stage of styling to help lock in moisture and prevent frizzing. If swimming or being immersed in water, coat hair in coconut oil before entering water to prevent significant swelling of hair.
How To Buy Coconut Oil For Hair
When buying pure coconut oil to be used in hair, look for an organic cold pressed virgin coconut oil.  Some coconut oils are expelled through processes that contaminate the oil with chemicals and others that destroy some of the more valuable properties of the oil. Suggested product: Trader Joe's Organic Virgin Coconut Oil. $9.99 http://www.traderjoes.com
It should also be noted that virgin coconut oil, due to its levels of saturated fat, is comedogenic and acnegenic. That is, coconut oil may cause the formation of blackheads, as well as cause or aggravate acneic skin. It might also prove irritating for people with sensitive skin. The best coconut oil option for sensitive skin is a fractionated coconut oil. Fractionated oil has some of the saturated fats removed. It is a lighter oil that is devoid of the coconut smell and stays in  liquid form at all temperatures. You may purchase pure fractionated coconut oil here.
In Part 2, which I will publish tomorrow,  I will focus on buying products containing coconut oil and make some suggestions of products to try.
When it comes to products and product claims, always get the facts, don't rely on miracles.
Let's Connect!
Research Referenced:
India, M. (2003). Effect of mineral oil, sunflower oil, and coconut oil on prevention of hair damage. j, Cosmet. Sci, 54, 175
Ruetsch, S. B., Kamath, Y. K., & Rele, A. S. (2001). Secondary ion mass spectrometric investigation of penetration of coconut and mineral oils into human hair. J. Cosmet. Sci, 52, 169-184.
India, M. (2003). Effect of mineral oil, sunflower oil, and coconut oil on prevention of hair damage. j, Cosmet. Sci, 54, 183.
Mills Jr, O. H., & Kligman, A. M. (1982). Comedogenicity of sunscreens: experimental observations in rabbits. Archives of Dermatology, 118(6), 417.