Here at ThisThatBeauty, we pride ourselves on helping our readers navigate the vast world of beauty. We selflessly lather creams on our faces, wear every shade of eye shadow imaginable and smell every fragrance we come in contact with, all for the betterment of beauty lovers everywhere. Today is no exception – we've rounded up the latest in celebrity and designer fragrances for the holiday season. Generosity abounds here, so, let's begin:

Lady Gaga Fame – Highly anticipated for all her "Little Monsters", this fragrance is as alluring as the singer herself. The juice color is actually black, but turns colorless when airborne – making it quite novel in the marketplace. Infused with notes of black cherry, apricot nectar and tiger orchid, the fragrance will ranges in price from $42 to $79.
Beyonce Midnight Heat – With an ever growing empire, Beyonce adds a new fragrance to her current scent portfolio (there are 6 to be exact!). New for the holidays, the fragrance is sweet and sultry with notes of Armenian plum, purple peony and warm amber, and retails for $59.00.
Closer by Halle Berry – I think all women can agree that not only do we perhaps want to smell like Halle Berry, we would not mind looking like her, either. New for the holiday season, Closer is a scent that triggers "emotion and desire" with elements of wild raspberry, cedarwood and vanilla bean. Price begin at $29.00.
Taylor Swift Wonderstruck Enchanted – After the wild success of her initial fragrance Wonderstruck, comes the long awaited follow up, Wonderstruck Enchanted. It's an "addictive balance of creamy flowers and sensual woods" and is slowly inching its way up the Sephora favorites list. Captivating and charming with notes of wild berry, pink poppy and white musk, this is sure to be a favorite of the holiday season. The 1.7oz EDP retails for $49.50.
Now that the ladies will have a great holiday season, we surely do not want to leave out the men. Here is a look at some great fragrance options (celebrity and non) for the men in your life.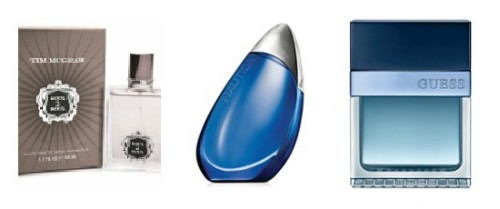 Soul 2 Soul Tim McGraw – Inspired by the relationship with his country superstar wife, Faith Hill, this fragrance is a fresh and modern scent with a base of masculine woodsy notes. Beginning with bergamot zest and white pepper, followed by cilantro and oak tree, and finished with vetiver and musk, this scent has new limited edition sets perfect for the holidays and at a great price point starting at $21.99.
Nautica Aqua Rush – This scent fits the active, adventurous man in your life and is created with notes of coriander, water mint and amberwood. EDT pricing begins at $49.00.
Guess Homme Blue – A fragrance and fashion brand about as iconic as can be – this fragrance is a seductive scent that mixes peppery top notes with an earthy base. Notes of citrus caviar, black pepper and cardamom come together to create this magnetic fragrance. Starting at $49.00.
There you have it, a fragrance round up sure to delight all the people on your holiday shopping list. Just make sure to save one for yourself!