I remember it like it was yesterday. There I was, 30 years old and in the ladies room of a dotcom which shall remain nameless. And another woman, maybe only 6 or 8 years my senior, was doing her daily midday eye cream application: *tap, tap, tap* with her ring finger. I glanced; she caught my quizzical stare and instructed, "Get a head start on your eyes. You're young and fresh now. Now is the time to start using an eye cream. Don't wait until you actually need it…like me." She then let out a deep, regretful sigh.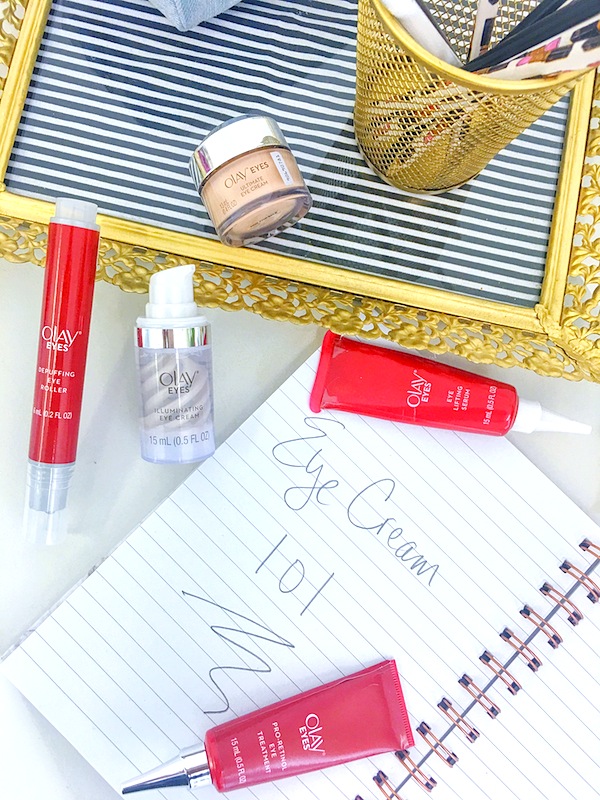 I was stunned by this ladies room confessional situation. Man, those words pierced my brain like you would not believe. By then, I was already a card-carrying beauty girl doing my beauty bloggy thing. I had dutifully pledged my daily allegiance to a routine of cleansing, toning, hydrating and protecting with my skin with daily broad spectrum SPF. But, BUT – eye cream was the missing link.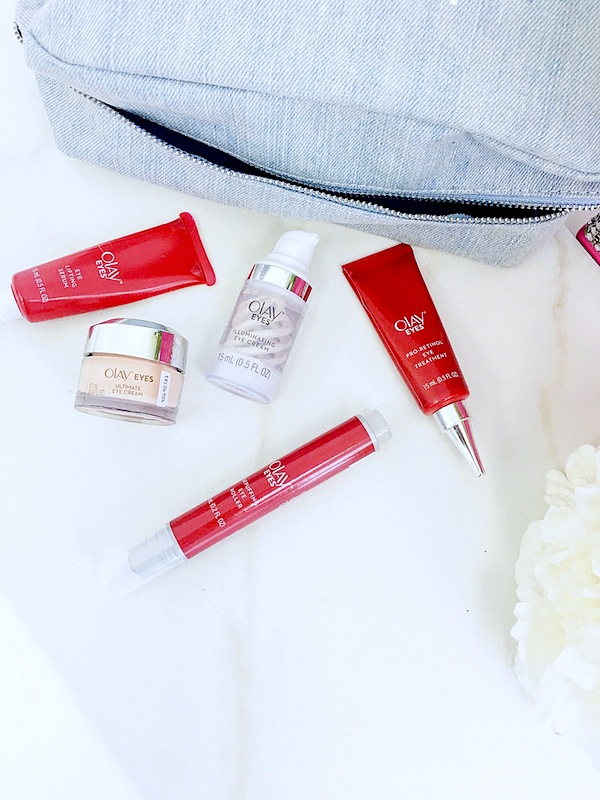 So, eye cream….
How had I missed the memo? I mean, are the eyes not the windows to the soul? Are eyes not our most notable feature? Well, according to a recent Olay study, eyes are also incredibly vulnerable. Olay's research concluded that skin around the eye area ages more rapidly than the rest of the face. Which means – brace yourself – the eye area can look up to 20 years older than the rest of your face. Do the math – Face: 20, Eyes: 40! See, RIGHT THERE. This is the missing link.
So, at that point, I began my journey to finding the best eye cream for my 30-year-old eyes. And If I have any wisdom at all to impart at 41 years old [and you know I do because I'm almost 42 years old and my skin looks better today than it did 8 years ago], it's this – If you're old enough to legally drink Tequila, you're old enough to be using an eye cream. And here's where Olay can help.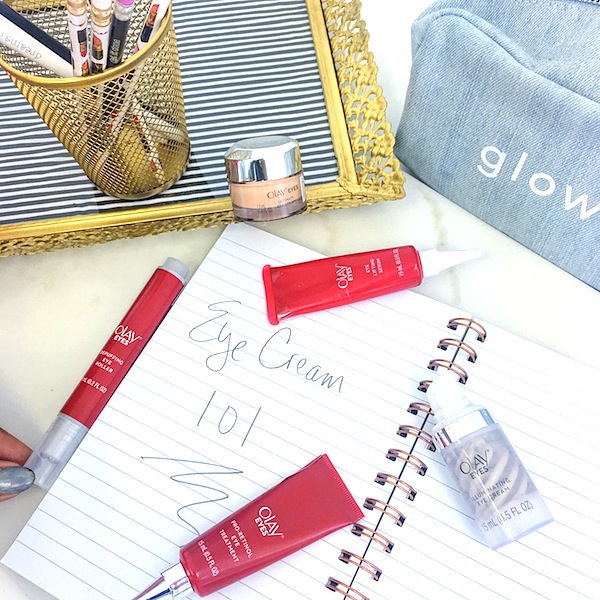 There's help…
Olay, a brand we all know and trust, offers a curated collection of eye creams and serums designed to address the five aging concerns most commonly associated with * welp * aging eyes: dark circles, puffiness, wrinkles, sagging and overall eye care.
A dedicated eye care product in your regime is a MUST…it's non-negotiable, just like SPF. No other product in your routine addresses the eye area. Sure, concealers HIDE eye area flaws, but let's prevent and correct. Shall we?
Which Olay Eyes product is right for you?…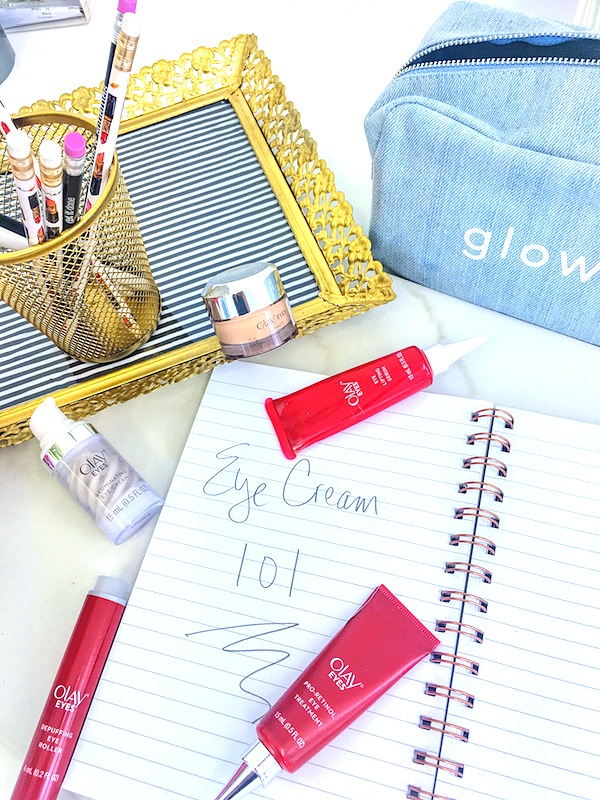 20's
At this stage, hydration is the most important benefit you can bring to your eyes. Lack of moisture can lead to dehydration…and dehydration lines. Try Olay Eyes Ultimate Eye Cream. It gives eyes a head start on everything and melts into skin seamlessly. If you've never used an eye cream, this is a great place to start.
30's
You're tired and it shows. Late nights and early mornings are starting to take its toll. Try Olay Eyes De-Puffing Eye Roller. It perfectly addresses those puffy bags that you want to send packing. The roller ball tip helps improve circulation and lessen the appearance of puffiness.
If dark circles are also part of the equation in your 30's, consider doubling up with Olay Eyes Illuminating Eye Cream. It immediately brighten the under eye area as it treats the root cause of the darkness.
40's
Part corrective eye cream and part Master Illusionist, Olay Eyes Lifting Serum not only addresses my top eye area concern (sigh, sagging) it also imparts a sort of 'golden hour' glow to the eye area….which totally camouflages my fatigued facade. I've been using this for the past 3 weeks and will have before and after pictures to share in an upcoming blog post.
By your 40's, Retinol should be a wrinkle-reducing fixture in your skin care routine. In addition to currently using Olay Eyes Lifting Serum for day, I am also using Olay Eyes Pro-Retinol Eye Treatment at night. Nothing battles wrinkles quite like Retinol. Dermatologists recommend it for wrinkles more than any other ingredient…because it's proven to work very very well. I've been using Olay Eyes Pro-Retinol Eye Treatment for three weeks and will do a full review once I hit the 4 week mark ….but what I can say now is this – Olay Eyes Pro-Retinol Eye Treatment is extremely gentle to the delicate eye area. It doesn't burn, sting or cause irritation like other eye Retinol products I've tried in the past.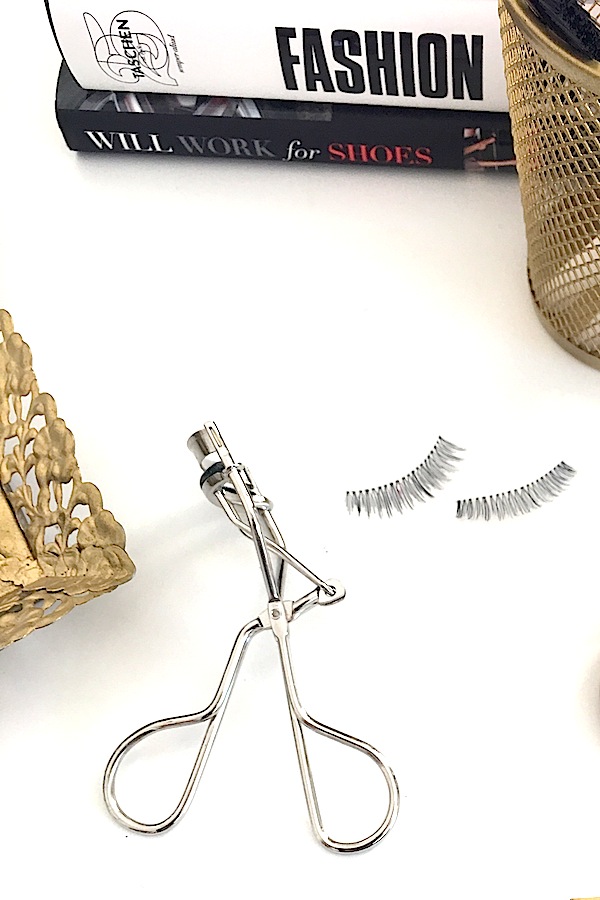 I'm excited to partner with Olay and continue the conversation of eye care over the next week or so. As you know, I'm all about my skin care. And when it comes to the eye area, the smallest improvements can make a huge impact. We all know the boost of confidence we feel after a fierce brow shaping or a few coats of black mascara! Well, the same is true for the right eye cream. It can make a lasting impression and dramatically improve the youthfulness of your eyes.
Sponsored post.  As always, opinions are 100% my own.  Thank you for supporting the brands that help make ThisThatBeauty possible.