Usually when we talk wedding hair we have to allot at least an hour to get the styles we want. This not only goes for brides but sometimes bridesmaids as well. A large wedding party can mean several hours and hundreds of dollars to coif and curl tresses. Though it's a special occasion and we ALL want to feel like queens, sometime our budgets can't bear the weight of our crown and we have to be crafty to get what we want.   If you are all about easy DIYs that save time and money,  this chic wedding hair video tutorial is for you!
BTW… Once your hair is styled, give it a nice spritz with a holding spray and smooth it over with your hands.
Recommended:
Featured Products for Chic Wedding Hair:
IV Chic Charleston Pearl Pins  –$10 for a pack of 3
IV Chic Memphis Spiral Hair Pins – $12 for a pack of 3 (I love these! The spiral design allows them to stay securely in your hair. )
Kanekalon Braiding Hair in 1B (My hair color) –  $2.69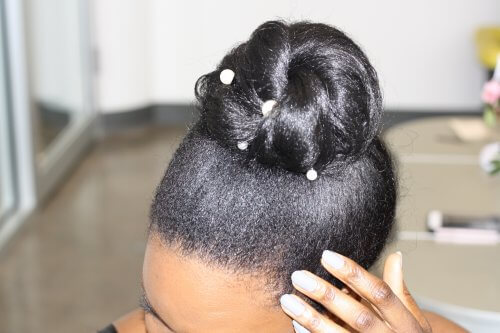 To see a more detailed tutorial of the top knot, click here.