I don't know about you but the prospect of being able to pull a marriage proposal from a king at age 72 is enough to make me "Belif." Belif is a Korean based skincare line that recently launched in the US.  One of the line's hero products, the Hungarian Water Essence, contains ingredients said to be the secret beauty weapon of Queen Elizabeth of Hungary, the badass beauty who got a proposal from a King at age 72.  This King might have been plotting a land grab but who cares…this is a great story!
The Belif skincare line uses traditional herbal processing methods to harvest the botanicals used in their skincare line while using modern technologies to develop effective delivery systems. The line promises real, simple, sincere skincare that is formulated without harsh chemicals and unnecessary ingredients.
Belif  Skincare Top Sellers Include:
Hungarian Water Essence ($42)  – a light weight facial essence that contains 10 herbs, including lavendar, sage, rosemary and oats, to help you hydrate your skin, retain moisture (and bag a king). Since it started warming up,  I just been using it as a serum — I press into skin after cleansing and toning then follow with a moisturizing SPF.
The True Cream Aqua Bomb ($38) – Is a lightweight gel-cream that delivers almost instant hydration. Active botanicals include: Lady's Mantle, an antioxidant with pore minimizing benefits, Malachite to help neutralizes free radical activity, Plantin to help create moisture seal on skin and Oak Husk, a humectant. I have oily skin and this delivered moisture to my skin without making it feel oily or greasy.  It works in cold weather as well as hot humid temperatures.  It is the only moisturizer I took on a recent trip to Trinidad and it held up well under sunscreen and gave me enough moisture at night to prep my skin for the next day.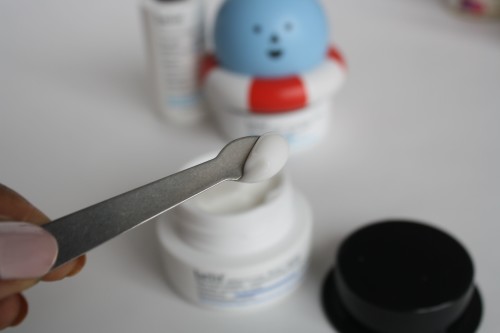 The True Cream Moisture Bomb ($38) – Is Korea's Number 1 selling cream in the luxury skincare market. It is a cushiony light weight product that completely disappears in to the skin leaving it feeling soft, supple and refreshed.  It is not as light as the Aqua Bomb but I'd still considerate "light weight."  This cream is clinically tested to provide up to 26 hours of moisture. Wowzer!
For more on Belif skincare products, please visit their website.