When I first laid eyes on BECCA The One Perfecting Brush I must admit, I was all: "The hell is this?" I mean, look at it! This brush looks odd. And it's unlike any makeup brush I've ever used. But here's the thing: it actually works. And it works for my entire face.
Becca The One Perfecting Brush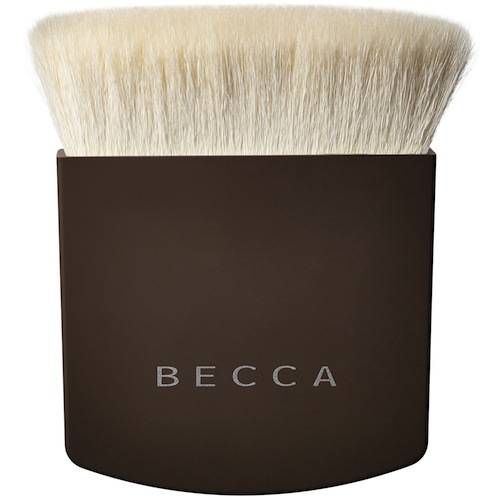 Brands are constantly launching new things. New things that aren't like the old things. New things that they hope you'll ooh & ahh over…you know, '
groundbreaking
'. When BECCA launched
The One Perfecting Brush,
my reaction was: "They tried it." And, "Wow, y'all really tryna make fetch happen, huh?" But the joke's on me because this brush is friggin' amazing and it makes everything better.
Step 1: Get over the size and odd shape of the brush. Yes, its size looks suspicious and the shape is crazy pants, but the brush applies liquid and cream foundation like a unicorn – it's magic.The shape and angles actually work really well for blending concealer, foundation and applying cream highlight/contour product.
Actually, there's no step 2, 3, or 4 to add to the list. The thing you need to do is not be intimidated by the 'look' of the brush. Just use it. My favorite way to use the brush is to pick up my cream foundation directly from the palette to the brush and then sort of "whisker" the foundation onto my skin where I need it most. Then I buff for my life. Talk about flawless! The buffing is really my favorite part because it not only FEELS plush and luxurious, it also perfects the skin by distributing the foundation in such a way that the finish is seamless. It's impossible to detect where skin and foundation intersect. It's just all one beautiful blur.
"How'd they do that?" I asked Beauty Expert and Celebrity Makeup Artist Cynde Watson to weigh in. And here's the tea: "It's all you need to apply the most flawless foundation and sculpt your face with precision. I love the density of the brush and the non-porous goat hair bristles which allow liquids, creams and powders to sit on top of the brush hairs rather than absorbing….ensuring effortless, even coverage and no wasted product."
Thank you, Cynde!
Bottom Line: Buy this brush and get your life. World peace can't be far behind….