When it comes to body care, I love products that moisturize completely without feeling greasy….and if the product does not irritate my sometimes sensitive skin — yay! It's even more amazing when the price point matches my limited spending power. The Aquation line of products meets my very demanding standards and it's fragrance free [#AllIDoIsWin].
The first Aquation product I used was the MOISTURIZING CREAM.  When I first used it, it reminded me of a similar brand, Cetaphil. However, I noticed the difference at the end of my day when I went to take a shower. My skin still felt moisturized (and this was during winter). Did you get that? The Aquation Moisturizing Cream kept me moisturized ALL DAY,  right up until my PM shower….and, secretly, I felt that the hydrated feeling I experienced would have even lasted unto the next day.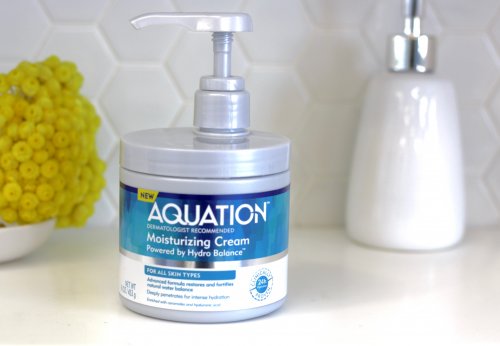 Here's what makes Aquation products different from Cetaphil and other drugstore moisturizers for sensitive skin — they contain Hyaluronic acid, marine algae and Ceramides. If you care, they are also free of parabens, petrolatum, and mineral oil. 
More about the ingredients that set Aquation apart…
Hyaluronic acid is found naturally in the body.  However, it is depleted over time — that means you have less of it as you age.  Hyaluronic acid holds up to 1000 times its weight in water and when applied topically, it promotes cell turnover, suppleness and increases moisture.
The outer most layer of the skin (the stratum corneum) contains  lipids known as Ceramides.   The stratum corneum contains three types of lipids, ceramides, free fatty acids and cholesterol.  There are nine types of ceramides, creatively named ceramide 1, ceramide 2 and so on.  Ceramides make up about 40-50% of the total lipids in the stratum corneum and helps to hold skin cells together giving it a smooth, firm appearance.
Algae in general tends to draw moisture to the skin.  It also helps to tighten pores and in some cases help to release toxins. Aquation Moisturizing Cream uses and encapsulated  Marine Algae. The encapsulation allows for controlled release of moisture once inside the skin's deeper layers.
The Bottom Line About Aquation…
Aquation Moisturizing Cream ($7.94 at Walmart) is amazing and definitely worth your time.  I'm so looking forward to trying the other products in the line. Get your dry skin under control… here's a list of the places you can purchase Aquation products.   All Aquation products retail under $10.