Beauty Foodie — is that even a thing? It is now! I'm starting the hashtag on Instagram. So, who is a Beauty Foodie? A Beauty Foodie is someone who loves beauty products that smell like food, food that's almost too beautiful to eat and food that works from the inside out to make them beautiful.  This makes perfect sense to me and so I'm diving face first into a list of products that any Beauty Foodie would love to show up in their kitchen or vanity this holiday season.
Food
Topperfino
Since being introduced to Topperfino my coffee game has gotten mad strong — it's a yummy layer of chocolate artfully designed to elevate your coffee experience in a matter of seconds.  When else could you have sequin in your coffee? This is perfect for the coffee lover who also loves chocolate, beauty and who may also love to stunt on Instagram. Check, check and check! (Starting at $10 at Topperfino.com)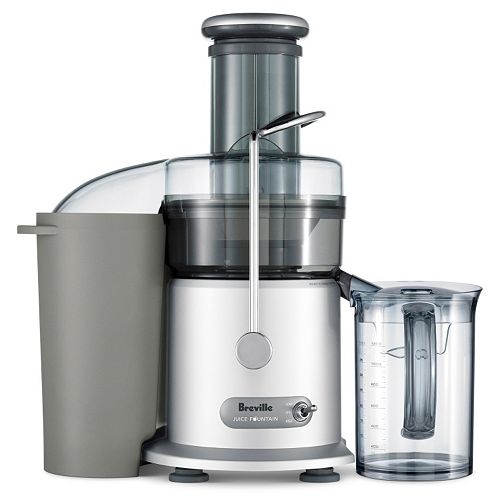 I'm all about fresh healthy juices but those 8 ounce bottles can run you a pretty penny. Pair that with a daily coffee habit and cocktails and you might be spending half your monthly paycheck on liquids. We get superior nutrients from fresh juices and that in turn can lead to healthier looking skin, hair and nails, so Breville BJE510XL Juice Fountain, the number on rated juicer on Amazon, is a no brainer for the health conscious beauty girl on your holiday gift list. (On Sale: $125.95 on Amazon)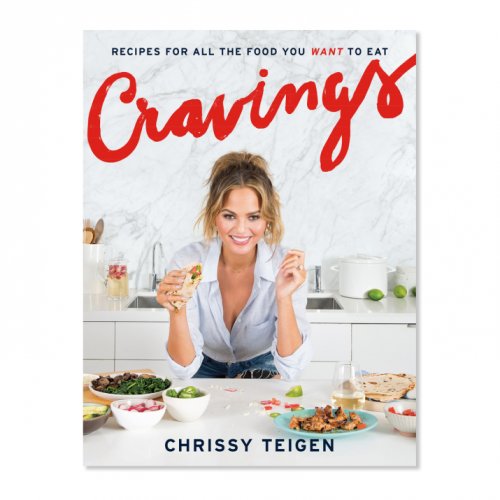 I bought this book when it first came out and I've only made one meal from it, however, I have skimmed through numerous times to see the pics that combine food and beauty.  Give this to your friend who wants to cook more but somehow can't seem to get it together.  ($29.99 on Amazon)
Body Products
Fizz & Bubble Cupcake Bath Fizzies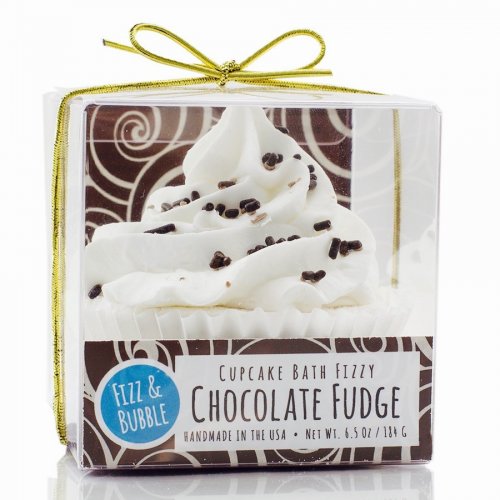 With these Fizz + Bubble Cupcake Bath Fizzies you can transform bath time into a calorie free dessert decadence.  Pop these in your bath and release a delicious smelling proprietary blend of eight ultra nourishing oils that will leave your skin moisturized and feeling amazing. Available in 13 mouth watering flavors: including Coconut Creme, Chocoloate Fudge, Crème Brûlée and Birthday Cake. ($10 at Ulta.com and www.fizzandbubble.com)
Just the name of this makes me want to break out into a happy dance –It sounds delicious and decadent. I can't eat it but I can slowly and purposefully rub this ultra luxe cream all over my body while the aromas of tangerine jasmine, oakmoss and vetiver permeate the air.  ($54 at www.redflower.com)
Votre Vu Tarte d'Amande Soufflé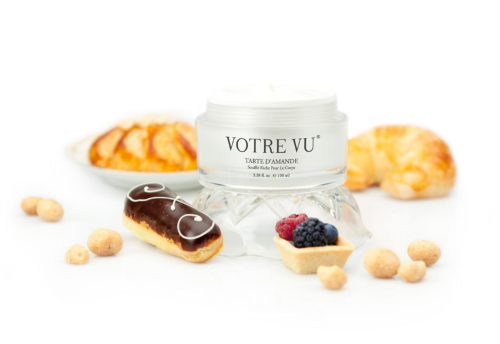 Not only does Votre Vu Tarte d'Amande Soufflé smell absolutely delicious, but it also uses botanicals such as coconut, macadamia and sweet almond oil to nourish and moisturize without being greasy. It's body dessert perfection, all the pleasure, none of the guilt. (39 at votrevu.com)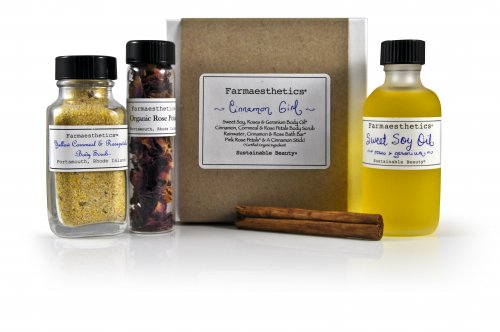 This is the only item on this list that doubles as a food AND beauty product. The Farmaesthetics Cinnamon Girl set contains a skin brightening beauty bar, a non-abrasive exfoliant, nourishing body oil, cinnamon sticks and rose petals that can either be used to infuse your bath water or make a delicious tea. Score! With this you'll created an experience that soothes and calms from the inside out. ($39.00 at Farmaesthetics.com)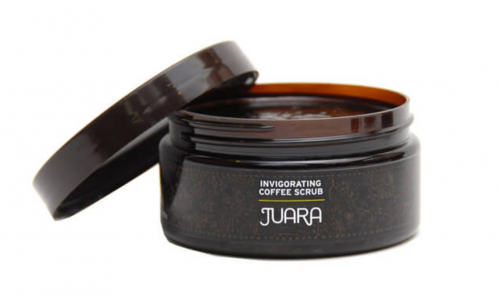 If your girlfriend is always struggling to get her life together in the morning, this coffee body scrub from Juara is just the hit of caffeine she needs before her morning latte. In addition to waking up the senses, this body scrubs sloughs off dead skin, hydrates and firms skin.   ($38.00 at Juara.com)
Makeup
Too Faced Chocolate Bar Palette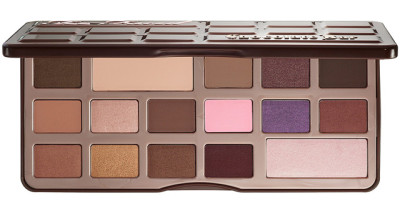 At the top of my list for any food related makeup product is the Too Faced Chocolate Bar Palette ($49 at sephora.com) The highly pigmented shadows are enriched with pure, antioxidant-rich cocoa powder and they smell incredible! It is the perfect palette for everyday use and can create an endless array of makeup looks. Other palettes in the yummy shadow family include: Sweet Peach Eye Shadow Palette ($49 at Sephora.com,) Peanut Butter and Jelly Palette ($36 at Ulta.com).
Bite Beauty Lipsticks
"Natural, age-defying beauty for lips that is good enough to eat!"? Yes please. That's the Bite Beauty tag line and I am here for all their yummy shades. Not only does Bite Beauty keep toxic ingredients out of their lipsticks but you can get a custom blended shade if you pop into any of their lip labs. They say the average woman consumes 5-7 pounds of lip product in her life time — if that is true there's no harm in making it Bite Beauty. (Starting at $24 at Sephora.com)
Skincare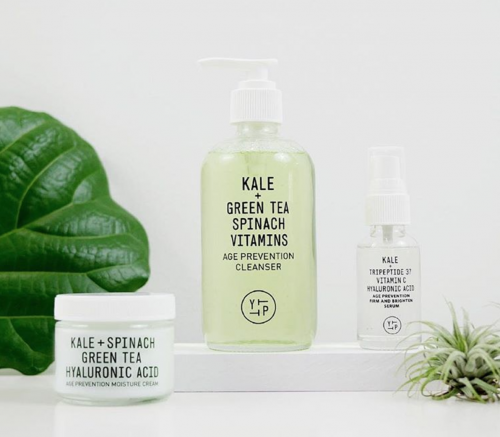 Did you think I was going to get through this post without the mention of kale? Well, you were wrong.  This Youth to the People trio features an antioxidant rich gel cleanser,  a hyaluronic acid face cream and a vitamin C serum that have all been infused with sale and spinach. (Starting at $36 at Sephora.)
Pomegranate Firming Serum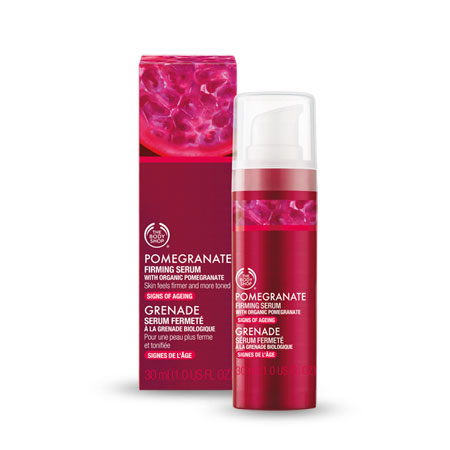 Pomegranate can be a pain to eat but there's nothing painful about this serum. Use with your favorite skincare products or select other accompanying products from the same line. With continued use skin will be firmer, smoother and brighter. This is definitely a gift that will keep on giving. ($37 at thebodyshop.com)
Have that one friend who thinks all parabens and other preservatives should be banned? Are her vanity, bathroom and refrigerator filled with  DIY potions? If you answer yes to one of these questions she will definitely enjoy the Loli Beauty. Loli Beauty sources and ships monthly, fresh and yummy garden-to-beauty pre measured ingredients to help you create your own skin, body and hair care products. If you want to take it a step further, you can make your own products based on your own formulations.  ($38 per month at Lolibeauty.com)
Hair Care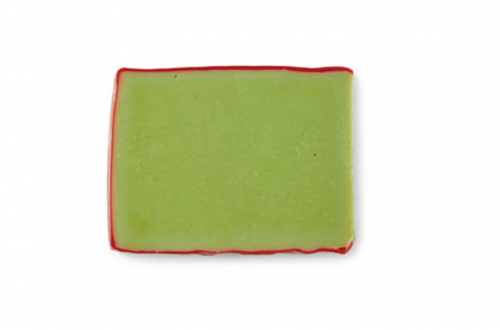 Have that friend that always wants to skip a step in her beauty routine? This Avocado Co-wash is perfect for her! It is a great balance of cleansing and conditioning ingredients like, cupuaçu butter, cocoa butter and shine-enhancing cider vinegar,  that will leave hair feeling clean, soft and super shiny.  ($15.95  at lushusa.com)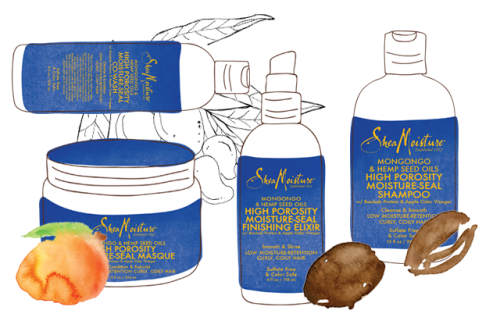 Bushmen of northern Botswana and Namibia  have been consuming Mongogo seeds for thousands of years. Today the nutritive goodness of this nut along with the healing powers of hemp are brought to us by Shea Moisture, in their High Porosity Hair Care line. I absolutely love these products! If your friend has natural, porous hair and you bring her this she will love you long time and FOREVER! (Starting at 10.99 at Target.)
Fragrance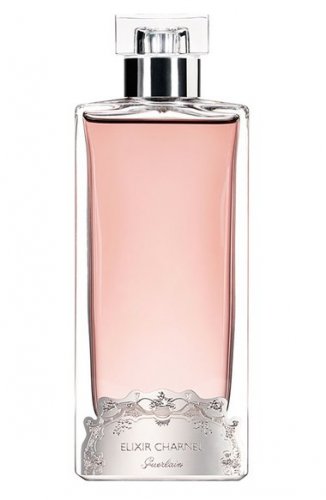 If dessert is always a must and never an option, Guerlain Elixir Charnel Gourmand Coquin is a no brainer that will score you a lifetime of cool friend points. This spicy olfactory treat features notes of dark chocolate, rum, vanilla, pepper and rose and will leave your girlfriend coming back for seconds without the threat of busting through her holiday party pants. ($260 at Nordstrom.com)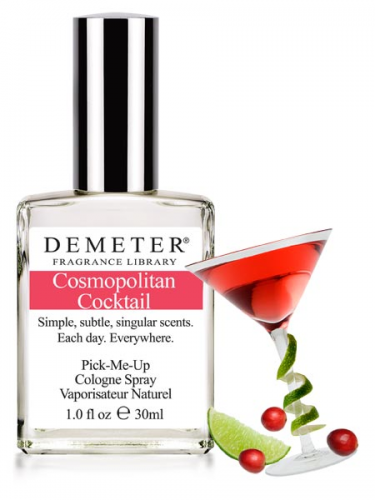 Is her favorite time of day wine-o-clock? The gift of a cocktail inspired Demeter fragrance may be just what the doctor ordered. With fragrances such as Cosmopolitan Cocktail, Mojito, and Sex on the Beach, calorie free happy hour is just a spritz away. (Starting at $16 at Demeter.com)