Never is it more important to have great looking skin than in the summer. Bathing suits, sundresses, denim cut-offs – all of these look better with healthy, glowing skin. No scaly, dry or ashy limbs need apply. Typically I begin getting my body summer ready a month or two before, but trust me there are so many great products out there that even if you only have one day, you can give  skin a radiant boost.
Exfoliator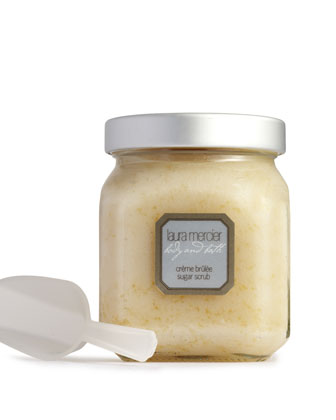 Exfoliating my face is one of my favorite things to do, so you can imagine the enjoyment I get out of exfoliating my body. In the winter it is necessary, but in the summer it is MANDATORY. It never looks good to be sporting dry, scaly skin with an adorable sun dress. Or ashy legs with cut-offs. Not ok. I find that exfoliating my body regularly helps with uneven pigmentation that I have lingering from those days at the beach. My current favorite is the Laura Mercier Body Scrub in Crème Brulee. It has a thick, honey-like texture and as you begin to scrub it heats up a bit and then turns into a slight liquid that rinses off easily. Fresh's Brown Sugar Body Polish is also another favorite because the oils in the scrub linger on my skin long after the shower making the need for moisturizer sometimes not necessary (even though I can't help myself and have to apply one). Both are available at Sephora and retail for $50.00 and $65.00.
Body Firming/Cellulite firming Gel
There are spanx in the winter, but in the summer it's harder to hide any type of loose skin. For those beach days, something to help give the illusion of a smoother appearance is always a good idea. Firming gels and cellulite creams are the best bet when trying to firm up the tummy or thigh areas. Sisley has a fantastic one called Cellulinov Intensive Anti-Cellulite Treatement, that helps to tighten any areas of concern without feeling too sticky and uncomfortable on the skin. I typically use it a week or two before I plan on heading to the beach to prepare the skin, and then again the morning of to give a slightly smoother appearance. Clarins also makes fantastic body care products for helping with firmness and body contouring.  The Anti-Eau Body Contour Treatment Oil and the Body Lift Cellulite Control Treatment are two of the most popular products from the line that target sagging skin, cellulite and help to contour the body. The only caveat I will say with any of these sorts of treatments is that they are not permanent fixes and the skin often will go back to it's prior appearance once use is discontinued. For me, I often use primarily these types of products in the summer and then give myself a break in the winter. The Sisley Cellulinov Intensive Anti-Cellulite Treatment retails for $242 and is available at Nordstrom. Clarins Anti-Eau Body Contour Treatment Oil and the Body Lift Cellulite Control retail for $57 and $69 and are available at Nordstrom.com.
Body Lotion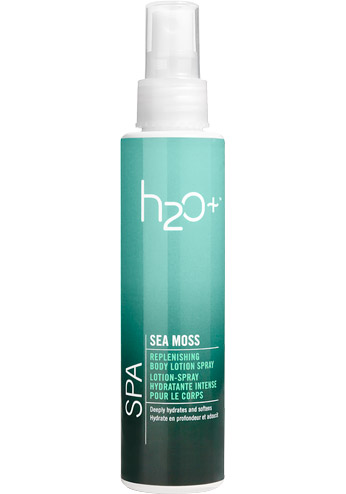 After exfoliating and treating the body, applying lotion is the next step, a no brainer in the winter , but sometimes can feel too heavy in the summer. I have personally been loving the H20+ Sea Moss Replenishing Body Lotion, because it feels refreshing and cooling and is easy to apply by just spraying it on and rubbing it in. Even though it is very light and water-like, it still gives a great hydration and soothes the skin. In addition to having a lightweight spray formula for the morning, I love an exfoliating body cream for the evening. I typically look for something with an acid to help speed up cell turnover, and leave the rest of my body as glowing as my face. Derma Doctor KP Duty Lotion is a great option because it contains glycolic acid to help slough off those dead skin cells. H20+ Sea Moss Replenishing Body Lotion is available at H20+ and retails for $20.00, and Derma Doctor is available at Sephora and retails for $38.00.
Sunscreen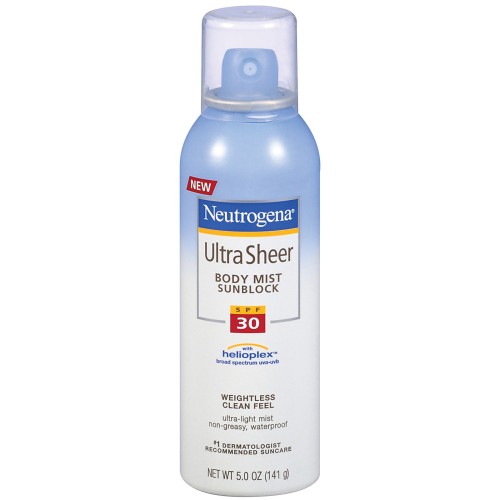 Summer. Sunscreen. One cannot exist without the other. But I am extremely picky when I have to wear it during the day because I don't want it to feel like I am at the beach. And with the invention of all the spray sunscreens over the past few years, it has made it easier to wear sunscreen on the body every day. Neutrogena Ultra Sheer Body Mist has been my go-to for years simply because of how nice it feels on the skin, and I don't end up feeling sticky or tacky after a few hours. And of course, it is just as effective for those days when I'm actually at the beach.  Supergoop Antioxidant-Infused Sunscreen Mist is another great choice for wearing both in everyday activities and at the beach. Neutrogena is available at Soap.com and retails for $8.99. Supergoop is available at Sephora  and retails for $19.00.
Fragrance/Body Mists
This is the last step of the summer skin process. After you have exfoliated, added a contouring oil/gel, applied body lotion and given yourself a good dousing of sunscreen, the fragrance is the product you add right as you are about to get dressed. Warm, musky, rich scents are de rigueur in the colder months, but come summer you want something light, fresh, and often citrus or floral based. Sisley's eau tropicale fits this to a tee — it's bright and sunny with notes of bergamot, violet, rose and a hint of patchouli. It's the perfect warm weather floral that can be worn from day to night. But what is even better than a fresh new fragrance for summer is a fresh new fragrance that has skin hydrating properties! DKNY's Be Delicious Skin Hydrating Mist is a fragrance with skin-boosting benefits that help provide instant moisturization, as well as leave skin looking smoother and more radiant. You can spritz and spritz and spritz, and actually help your skin look better. And in the summer, dehydrated skin is almost expected with all the time spent outdoors, so this is a great way to stay hydrated and smelling great at the same time. Sisley eau tropicale is available at Nordstrom and retails for $102.00. DKNY Be Delicious Skin Hydrating Mist retails for $75.00 and is available at DKNY.com.
What are some of your summer skin must haves?
—
For more sass and beauty updates follow Maree @alittlebitetc on Twitter, Instagram or Like me on Facebook.