If you're one of those girls who can TOTALLY 100% abandon foundation for summer *Insert Bow Down emoji* because I applaud you and would love to know if you want to to become a TTB Contributor and share how your skin is 100% flawless. Because, listen man, I take damn good care of my skin and yet, monthly hormonal breakouts make it really challenging for me to go 100% foundation free every single day. So for girls like me, who need a little bit of coverage for summer, but don't want to look like a hot, greasy artificial mess, foundation is the way. There is no question that Summer is HERE — read on as I share 5 Foundations For Dark Skin (When It's Hot As Hell!)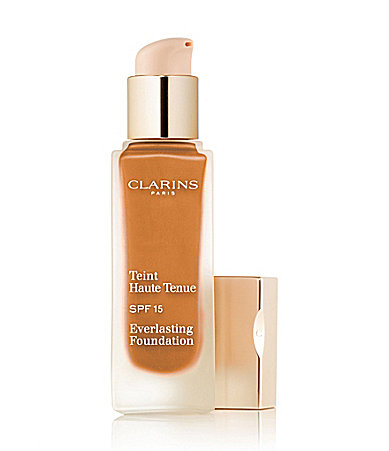 WHY I LIKE IT: This was an unexpected win for me. I've never been a CLARINS foundation devotee….mostly because their shades tend to skew a bit too light for complexion. But, CLARINS really surprised me with the launch CLARINS Everlasting Foundation+ SPF 15 — a long wear foundation available in 14 global skin shades. Beyond offering summer-focused features like broad spectrum sunscreen and a matte finish, CLARINS Everlasting Foundation+ SPF 15 also holds up to a full NYC day of racing from meetings to press events. The claim is that CLARINS provide 18-hours of perfect wear, but…who's wearing foundation for 18 hours? LOL! But in all seriousness, this is a really comfortable and effortless foundation that lasts all day and is a great choice for summer.
MY SHADE IS: HAZELNUT
IF I COULD MAKE IT BETTER, I WOULD… Extend the shade range to include maybe two more dark shades. Conversely, I think the first shade, Ivory, might be a little too dark for very fair skin.(Nordstrom.com, $42)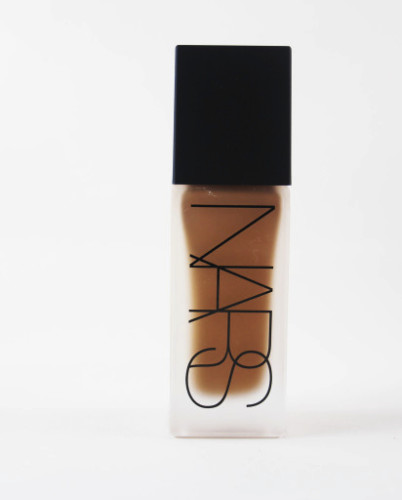 WHY I LIKE IT: If ever a foundation has lived up to its name, it's this one! NARS All Day Luminous Weightless Foundation provides buildable full coverage with less than a drop of product. It never feels heavy or mask-like. If you need total coverage, this is the way to go.The finish is a soft matte, but it definitely gets a little glowy over the course of the day but the coverage doesn't budge.
MY SHADE IS: MACAO
IF I COULD MAKE IT BETTER, I WOULD…  Add SPF. It's a "nice to have" since we're talking Summer appropriate foundations….but this isn't a deal breaker (as you need to apply separate SPF anyway).  (Sephora.com, $48)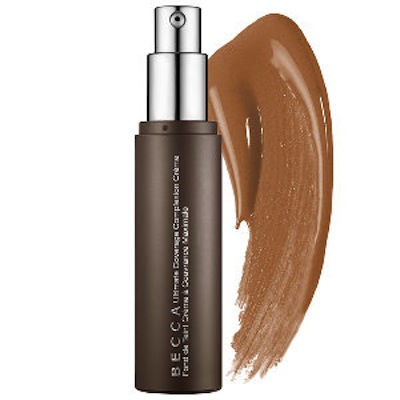 WHY I LIKE IT: If you prefer a creamy texture, try this! Available in a wide range of shades from Porcelain to Cacao, BECCA Ultimate Coverage Complexion is a full coverage foundation that withstands the heat without fading or melting off your face. The finish is matte and skin stays shine-free all day.
MY SHADE IS: TOBACCO
IF I COULD MAKE IT BETTER, I WOULD… I can't think of anything to improve this foundation. I will say it's pricey, but worth it. (Ulta.com, $44)


WHY I LIKE IT: This. Foundation. Aint. Going. Nowhere! Seriously budge-proof and seriously pigmented, Kat Von D Lock It Foundation is exactly what you'd expect from Kat Von D. This formula leaves no blemish uncovered and it does not abandon you midday. The velvety texture is ideal for super oily skin.
MY SHADE IS: MEDIUM 57
IF I COULD MAKE IT BETTER, I WOULD…I actually wouldn't change a thing.  (Sephora.com, $35)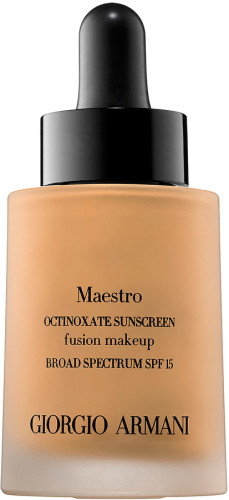 WHY I LIKE IT: I feel like Armani foundations are the OG's of makeup . I've never met an Armani foundation formulation I didn't like. Maestro Fusion Makeup Octinoxate Sunscreen SPF 15 goes beyond providing undetectable coverage …it truly perfects the complexion.  The texture is featherlight and locks in place for stay-all-day coverage.
MY SHADE IS: 8
IF I COULD MAKE IT BETTER, I WOULD… Lower the price tag. $64 — DAMN! (Sephora.com, $64)
What's your Favorite Foundation for Summer?