With the number of subscription services and beauty packages available for women, it was only a matter of time before the men began to feel left out.  To be honest, there is definitely a side eye situation going on at my house from my husband with all the regular deliveries I receive.  So, when I got my hands on this new Glossybox for men, I couldn't wait to bring it home and give it to him.  He was thrilled, and he didn't even know the contents!  Lucky for him, the items in this box were amazing and could allow him to indulge his metrosexual side with some pampering and grooming.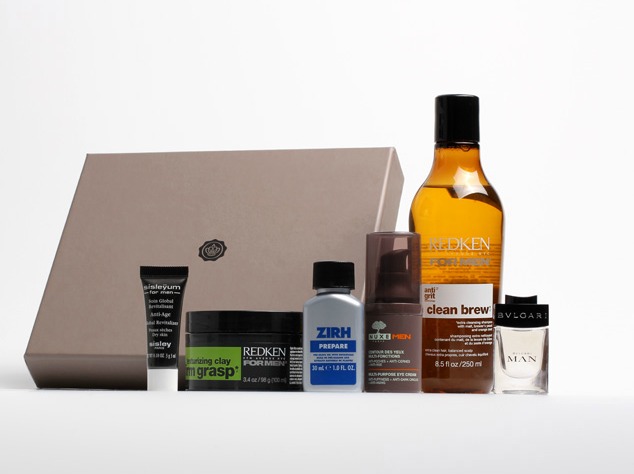 From shampoo to eye cream to hair clay and moisturizer, this box gives men a little bit of everything to try that they probably never even knew they needed!
Redken Firm Grasp Texturizing Hair Clay + Redken Clean Brew Shampoo
The Redken Firm Grasp texturizing hair clay was an immediate favorite in my house – since my husband loves a good hair product.  The hold was strong without being tacky or greasy looking and kept his style all day long.  The Redken clean brew shampoo seemed like it would also be a home run since it is formulated with beer ingredients, such as malt and brewer's yeast!  It's great for removing any build up or grit in the hair – keeping it clean and healthy.
Bulgari MAN cologne
The Bulgari MAN cologne is a deep woody oriental scent that has an elegant and sophisticated scent – and men often need some help deciding on a fragrance, so this is a great option to get them to try something new.
NUXE MEN Eye Cream
Speaking of help, eye cream is something men need though they may not even realize it.  The NUXE MEN eye cream is great for helping to reduce puffiness and address any signs of aging.
Sisley for Men Face Moisturizer
The eye area is not the only part of the face that needs care however, and the Sisley for men face moisturizer is a great way to get them started on a regular regimen but one that won't overwhelm them.
Zirh Pre-shave Oil
Finally, the Zirh Pre-shave oil is the product they will probably get the most use out of and if they have never shaved with an oil before, it may just change them forever. Designed to help ease shaving, it reduce any signs of irritation or razor burn.
It's only a start, but a box like this could get the man in your life on the road to better grooming habits.  And if they are already well-groomed and immersed in a good skincare regimen, then this is a great way to give them the chance to try something new and possibly add to the good habits.
The men's glossybox is available on the glossybox website for $40.
—
For more sass and beauty updates follow Maree @alittlebitetc on Twitter, Instagram or Like me on Facebook.