Clinique has become synonymous with easy, gentle and effective skincare and now they have expanded their line to include an entire range of products for men.  They put cleansing, toning and moisturizing on the map and are now lending a hand to all the men out there by launching products designed specifically for them.  And frankly, it's about time!  There are various lines out there that carry products for men but what I love about Clinique is that they are already known for having a systematic approach to their skincare, and this type of thinking is exactly what men need to help them take better care of their skin.  While my husband wants to use better products for his face, he is often lost as to what products to use and in what order, leaving him discouraged and unwilling to take any initiative at all.  When I introduced him to the Clinique for Men line, he felt it was easy to understand, simple to use and after a few weeks under his belt, he saw great results.
The premise of the entire range is still the Clinique system of (shave)/cleanse, tone and moisturize.  Within each category there are various products that cater to different skin types, and then a few additional products that target specific concerns such as dark spots and aging skin around the eye.
Cleansers
In this category there are both liquid and soap options, both methods offering non-drying cleansing that builds into a rich lather and rinses off easily.  Both prep the skin for shaving, as well as remove any dirt and debris from the face.  Available in both Regular and Oil Control, both cleansers are $16.50 and available at Clinique.com.
Exfoliate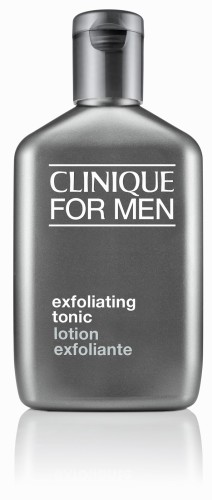 Since men often have to deal with shaving regularly, exfoliating is key to making that process easier.  Clinique has introduced two different exfoliating tonics, one for normal skin and one for oily skin.   Daily use after cleansing will help to control excess oil, and remove dead skin which will significantly reduce the occurance of ingrown hairs and blemishes.  Both retail for $13.00 and are available at Clinique.com.
Moisturize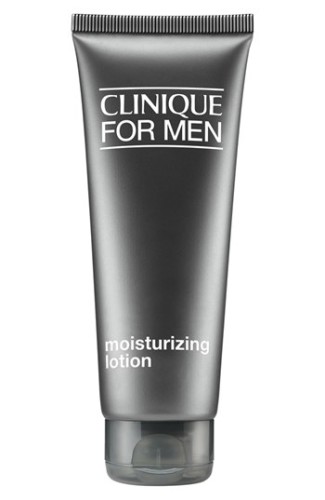 The last step in the skincare routine is always the moisturizer – and there are a few different options  for both day and in the evening use.  The Moisturizing Lotion is suitable for normal skin and helps to control oil for a matte, shine-free look, and just happens to be my husband's favorite.  Women may love a glowing and dewy complexion, however, men typically do not.  The Oil-Control Mattifying Moisturizer is designed for oily skin types,  and provides hydration while still helping to normalize oil production.  For those men who want to address aging concerns, there is the Anti-Age Moisturizer that is a multi-puprose, all day hydrator that helps to fight dullness, lines and wrinkles.  But because I am such an SPF fanatic, the most important product in this category (in my opinion) is the Broad Spectrum SPF 21 Moisturizer.  I feel that most men do not reach for sun protection daily so this is a great way to give them both in one product.   All moisturizers range in price from $25-$36 and are available at Clinique.com.
Shop the Post:
For more sass and beauty updates follow Maree @alittlebitetc on Twitter, Instagram or Like me on Facebook.