From the packaging to the contents, Dolce & Gabbana's makeup line is pure luxury.  No one can miss the bold gold compacts and embossed logo when pulling these products out of your makeup bag.  It's not always a win when fashion designers transition to beauty, but Dolce & Gabbana did it seamlessly with a line that is as beautiful in appearance as it is quality and efficacy.  The Dolce and Gabbana Perfection Veil Pressed Powder is an addition to their already popular foundation/complexion range that spans liquid, cream and powder options for a flawless finish.  It is a lightweight pressed powder designed to give the face a natural translucent radiance and extend the wear of the foundation or base underneath.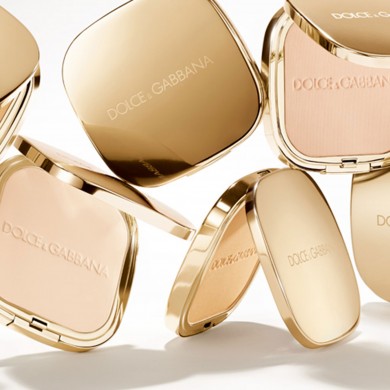 If you are initially drawn in by the gorgeous gold finished compact, you are not alone.  I cannot get enough of this decadent and luxurious packaging, and was hopeful that the contents inside would match my initial adoration.  News flash: it did.  Finely milled is an understatement – the texture feels like velvet to the touch.  The powder glides on effortlessly, reducing skin's dullness and shine immediately but does not leave an overly powdered finish.  I used it both with a powder puff for more coverage, pressing the powder into my t-zone for a more airbrushed finish and with a large powder brush for a more subtle and delicate application.  I kept it in my purse with me to see if I would need any touch ups throughout the day, which I did once but more just to refresh my look rather than address tons of shine.  The shade range could be a bit more extensive, as there are only 6 shades, and they don't truly reach the ends of both spectrums (FYI, I'm Nude Ivory 1…the lightest shade.) If you do find a color that works for you, I highly recommend adding to your complexion routine.  The splurge is worth it as your skin will thank you for making it look so flawless.  And frankly, don't you think your skin deserves that?  It does.
The Dolce & Gabbana Perfection Veil Pressed Powder is available now at Saks Fifth Avenue for $60.00.
—
For more sass and beauty updates follow Maree @alittlebitetc on Twitter, Instagram or Like me on Facebook.