There is always something to love from any MAC Collection and the Playland Collection is no different.  Here's what MAC has to say about the collection:
Playland is a funtastical wonderland where spring becomes a fabulous whirlwind of creativity and amusement.  Make merry in luscious shades of Lipstick and Lipglass in playful pinks, brilliant purples and bright corals, and toy around with a carousel of Casual Colour pots in neon orange and hot pink.  Pigments offer the promise of leisure and mirth, and Chromagraphic Pencil adds a cascade of colour to this season's fun-packed fantasy.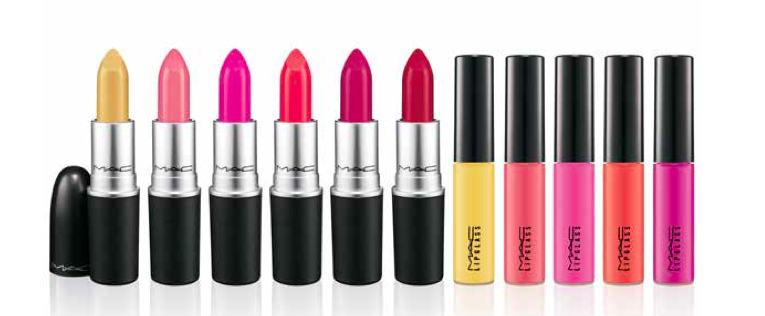 LIPSTICK (Left to Right)
Playland frosty  – yellow gold (frost)
Sweet Experience – bright pink (amplified)
Happy-Go-Lucky  – hot pink (amplified)
Toying Around – hot coral pink (amplified)
Red Balloon – hot fuchsia (amplified)
Head in the Clouds –  red with pearl (frost)
MSRP $16.00 US/$19.00 Cdn
LIPGLASS
Bright Side Creamy Yellow
Lots of Laughs creamy peach
CarouSeL creamy pink
Live it Up creamy orange
Pure SillineSS creamy lilac S
MSRP $15.00 uS/$18.00 Cdn

CASUAL COLOR 
For your Amusement – bright pastel pink
Young at Heart – bright pink
Hi Jinks – bright coral
MSRP $21.00 US/$25.00 Cdn
PIGMENT
Ever So Yellow – soft yellow with pearl
Hi-def Cyan – cyan blue
Neo-Orange – intense neon salmon
GoLden OLive – high frosted green-gold
MSRP $21.00 US/$25.00 Cdn
CHROMAGRAPHIC PENCIL
Genuine Orange – bright orange
Hi-def Cyan – Hi-def cyan
Process Magenta – matte magenta
Black Black – deepest black
MSRP $16.00 US/$19.00 Cdn
The MAC Playland Collection will be available in North America April 17, 2014 at all MAC locations.
—
Find  @ChristeneCarr, on Twitter, Instagram, Tumblr, Pinterest, Facebook and her blog.