Short days and long nights are not the only downsides of winter.  While we talk a lot about keeping the skin on our face moisturized during frigid temps, we seldom stress how important it is to keep the skin below our neck in tip-top shape.  While both Felicia and I are skincare enthusiast, I hold the TTB title of Body Care Queen (P.S. I just crowned myself 💁🏿).   I have always had dry skin (which is the cry of many of my melanin-rich cousins) and I don't like to be ashy, so, I'm ALWAYS on the hunt for good body care products.  A good winter body care routine is about more than about lotions and oils.  It consists of the right cleansers, treatment products, and moisturizers. Here are all the body care products I'm loving right now.
Cleanse
I once visited a dermatologist for my dry skin and she told me that I was showering too much (I haven't seen her since.) Rather than reducing the number of showers I started using more moisture rich cleansers and lowering the water temperature when I shower.
Olay Moisture Ribbons Shea + Rosemary Mint Body Wash — turns out I like rosemary and mint in more than just cocktails.  This ultra-moisturizing body wash lathers up beautiful to clean skin without stripping it of moisture.  ($5.49)
Aveeno Stress Relief Body Wash With Lavender – Chamomile And Ylang-Ylang Oils  — The name literally says it all.  If itchy-scratchy fabrics like wool have got your skin all stressed out, or if you have otherwise sensitive skin, this is perfect for you.  Not only will you be clean, but your skin will be calm upon exiting the shower.  ($6.49)
Exfoliate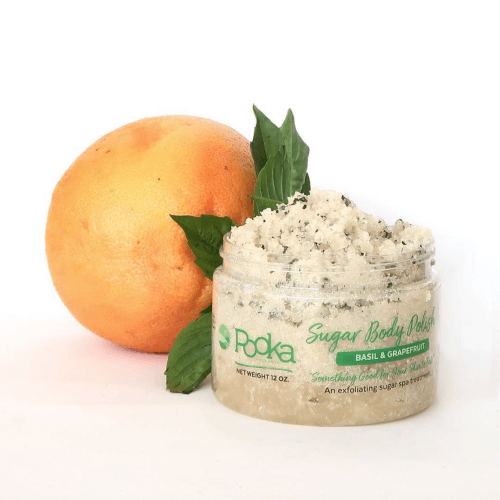 This is crucial during winter months. Skip this step too often and you might find that skin looks cracked and scaly. (Gasp!) You might hear exfoliation and think sugar scrubs and body polishes. While those are great, chemical exfoliants work wonders, too.
RESIST Weightless Body Treatment with 2% BHA – back and chest acne got you down? This silky lightweight moisturizer containing 2% salicylic acid (formulated at a pH range of 3.5-3.9) gives great exfoliation without skin irritation or dryness.  If you have sun damage or uneven texture from too much summer sun, grab this and be ready to bare it all again by spring.  ($26)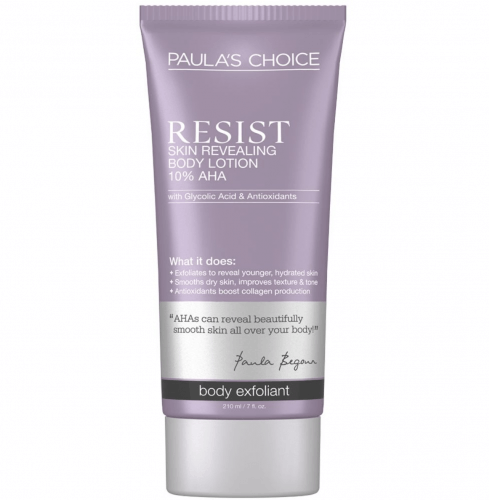 RESIST Skin Revealing Body Lotion with 10% AHA – Start with this if you want to gradually refine the tone and texture of your skin.  This anti-aging antioxidant-rich formula contains a 10% concentration of glycolic acid. ($28)
Pooka Pure and Simple Sugar Body Polish – A  luxe blend of cane sugar, botanical extracts, paired with natural and essential oils. It will slough away dead skin cells in minutes leaving behind smoothe, radiant and glowing skin.  Use once or twice per week and follow with a treatment product like the ones above AND your favorite body lotion, butter, oil or cream. Again…levels. ($22 )
Treat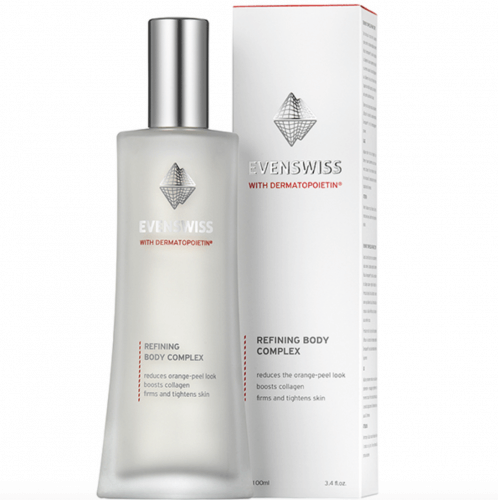 Evenswiss Refining Body Complex — You will notice a difference in the look and feel of your skin in just two to three uses.  No joke. If you have that orange peel look to your skin prepare to say bye, bye to the fruity nightmare. It contains a "highly effective Dermatopoietin Peptide Complex which activates the skin's collagen production and increases its elasticity and firmness."  Though it's not a moisturizer, I use it alone after my shower at night.   When I use it in the morning I apply then wait about 5 minutes before applying my moisturizer.   ($140)
Moisturize
There are levels of moisturizing your skin during winter. In summer it might take me 3 minutes to completely apply my body lotions and potions, but during winter it can be as much as 1o minutes! One way to ensure proper moisturization is to exfoliate.  In the summer I can shower and put on a body oil or butter on my wet skin but during winter that is completely unacceptable.  I have to use a water-based moisturizer to start then follow with an oil or butter/oil. This is the only way I remove my clothes at night to reveal skin that isn't cracked and scaly.
The Body Shop Shea Body Butter – An all year round staple that is loaded with community trade ingredients like shea butter, babassu oil, and more.  I use it over my Paula's Choice exfoliating treatments and will sometimes follow with a body oil.  As I said — LEVELS! $20
Origins Precipitation  Extra Continuous Moisture for Very Dry Skin–  All the good butters, oils and extracts got together to create this miracle in a jar. It combines Shea, Cocoa, Murumuru, Mango and Kokum Butters plus Phellodendron Extract, Sunflower, Soybean and Ginseng Oils and Gentian Root to delivers deep down long-lasting moisture for even the thirstiest skin. ($35)
Aquation Moisturizing Cream – See complete review here.
Oils + Butters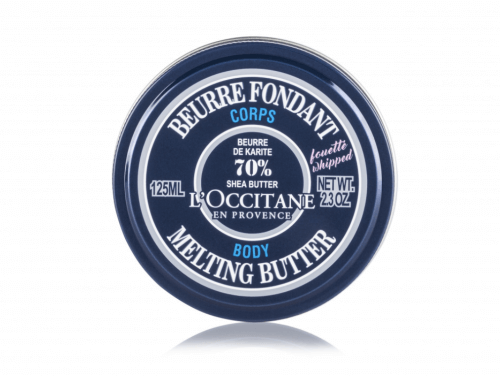 One thing you have to realize is that oils or butters (not butter creams formulated with water or water like substance) on their own won't moisturize your skin.  Applying an occlusive layer, like an oil or a butter, will help prevent further moisture loss but you won't add much moisture this way. Having said that,  if you want to lock in moisture, adding an oil layer is perfect for that.
  — uses  70% Shea butter combined with a mix of botanical oils and other ingredients.  This whipped body butter has a delicate texture that turns into an oil upon contact with the skin.  $34
Sky Organics Organic Cold Pressed Castor Oil — The great thing about nutrient-rich castor oil is that it can be added to products to boost moisture and used over products to lock in moisture. Use sparingly on areas where you tend to get super ashy. $15.75
What are your tried and true body care products?