While I knew that pregnancy would change my life in many ways, some of those changes I expected… and some were a complete and total surprise. Sure, I knew that I would have to give up things like wine, vigorous  exercise, and sushi….but I never gave much thought to how my skincare routine would have to change.
Certain skincare long time staples like retinol, salicylic acid, and glycolic acid are pretty much on the 'do not use' list for most of pregnancy (especially during the first trimester). You can imagine how eye-opening this was for me, a person who regularly relies on aforementioned to keep my skin clear of breakouts, even toned and super smooth….you know, #snatched !
And so began my quest to find the best products for skin and body during pregnancy. . .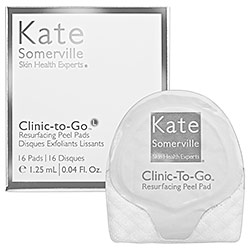 "Heartbroken"…this best describes how I felt after learning that I'd have to give up my beloved Kate Somerville Micro Glycolic Polisher (at least for the first few months).  Luckily, Kate Somerville Clinic-To-Go Resurfacing Peel Pads is a safer alternative for pregnancy and delivers similar results. The professional strength treatment pads contain: Alpha Hydroxy Acids: to tighten pores and brighten skin, Lactic Acid: to exfoliates and soften, Natural Kaolin Clay: to absorb excess sebum and Lavender: to calm irritation. Kate Somerville Clinic-To-Go Resurfacing Peel Pads can be used a couple of times per week and rinsed off. I actually leave it on and apply a nighttime moisturizer…but then again, my skin is definitely accustomed to super intense peels  — For you, I recommend treading lightly to start.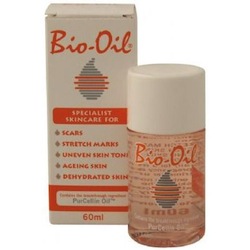 Who wants stretch marks? NOT ME!! While I believe that stretch marks are largely hereditary, I am playing it safe with Bio Oil. For the last few months I have slathered Bio Oil on my tummy, hips and boobs in an effort to prevent the "badge of motherhood" aka stretch marks. My first bottle of Bio Oil was a press sample….once it ran out, I switched to a stretch mark lotion. After a couple of weeks of using the lotion, I purchased a large bottle of Bio Oil. I love that the oil is fast absorbing and really easy to rub in…unlike the lotion I had switched to for a couple of weeks. I am quickly reaching my due date and still (knock on wood) no sign of stretch marks. As for Bio Oil's performance on existing stretch marks — I will say that I have a few tiny stretch mark from puberty that are beginning to lighten up a bit. One note of caution: Bio Oil contains mineral oil, so if you have acne prone skin, I do not recommend using Bio Oil on the face for the treatment of scars and uneven tone. If your body is sensitive to mineral oil, read on to my next recommendation. . .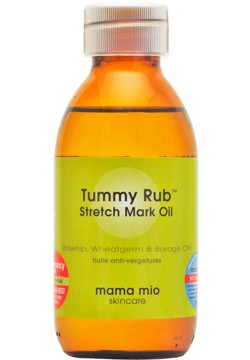 Mama Mio Tummy Rub Stretch Mark Oil is a lovely, natural alternative to Bio Oil. It contains a blend of Sweet Almond Oil, Borage Oil, Wheatgerm Oil and Rosehip Seed Oil…to protect bump, boobs and thighs against stretch marks. Like Bio Oil, it quickly absorbs into skin and is easy to use…much easier than lotions, creams and body butters (in my humble opinion).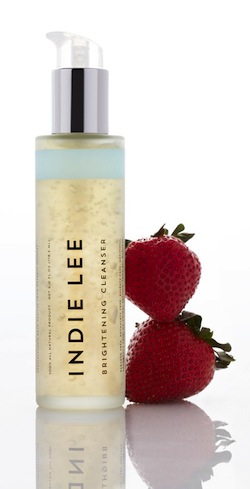 Indie Lee Brightening Cleanser is a gentle yet effective natural face wash that removes both makeup and impurities. It's antioxidant rich with strawberry oil, which has natural brigtening properties. Skin looks brighter with each wash.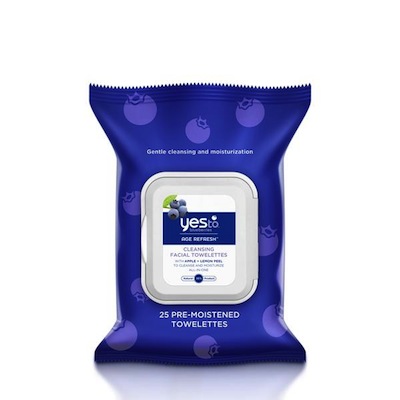 For those super lazy nights when I simply cannot muster the strength to wash my face (yes, it happens), I rely on Yes To Blueberries Brightening Facial Towelettes. These handy wipes are 99% natural and contain blueberries to fight free radicals, lemon peel to brighten and apple to refresh & refine skin's surface. These really are a no brainer…just buy them!
***
So there you have it — A few of the items in my Mommy-to-be skincare routine. Have you tried any of these products? What's in your Mommy-to-be skincare routine? Please leave a comment and share!