In my entire baby planning phase, the one area in which I feel the most overwhelmed is Nursery Design. We live in a multi-level brownstone and baby's room is spacious…not huge, but absolutely adequate. There's plenty of room for the necessary nursery furniture — crib, dresser, changing table, etc. Again, the baby's room is not huge, but adequate. However, after a recent trip to peruse nursery furniture, I developed a major case of the sads after making a shocking discovery — traditional baby furniture is quite bulky.
I immediately began to second guess the nursery space and question whether or not we'd have enough room for the essentials. I mean, when did cribs get so massive? I just imagine that all of this chunky, clunky furniture will dwarf baby's space. Wahh!!
So this begins my Nursery Design dilemma: I am now tasked with figuring it all out. Aesthetically, I prefer clean, minimalist, streamlined furniture. I am not a fan of jam-packed spaces…I need the rooms in my home to breathe. Rooms need to feel airy, yet lived it….open enough to not suffocate, but well appointed enough to feel cozy. It's a delicate balance. And unfortunately, my nursery furniture research had left me feeling rather bleh. I knew I would eventually have to settle, buy the darn furniture, and basically get over my aesthetic woes. Luckily for me, it was around this time that I decided to give Stokke a closer look.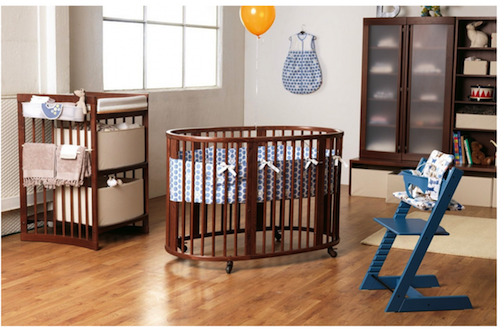 I was already familiar with the innovative, Norwegian children's furniture and baby gear company — you will recall my review of Stokke Xplory & my Stokke Scoot Giveaway. So in taking a closer look at Stokke, I found myself drawn to the chic, unique, simple yet functional solutions for children.
Follow my three-part nursery design series as I build out Baby Benson's little space (and offer you the opportunity to win big for your baby's nursery). Based on my anticipated needs, here's the Stokke furniture I've decided to go with: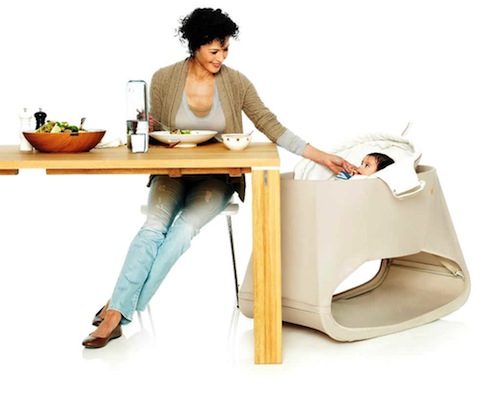 Stokke Bassinet: For the Downstairs…
A unique, lightweight bassinet that allows your baby to rock, rest or sleep. Its portability makes it easy to stay close to your baby in every room of your home. Made of soft, flexible fabrics, the Stokke Bassinet is a snug spot for sweet dreams. The oval shape cradles your baby for that added feeling of security, while gently sloping curves allows you to rock your child to sleep. Mesh lining keeps the cocooning bed well ventilated. The bed is easy to use, easy to clean and easy for you both to enjoy. Simply the perfect way to keep your baby close – always.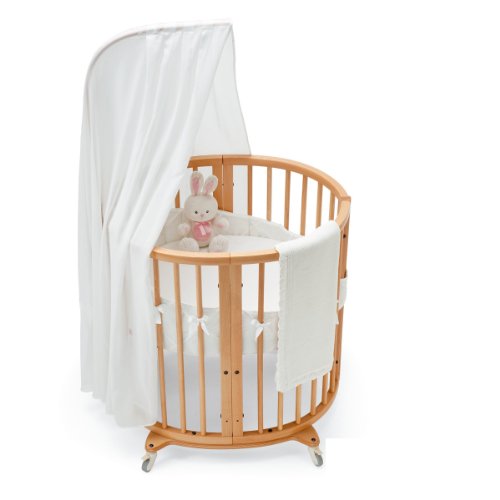 Stokke Sleepi Mini (0-6 months): For Mommy and Daddy's Room…
The perfect first bed for your baby. It creates a nest-like environment that is comfortable and secure. Smooth action lockable wheels can be used to rock your baby gently to sleep, and makes your crib easy to move from room to room.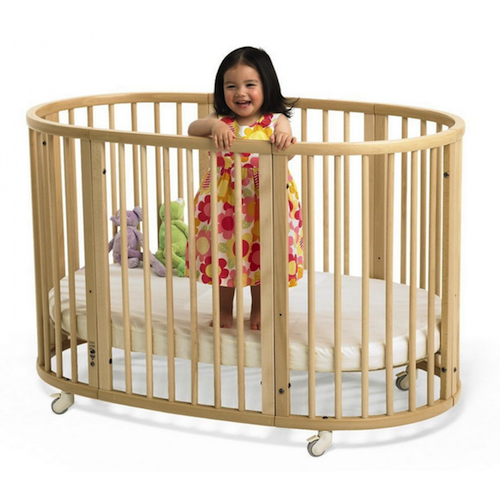 Stokke Sleepi Bed (0-18 months): For Baby's Room…
The distinctive narrow oval shape creates a nest-like environment that is soft and safe, cosy and curvaceous – a secure, practical, enclosed area where your child's rich and unique fantasy life will know no limits. With the ability to grow with your child, Stokke Sleepi expands to accommodate the changing needs – and sizes – of childhood while maintaining a comforting familiarity. And the wheels mean that as you move around the house your baby can follow you, keeping you both comfortable, even during those daytime naps.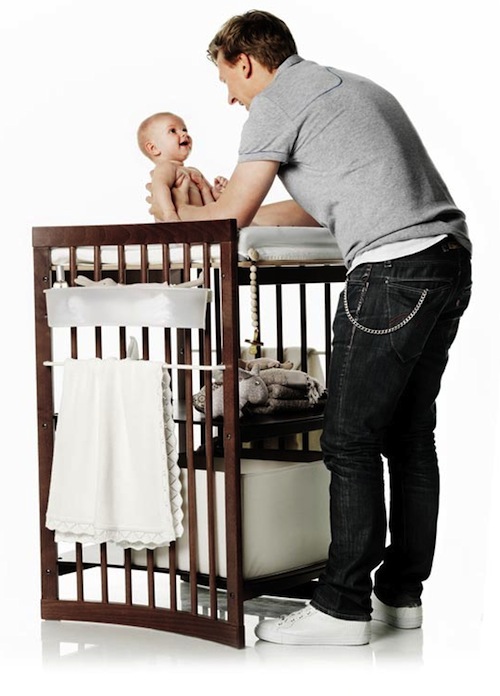 Stokke Care Changing Table: For Baby's Room… 
A changing table that becomes a desk and a bookshelf and a TV stand – but first and foremost it's a tool to make diaper changing enjoyable and intimate. That's why Stokke Care's unique hourglass shape is designed so that you face your child while changing, and space for your feet allows you to get closer to your baby. It raises your baby to your height, encourages all-important eye-contact and frees your baby's arms and legs, promoting play and interaction. So now you can spend hours together having fun… until it's time for another change, of course.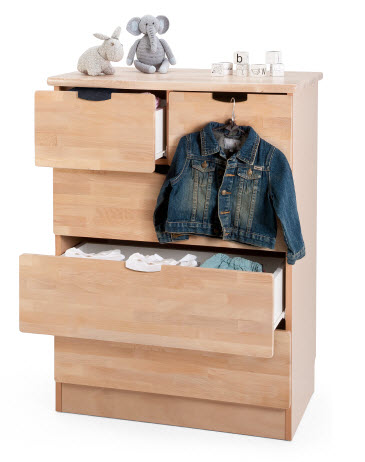 Stokke Care Dresser: For Baby's Room…
This tall dresser includes 3 spacious drawers and 2 half size drawers for all of your child's essentials. Though children will outgrow clothes, the timeless design of this piece makes it a long lasting practical element to fit any room for years to come. 
And here's Baby Benson's space pre-Stokke…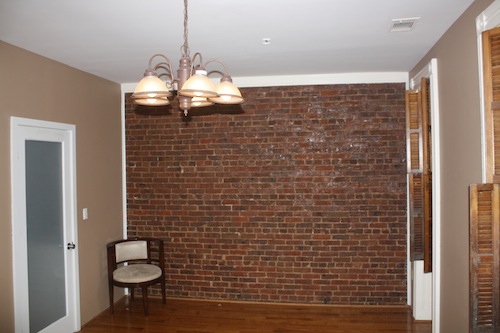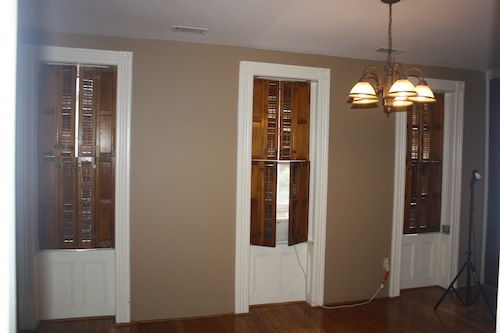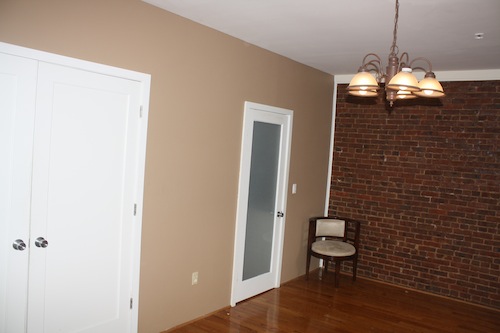 As you can see, we've got pretty good space to work with. Follow along over the next couple weeks as we paint, assemble furniture and get the nursery ready for baby's fall arrival.
GIVEAWAY ALERT:
Stay tuned for a very special Stokke giveaway that's guaranteed to blow your mind. You'll have the opportunity to win one of the pieces from my nursery design — your choice! Pretty awesome, huh? Stay tuned for the details in "ThisThatBaby: My Stokke Nursery Design, Part 2".