It's hard to believe, but my sweet little Phoebe is almost 2. Yes, 2! Technically, she's 20 months…just 4 months shy of her first birthday. But any way you slice it — Holy Moly! I'm the mom of an almost 2 year old!
With 20 months of mothering under my belt (not counting the in utero mothering), I definitely feel I'm acing certain things on the mommy checklist (and other things I'm failing miserably…but that's another blog post). Being a card-carrying Beauty Girl, I feel I've hit my stride in the 'self-care' category for Phoebe. In the beginning I was CLUELESS…there are so many different washes, creams, ointments, lotions, OH MY! But again, as a Beauty Girl, I feel I have a bit more insight and intuition in this area (versus, let's say "colds"…I call the pediatrician for EVVVERYTHING!). And the one brand that I've stuck with from day one (August 19, 2013) is Mustela…
With Mother's Day just around the corner, I thought I'd take this time to share the Mustela products that have been with us from day one to present. I love simplifying my life, and self-care for Phoebe is no different. I can't do a ton of products. I like to streamline Phoebe's skin care as much as possible, and this is one of the many reasons why I've stuck with Mustela.
Dermo-Soothing Wipes Fragrance Free
Dear God, you have no idea how much you will rely on wipes. It's like, next to the boob (if you're breastfeeding) the wipe is like the second most important thing you'll need…and need often. From day one to month-20, I still use many many wipes on a daily basis. I rely on Dermo-Soothing Wipes Fragrance Free because they are thicker and softer than most wipes I've tried. Yes, they cost a little more…but, I honestly feel that the quality of these wipes stand up to most diapering tasks. I've tried wipes that aren't as pricey…and I've only ended up using double the amount. Dermo-Soothing Wipes Fragrance Free are super delicate for newborn skin. The alcohol free formula is composed of 98% of ingredients of natural origin. They get the job done and they're oh so kind to baby's bottom, face and other precious little body parts.
PhysiObébé
Let's talk 'explosive diapers' (sigh, who am I?). No, but seriously. Every mom, dad and caregiver has been there. Girl! The content of that diaper is just everywhere…and soap and water are a delightful distant fantasy. PhysiObébé will save your butt…well, your baby's butt. Ideal for quick clean up situations, PhysiObébé is a no-rinse cleansing fluid for face and body. I use this at home, on-the-go…and my mom especially appreciates that I toss it in Phoebe's diaper bag when she's watching Phoebe while I run errands. It's such an easy way to clean up super dirty diapers. It's also really soothing and does not irritate baby's skin.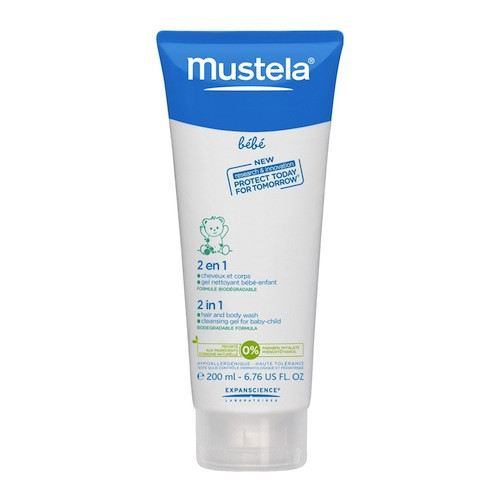 Motherhood is about multi-tasking (remind me to tell y'all how my mom broke that little lesson down for me as she cooked a full three course meal and tended to Phoebe at the same time. I was in awe!). It's really important for products to serve more than one function…especially at bath time. Just picture it – baby's all slippery and you're juggling like 3 or 4 products plus your wiggly little tot. Just, no! 2 in 1 Hair and Body Wash works perfectly because it's a tear free gel that's great for both hair and body. The formula is soap-free and formulated especially for baby's delicate skin. This dual-purpose product is such a lifesaver!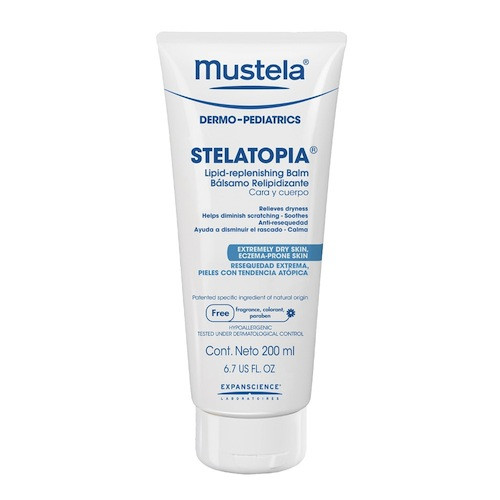 Stelatopia Lipid-Replenishing Balm
While Phoebe does not have eczema; she is prone to dryness on her legs. Stelatopia Lipid-Replenishing Balm is my go-to for soothing her skin post-bath. I've tried other products, and this is the only one that keeps her from scratching her dry, itchy skin. Again, she doesn't have eczema – but if your little one does, you should know that this product is recognized by the National Eczema Association for its efficacy.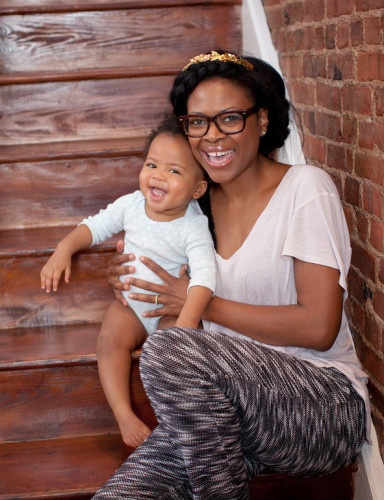 So when it comes to caring for Phoebe's skin, thanks to Mustela, I feel like I've got it covered. Now there are plenty of other things I'm still figuring out, like:
– How much milk is too much at this age? Phoebe still likes a big ol cup of milk at bedtime. Is that ok?
– How much TV time is ok? She has none during the day, but I admit to letting her watch a little Doc McStuffins while I cook. Is that fine?
– She used to love brushing her teeth, but now fights me so much. How do I make sure her teeth stay healthy?
You see! There's a lot I'm STILL figuring out. But, as for baby's skin care – I've got Mustela!
Oh, and if you love Mustela as much as I do, you definitely want to participate in the Mustela Loyalty Program.
Sign up and earn rewards today!
AND!! As a ThisThatBeauty reader, you can receive $5 off your first Mustela purchase with the code: TTB5
Shop, shop, shop !!