Is Noxzema Classic Clean Moisturizing Cleansing Cream the cleansing cream that started it all? Well, truthfully, I have no idea, BUT what I do know is this — Cleansing Cream is a VERY BIG DEAL right now and Noxzema goes way back! Heck, my mom used it when I was just a young girl…and, well, I haven't been a young girl in a very long time (#WaitWhatSheIs40 – it's a real Insta hashtag))! I remember, I'd watch my mom slather and smooth the thick, whiter-than-white, minty-smelling, cream concoction all over her face. And as I've come to observe (mostly in the world of fashion, but it's also applicable in beauty) — what's old is new again. Currently, everyone's super into cleansing creams and multi-step cleansing processes that start with a skin-balancing oil or rich cream. So when Noxzema reached out and asked if they could provide a sample for consideration, I was game to explore…..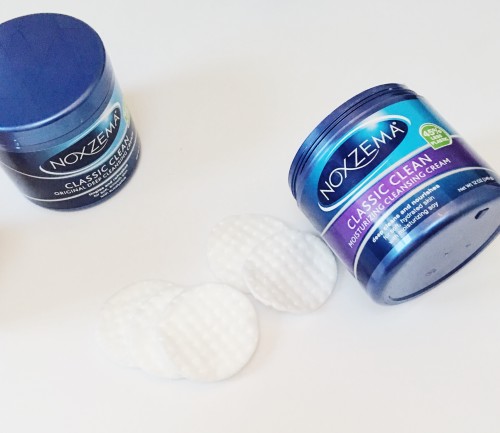 Interestingly enough, as a teen and young adult, I never really "got" the cleansing cream concept. In those days, I wanted a wash that left my skin squeaky clean. Laugh all you want, but this was the pre-ThisThatBeauty years. I now know that squeaky clean skin is never really the goal, because "squeaky clean" usually means "stripped clean"….and YOU DO NOT WANT THAT.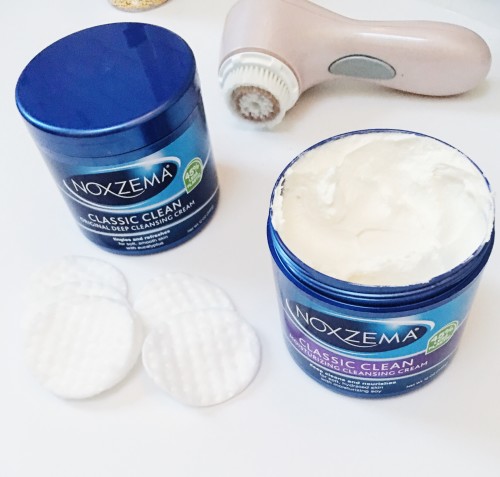 The original formula (Noxzema Classic Clean Original Deep Cleansing Cream), gives you the classic Noxzema tingle that you might remember from your youth. It's the eucalyptus! And though I am generally a eucalyptus fan (sue me: I love medicinal smells), I am going to have to pass on the classic formulation (sorry, I just can't do the tingly feeling around my eye balls) and pledge my allegiance to the updated Noxzema Classic Clean Moisturizing Cleansing Cream formulation…and here's why:
Both formulas remove dirt, oil, and condition the skin without over-drying, but Noxzema Classic Clean Moisturizing Cleansing Cream is way less eucalyptus-y, which makes it perfect for use on the entire face…including the eye area. I mean, it's still there, and I love the "hint" of eucalyptus, but it's not as present as the OG formula. Upon inspecting the ingredient list on both creams, eucalyptus is a lot further down the list on the updated formula….this means there's less eucalyptus. Seriously, sniff the jars side-by-side and you'll 'see' (well, 'smell'). Noxzema Classic Clean Moisturizing Cleansing Cream also gives the skin a touch more hydration, which is a much needed benefit this time of year.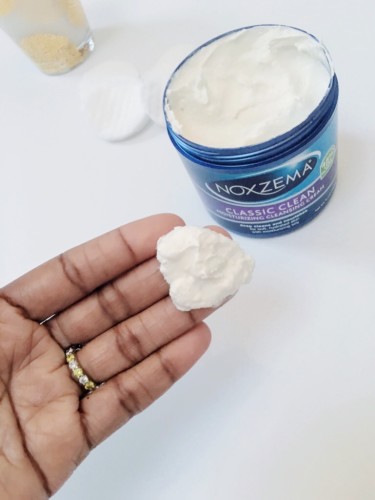 Cleansing Creams are a great first step for makeup removal. I wear eye makeup daily so the updated Noxzema Classic Clean Moisturizing Cleansing Cream formula is perfect for my needs. If you're a non-eye makeup wearer, you are probably fine with the "original" cream.
What's in it? The dermatologist tested Noxzema Classic Clean Moisturizing Cleansing Cream contains moisturizing glycerin, eucalyptus, soybean and linseed oils. My skin is oily and acne-prone. I had no adverse reactions during my three week trial…and with something like a cleanser, I usually know the next day if the formulation is not in agreement with my skin. Side note: The 12 oz. tub is actually still in the rotation.
Who should use it? As I mentioned a few sentences back, I have rather oily/acne-prone skin and Noxzema Classic Clean Moisturizing Cleansing Cream works well for me. No breakouts to report (hashtagblessed insert praise emoji). Winter is the time of year where I transition to richer EVERYTHING…moisturizer, serum, eye treatment and cleanser. My skin demands a little more for winter, so now is the perfect time to give a cleansing cream a try.
Does Noxzema Classic Clean Moisturizing Cleansing Cream perform as well as pricier cleansing balms and creams? Yes, it actually does. They all do the same thing…..they remove makeup, soothe and leave skin really conditioned. The thing you have to ask yourself is this — What are the key benefits that I need in a first pass cleanser? Meaning, if you're a Double-Cleanse Queen like moi, what are you REALLY needing your first step cleanser to do? But wait, I'm not saying to slather on any old cold cream, but I am saying — a drugstore friendly cleansing cream that won't irritate your skin is CERTAINLY worth your attention.
*This post is sponsored by Noxzema. Opinions my own.