Bangstyle is unlike any other hair care company  I have encountered in the past. The main focus is on trend and styles of the hair community. The Bangstyle website is edgy, rocker chic and trendy. It features commentary and images from artist, stylists, musicians and fans of the Bangstyle products.  The editorial  content includes stories on haircare/hairstyling, beauty, art, technology and more. There is also a mobile app that  allows you to browse hairstyles, save favorites, and create a personalized portfolio.
The main thing that caught my attention about Bangstyle shampoos and conditioners is that they are sulfate free, paraben free and they contain sunscreen. I'm a natural curly head, colored blonde and I try to stay away from all the unnecessary  and harmful ingredients that will dull, dry and damage my hair. The addition of sunscreen is also great to keep me at my perfect shade of blonde and protect my hair.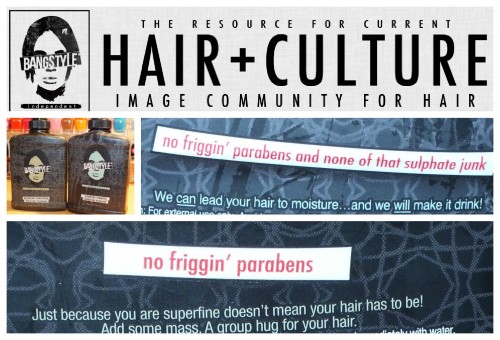 I tried the Bangstyle volumizing shampoo and conditioner, my naturally curly hair got a minor boost in volume but  my hair felt a lot softer and was  easier to manage. The packaging is edgy and unique (the kind of shampoo I picture Pink using.)  Some sulfate free shampoos I have tried tend not lather very well, but with Bangstyle volumizing shampoo I had no issue with lathering and working into my scalp and hair. The scent is pleasing and not overpowering. Bangstyle products are sold exclusively at hair salons. There is a variety of products to suit your needs and they can all be found here.