If you are a skincare lover and have not yet alerted your entire family and friends to all the great value sets out for the holidays, you're not doing it right. This is the time to stock up on some your favorite brands or to be introduced to new lines of products you have been wanting to try.  Here are six great holiday skincare sets that are worth receiving (or giving.)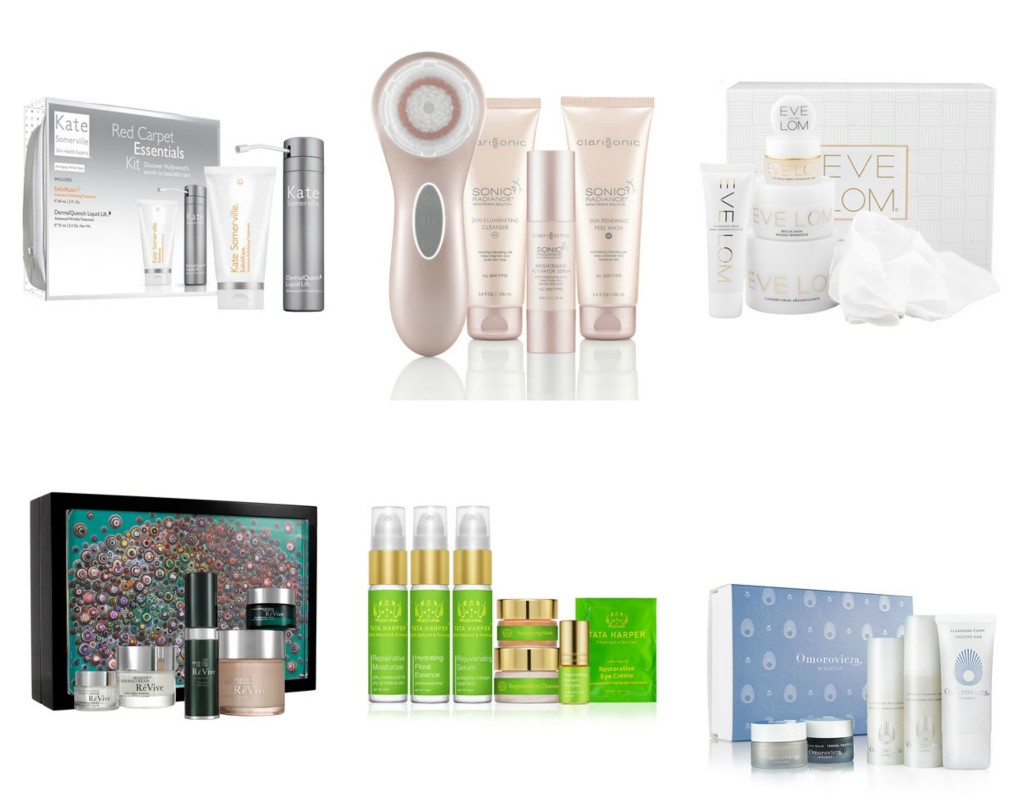 1. Kate Somerville Red Carpet Essentials Kit – I love when brands do a kit of their cult classics. Both the Exfolikate and Dermaquench Lift are two of Kate Somerville's most popular products and are great staples for any skincare routine.
2. Clarisonic Sonic Radiance Brightening Solutions Set – There is no better time of the year to gift a Clarisonic than the holidays. It's that item that we won't splurge and buy ourselves, and secretly hope a family member or friend will give us. And this set comes with two Clarisonic cleansers and a serum to help get you started on your way to that perfect skin.
3. Eve Lom Ultimate Collection – File this under decadent holiday gifting. If you receive this Eve Lom set, you better be sure you have an equally amazing present to give back. This set contains all of Eve Lom's most popular products – with the iconic cleanser taking center stage.  But don't worry, this set comes with products for the eye area and lips as well so you can be sure that your entire face will get the royal treatment.
4. Revive Limited Edition Artbox – Part skincare set, part work of art. Half of the appeal of a gift is the packaging and this Revive set does not disappoint. The set is done in collaboration with artist Markus Linnenbrink and is truly a collector's piece with the stunning keepsake box that houses 5 of Revive's best selling products including the pillar product, the Moisturizing Renewal Cream.
5. Tata Harper Daily Essentials Skincare Discovery Kit – For those natural beauty lovers in your life, Tata Harper blends the best of both worlds – luxury and naturalness. And with this Discovery Kit, 7 of Tata's daily skincare essentials are available to try in one set.  The best part is the price point which is under $70 and can even be a good option to use as stocking stuffers if you want to break up the set. So many options!
6. Omorvicza Limited Edition Introductory Set – As I stated earlier, skincare sets are the best way to try products from a line that you are slightly familiar with or have been wanting to try for a while.  These introductory sets often offer deluxe sized samples of their top sellers so you can pick and choose what you will purchase later in full sizes. Of course there is always that risk that you could love everything, and then you are faced with what to pick up first.  I have a feeling that will be the case with this Omorvicza set which features products designed to help brighten, energize and give a deep cleanse.
There you have it, a gift guide for the luxury skincare lover. The only thing left for you to do is send this list to your friends and family and keep your fingers crossed.
Happy Holidays!
For more sass and beauty updates follow Maree, @alittlebitetc on Twitter, Instagram or Like me on Facebook.