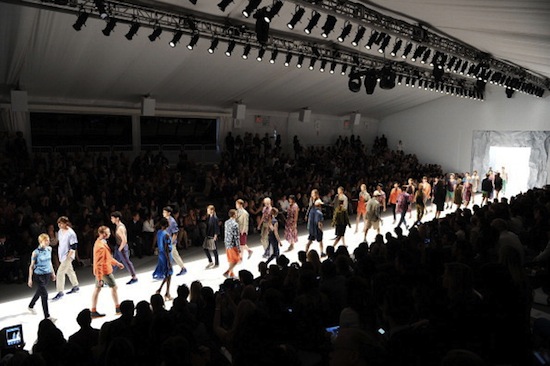 Fashion Week is upon. No. Seriously. It's like this week. First it's FNO (see our FNO rundown here) and then…BOOM, full on #NYFW. But before nonstop shows, breakneck speed note-taking on my iPad, impossible deadlines, and everything in between, I make time to properly prep and get my booty, I mean, beauty in shape for the rigorous week ahead.
Read on as I share my Fashion Week Beauty prep for skin & hair. . .
–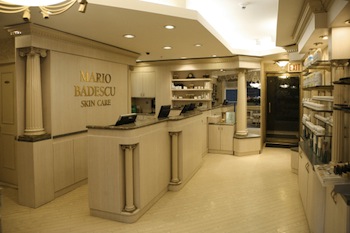 SKIN PREP
Facial: About a week or so before Fashion Week, I always make time for a really thorough facial. The week promises to be incredibly stressful so getting my oily, acne-prone skin into shape in advance is a wise move. I visited Mikki at Mario Badescu and let me tell you — Mikki gave me the business! She worked me over and it was awesome. I walked in looking a super congested, hormonally broken out wreck . . . and my skin now looks great. I love that Mikki was extremely thorough and committed to getting me all cleaned up. And let me tell you, she's strong for a petite gal! Immediately post-facial my skin looked like I was wearing foundation — and clearly I was not. Yep, I'll be seeing Mikki again in six weeks….a girl can get used to this!
Proper Skin Maintenance: While the aforementioned facial laid a solid foundation, proper skin care is key. I'm currently managing my adult acne prone skin with…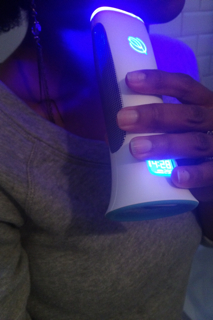 1) TRIA Skin Perfecting Blue Light. I use this blue light treatment device (the same technology used by dermatologists) to zap the bacteria deep within the skin…the acne causing bacteria that leads to painful breakouts [and naturally, at the most inopportune moments – like Fashion Week]. I treat with TRIA once per day for five minutes. And yes it really works. . . this is my second device, after losing the first one. I highly recommend this as preventative tool for acne-prone skin!

2) Mario Badescu Drying Mask. Like most Mario Badescu products, Drying Mask is one of those skin care saviors that I am never without in my beauty closet. I rely on it to help dry existing pimples and clarify problematic areas before pimples have the opportunity to emerge. While it's safe to use all over, I generally apply to cheeks and chin (a little area I like to call the "muzzle")…my most congested areas. And for nights when I do not use the Drying Mask, I balance things out by incorporating  Mario Badescu Healing Soothing Mask. It's a yin & yang sort of thing.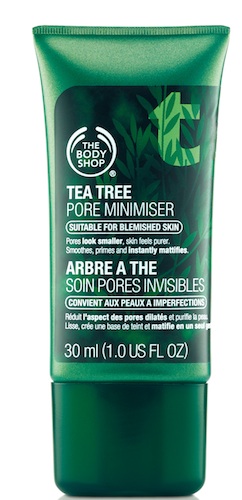 3) The Body ShopTea Tree Pore Minimiser. You know how we always want what we don't have?. . . curly girls want stick straight hair & straight girls want coily curls. Well-endowed bellas want a less ample bosom & chesty girls want to frolic in sundresses sans brassiere. . . the list goes on & on. I have notoriously oily skin (though, I'm often told it's "glowy") and all I ever want is perfectly matte skin. Luckily, The Body Shop understands my struggle. Incorporating the acne-fighting, natural antiseptic power of tea tree oil, The Body Shop Tea Tree Pore Minimiser immediately softens the appearance of enlarged pores by absorbing and mattifying excess sebum. Unlike most primers that simply prime the skin for makeup application, The Body Shop Tea Tree Pore Minimiser also helps to treat and improve congested skin.

HAIR PREP
Set Things Straight: For Fashion Week, I am all about straight hair. Given the zillion other things that I have to worry about, I really cannot be bothered with my temperamental, unpredictable, naturally curly hair — So I turn to Sultra The Diva Pressing Iron and Pressing Creme. I first came to know (and quickly love) Sultra back in 2009 when I was a contributor for The Makeup Girl. . . so when I heard that the brand had launched a pressing iron, especially designed to suit the needs of hair like mine. . .  well I wept a unicorn. With so many flat irons and stylers on the market, it's tough to find one that is suitable for coily hair…one that gets hair straight and smooth, but also does not damage or compromise hair's natural curl pattern. The Diva's ThermaGuide™ Plate System, which allows hair to slide across plates without tugging or pulling, and advanced ceramic heater can beautifully style the kinkiest of coils. The grooved side of the plate sort of acts like a comb and helps to smooth the entire length of hair as the plates straighten. Pure genius! For relaxed hair, there is a "relaxed" heat setting and for natural hair, there is a "natural" heat setting. Personally, I like to use the "relaxed" setting for my natural hair. "Relaxed" is a lower temperature and I like to limit my hair's heat exposure. The Pressing Créme is great because it aids the straightening process and gives my hair shine without feeling heavy.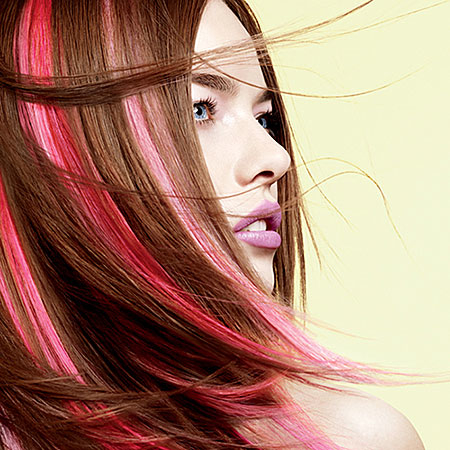 For a little added sass (and you know how much I love to get sassy), I'll add a few strips of pastel colored extensions for Fashion Week. I love non-committal ombre.  And lucky you — they're currently on sale at Sephora for only $9.

For a bit more texture (think: soft wayward waves) I like adding The Bombshell Cone Rod Curling Iron to the mix. While we've all seen clip-less curling irons, I can guarantee you've never seen a clip-less like this. The point of difference is the nubby tapered-barrel. . . it provides mega hold & creates loose, slightly tighter waves at the root and flowy, sexy, messy ringlets at the bottom. Between The Diva and The Bombshell, my hair is NYFW ready!
Stay tuned for my NYFW makeup musts — I'll rundown the products that help me fake a good night's sleep, the lipstick that makes my teeth look whither, the highlighter that gives my skin a candlelit glow, and more. Stay tuned! Xx