Let's tackle some Fall makeup trends, shall we?  If you need a quick refresher on exactly what all those trends are, you can see that post here.  Did you read it? No?  Ok, I'll wait…Done?  Perfect!  Now we can carry on with the lesson.
One of the most daunting trend for women always seems to be the smoky eye, make that a brown smoky eye since we are talking 2012 Fall trends.  It strikes fear in the hearts of many makeup lovers, but it is actually one of the easiest looks to create.  I will take you step by step through the process, easing you through all the scary parts and showing you how simple this look can really be.  And the beauty of this particular Fall trend is the emphasis on one color – brown.   A color that is universally flattering on everyone, a shade almost every makeup lover owns and a palette appropriate to any social situation, work or play.  Class is now in session, let's begin!
 All smoky eye roads begin with a base to help your shadow last longer, go on more smoothly and blend easily.  I begin with Laura Mercier Eye Canvas and apply all over my entire lid stopping at the crease.   I prefer a flesh toned base so that it can also help even out the skin tone on my lid and reduce redness.
Apply your preferred brown shade – cream or powder, shimmer or matte – all over the lid stopping at the crease.   I am using Laura Mercier Caviar Stick in Cocoa , which has quickly become one of my favorite products for sheer ease of use and the ridiculously long staying power of the product.  Editor's side note: blend right away because it sets quickly and does not budge.  The trick to wearing a smoky eye for any occasion is all in the shade of brown that you choose.  The deeper or more frosted the shade, the better suited for evening.  A pale, subtle brown, often with grey undertones is a great day choice for a simple wash of color all over the lid.
Take your blending brush, such as this MAC 217 brush, and begin buffing the color all over the lid.  Attempting a smoky eye or any eye look for that matter is a moot point without the proper tools, namely brushes.  Once you have your arsenal of brushes, the best way to hone your skills is with good ol' practice.  When blending out the lid color for a smoky eye, such as above, use quick 360 degree circular motions, applying enough pressure to blend the product.
An extra tip to ensure the edges are smooth and blended is to take a larger blending brush like this MAC 224 brush, dip it in a matte skin-tone shade (mine is MAC Blanc) and apply over the edges both above and below to help the color seamlessly disappear into the skin.  This shade can also act as a highlight under the brow to create a more lifted appearance.  With such a dramatic smoky effect, I prefer a matte shade on the brow bone to balance the look.
Once the edges have been buffed out and there is a smooth gradient-like effect to the shadow, finish smoking out the look by taking the color underneath the lashes and smudging it gently.  I prefer to apply the color with a smudge brush rather than directly from the caviar stick, as a brush allows me more control over the amount of color that is deposited.  Additionally, I run the brush slightly on the water line to intensify the effect.
Full, lush lashes are the best way to finish off a smoky eye.  Whether for day or evening, I prefer to use a thick, volumizing black mascara such as Diorshow and simply adjust the amount of coats I wear for the specified occasion.  Work – 1 coat.   Happy Hour – 2 coats.  Night out on the town – 12,432 coats.
The best compliment to a smoky eye is always a soft cheek and neutral lip.  Focus on only one feature and let the rest of the makeup support that look.  I am finishing this look with Blush #10 by Armani, a soft rose and Laura Mercier Lip Glace in Bellini, a reflective coral.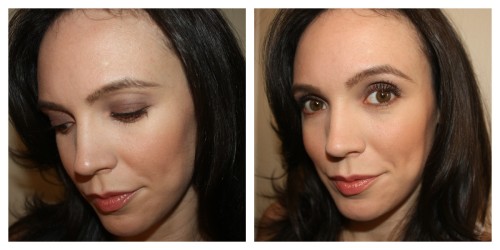 Here is the finished look.  Seems simple enough, right?  I would love to see how you wear your smoky eye.
Tweet or Instagram your smoky eye using #TTBSmkyEye so we can see your skills at work.
Don't forget to follow @alittlebitetc on Instagram and Twitter so we can compare skills.