Being a woman is beautiful and wonderful but it can be challenging at times. Today's woman needs to be smart, savvy, thoughtful, strong, mysterious, ambitious, caring, beautiful, resourceful and sexy all before she has had her morning coffee.  The art of being a woman is made even more impressive when you think about pieces of her life that remain largely a secret…pieces of her life that remain Untold.  Untold by Elizabeth Arden aims to express in fragrance the many layers, hidden and obvious, of today's woman.
Untold is a luxuriously layered fragrance that is made to capture and highlight the essence of today's modern women.  It uses a myriad or fruity, citrus, floral and woody notes to create a multifaceted and balanced fragrance, perfectly suited for the multi-layered life of every woman.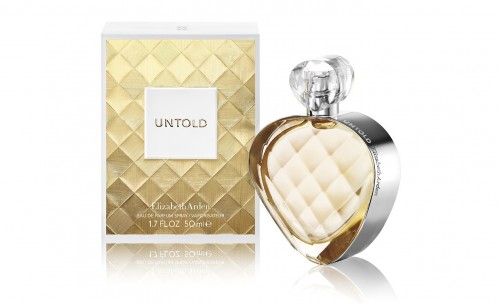 Untold  makes for a great daytime go-to because of how it wears. It opens with a crisp sparkle, almost like a burst of happiness, that is attributed to pink pepper and bergamot. Pear, gardenia, black currant LMR,  and Egyptian jasmine LMR make the middle of the fragrance fruity and a little sweet. As the day wears on it becomes more mellow and by evening the patchouli heart LMR and musk in the base leave behind a sensual finish…a perfect way to end the day.
Untold has universal appeal and can be worn by a woman at any stage of her life…from the young girl taking her first timid step into adulthood and learning about herself…to a more mature, self-assured woman who can take bold confident strides because she has fully experienced what it means to be a woman.
The Untold Collection:
UNTOLD Eau De Parfum Spray $79.00 (3.3 fl. oz./100 ml)
UNTOLD Eau De Parfum Spray $59.00 (1.7 fl. oz./50 ml)
UNTOLD Eau De Parfum Spray $49.00 (1.0 fl. oz./30 ml)
UNTOLD Body Cream $45.00 (6.8 oz./200 ml)
UNTOLD Shower Gel $38.00 (6.8 fl. oz./200 ml)
Where to Buy Untold:
Elizabeth Arden counters at department stores nationwide and ElizabethArden.com. 
—
For more of my randomness, find me @ChristeneCarr, on Twitter, Instagram, Tumblr, Pinterest and my blog.