Ever the thrill-seeker, when traveling abroad, I embark on a hunt for new discoveries….an obscure scent, an innovative beauty tool, a skin-perfecting cream. You know, something extraordinary that I can't find in New York City. And I have to tell you — In this digital age of unlimited information and far reaching access, it has become quite challenging to discover new, game-changing beauty.
During my recent trip to Paris I visited the LEONOR GREYL Institute. If you're not familiar with LEONOR GREYL, it is a family owned range of hair care products made from 100% natural ingredients. The brand's passion for healthy, nourished hair stems from of its founders, husband and wife team Leonor and Jean-Marie Greyl. They had a simple idea: Healthy, natural products = healthy, beautiful hair. Caroline Greyl, daughter of Leonor and Jean-Marie, proudly carries on the tradition of high-quality, environmentally-safe hair treatments using only the best natural ingredients.
As most of you now know, I'm a mommy-to-be, so I find myself more carefully reading labels these days. Quite naturally, I am drawn to products with as few chemicals as possible.
While in Paris I experienced a LEONOR GREYL hair treatment that was so incredible, and the results were so dramatic, that it has forever changed how I care for my hair. Obviously, if you live in Paris, you should check your calender and schedule an appointment ASAP. But if you're in the states, like me, read on as I explain how to achieve LEONOR GREYL salon quality results at home.
To replicate my salon treatment you will need a few things: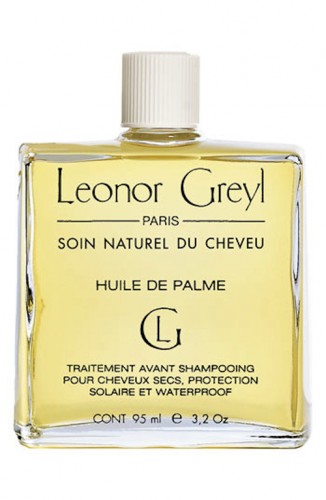 STEP 1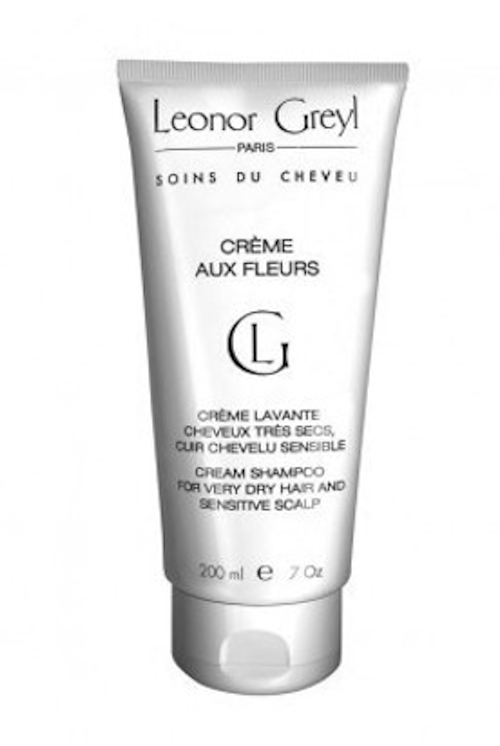 STEP 2
STEP 3
STEP 4
And for the most amazing hair of your life…no, seriously — most amazing hair ever…follow these steps:
STEP 1: Beautiful hair begins at the scalp. Apply LEONOR GREYL Huile de Palme to scalp and ends of hair. This beauty-enhancing oil begins the process of detangling, softening and protecting hair from root to ends. I cannot stress how crucial this step is. In order for hair to properly receive the application of treatment products, it must be well-prepped. LEONOR GREYL Huile de Palme's restorative oil blend can be left on hair for up to 10 minutes, or overnight for more intense penetration. Once applied, massage throughout and brush through to ends if needed.
STEP 2: Further layer the treatment and apply LEONOR GREYL Creme Aux Fleurs to the scalp. This washing cream is a MUST!…particularly for very dry, color-treated and/ or frizzy hair. You do not need to wet the hair just yet. Simply apply LEONOR GREYL Creme Aux Fleurs to scalp (after you've applied LEONOR GREYL Huile de Palme). Leave on for about ten minutes and gradually emulsify by adding water little by little.
** NOW HERE'S THE PART THAT I FOUND LIFE-CHANGING **
DO NOT RINSE…just yet
STEP 3: Lastly, apply LEONOR GREYL Masque Quintessense to ends and massage away.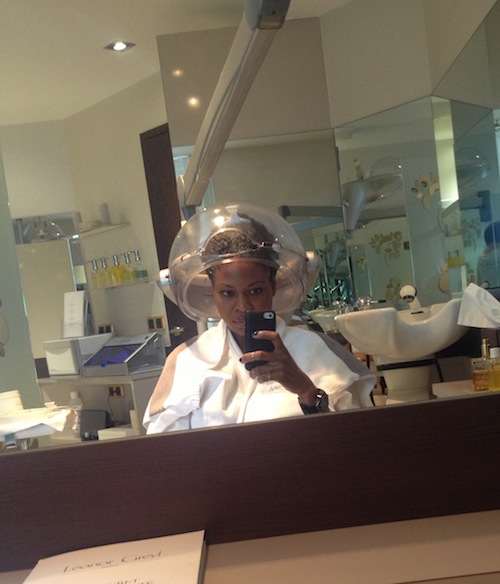 STEP 4: To seal the deal and truly reap the benefits of the abundance of good-for-you ingredients, sit under Huetiful Hair & Facial Steamer for roughly 30 minutes. Obviously, this is not the steamer used at LEONOR GREYL Institute, but for those of us not in Paris, Huetiful Hair & Facial Steamer is the perfect at-home alternative. After 30 minutes under Huetiful Hair & Facial Steamer, rinse hair thoroughly…emphasis on "thoroughly'. Spend more time rinsing than usual. Afterwards, style hair as desired.
***
Immediately following my salon hair treatment, I noticed that my hair felt stronger, fuller, and more lush. My scalp felt clean, yet not stripped.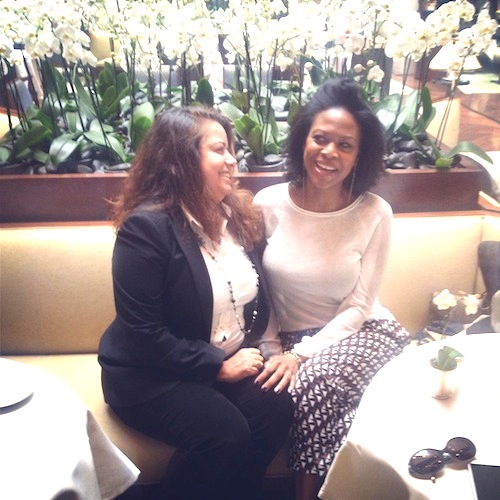 I was able to go over a week before my next wash. My hair never felt, heavy, weighed down, or greasy. And when I returned home & replicated the treatment process outlined above, I achieved the same results. SOLD!
I love the idea of an intense treatment prior to washing…and I especially love that I can achieve healthy, full, glamorous hair without having to over-wash….which can lead to dryness and breakage. Ever since returning from Paris, I have continued to treat/wash my hair in this fashion — and let me tell you: I can't imagine going back to the old way of washing.
If your hair type is similar to mine (dry, coarse, prone to frizz), the above treatment recipe should work for you. If your hair type is not similar to mine, visit the LEONOR GREYL website and customize a treatment plan for your specific needs.
In the US, LEONOR GREYL products are available at LeonorGreyl-usa.com, Nordstrom, Amazon, Folica, and these online retailers. To locate a salon near you that offers LEONOR GREYL treatments, click here.
Click here to read more about my Beauty Tour of Paris
For a look into my world and my time in Paris, peruse my Instagram feed and search using #TTBinParis
Follow my Paris videos on Vine (@ThisThatBeauty)
Chat soon!