Guess what? All of my fragrance wishes have suddenly been granted.  I had the luxury of trying out a Sephora Favorites Perfume Sampler  and I have found several new favorites.  The sampler set features 13 fragrances and a gift card to purchase a full size bottle of your favorite scent after trying the box.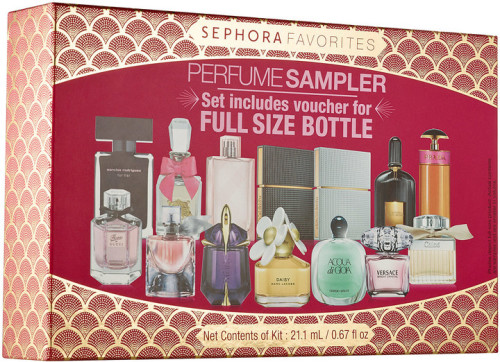 This set contains:
Brit Sheer by Burberry
Chloe by Chloe
Nirvana Black & Nirvana White by Elizabeth and James
Acqua Di Gioia by Giorgio Armani
Flora by Gucci
Viva La Juicy by Juicy Couture
La Vie Est Belle by Lancome
Daisy by Marc Jacobs
Narciso Rodriguez For Her by Narciso Rodriguez,
Candy by Prada
Alien by Thierry Mugler
Black Orchid by Tom Ford, and,
Bright Crystal by Versace
I now have enough perfume to last me until well into the New Year, and I couldn't be happier about it.  A few scents from the collection stood out  —  I can't get enough of the Elizabeth and James Nirvana scents, Gucci Flora Glorious Mandarin, and Tom Ford's Black Orchid.

Elizabeth and james Nirvana White & Nirvana Black
Launched by the Olsen Twins and sold exclusively at Sephora, these distinctive scents were created to appeal to virtually any woman's palate.
Nirvana White combines lighter notes of peony, muguet, and musk, which offers a fresh, feminine, and clean smell that lasts for hours. I like this fragrance because it's almost impossible for it to become overwhelming after you've used it. It's just as if you are not wearing perfume at all.
The complete opposite to its counterpart, Nirvana Black helps you to add a sense of mystery to your everyday. Rich with sensual violet, sandalwood, and vanilla blends, this fragrance perfectly straddles the line between masculine strength and feminine spice.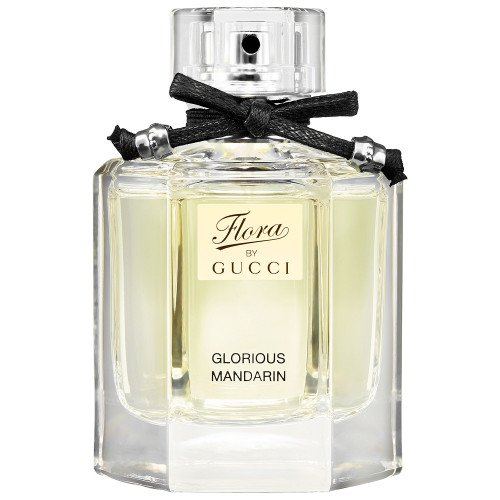 With a notes of citrus accord, peony, rose, osmanthus flower, pink pepper, and sandalwood, this light, beautiful fragrance is perfect for a confident woman on the go. I love how feminine this Gucci perfume smells! The scent literally makes me want to grab my favorite pair of heels and a bold lipstick. A couple spritz's of this, and you won't be able to stop smiling.
This fragrance can be equated to cozying up in your favorite cashmere sweater in front of a fireplace. Instant sophistication. The perfume presents a complex blend of bergamot, citrus, mandarin, black gardenia, jasmine, ylang-ylang and much, much more. The fragrance helps to bring out the skin's natural perfume and could not be more timeless.Simply put, Tom Ford knows what's good.
The Sephora Favorites Perfume Sampler is a great way to find out which top scents work best for you, and it also makes a great gift. The best part is that a gift card is included with the sampler so you can  buy a full size bottle of your favorite once you've tried all 13 perfumes.  The sampler retails for $60 and is available here.