With New Year's Eve right around the corner, you've no doubt already found your party dress, shoes and you may even have planned out your makeup.  But what about your nails?  You can't forget those.  Today I have the most perfectly festive — not to mention easy and fast New Year's Eve Nail Art Tutorial that will make your fingers a hit at any party.
All you need is your favorite navy blue polish and a few nail foils. Foils look hard to do, but they are so easy. And you can order all different kinds right here on Amazon! Keep scrolling for the official supplies list and the 4-step tutorial that will blow your socks off!
Happy Holidays and 2015 to you and yours!
Supplies:
Tutorial: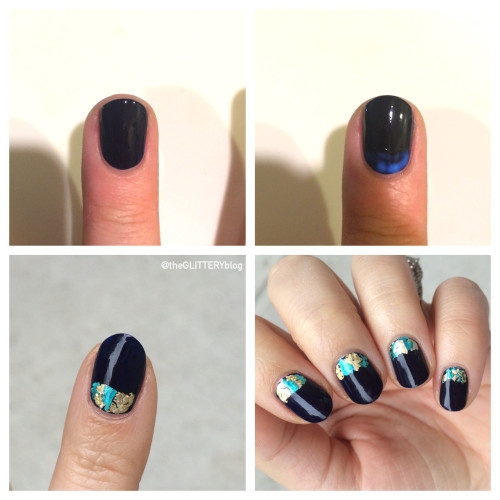 Step 1: after applying your base coat, paint 2 coats of your navy blue. Make sure the polish is 100% dry before moving to step 2 or else the foils won't work properly!
Step 2: once your polish is dry (this is so important, it's worth repeating), take your foil adhesive and paint on a thin layer by your cuticles. Only put the adhesive where you want the foil to go. It goes on white (like glue) and then turns clear when it's ready for the foil!
Step 3: cut a few squares of your foil. Then, using a corner of the gold, COLOR/FOIL SIDE UP, dab it on the right bottom corner of your nail. Then take your turquoise, COLOR/FOIL SIDE UP and do the same right next to the gold. Keep alternating until you reach the left side of your nail.
Step 4: wait about 5 minutes before sealing the deal with your top coat! And now you (and your nails) are ready to ring in 2015 in style!
Want more nails?! Follow visit theGLITTERY.com and follow @theGLITTERYblog on Instagram!