Does a facial have to take forever? If that's the case no one told that to the Dr Jart Pore Medic Derma at Home Peeling system. This two step, 3 minute mask and peel works in less time than it takes most people to schedule a facial over the phone. Step one has sodium bicarbonate (baking soda) base and is formulated to provide thermal heat to open pores and provide exfoliation. Step two uses lactic acid and salicylic acid to remove dead skin cells and help refine skin.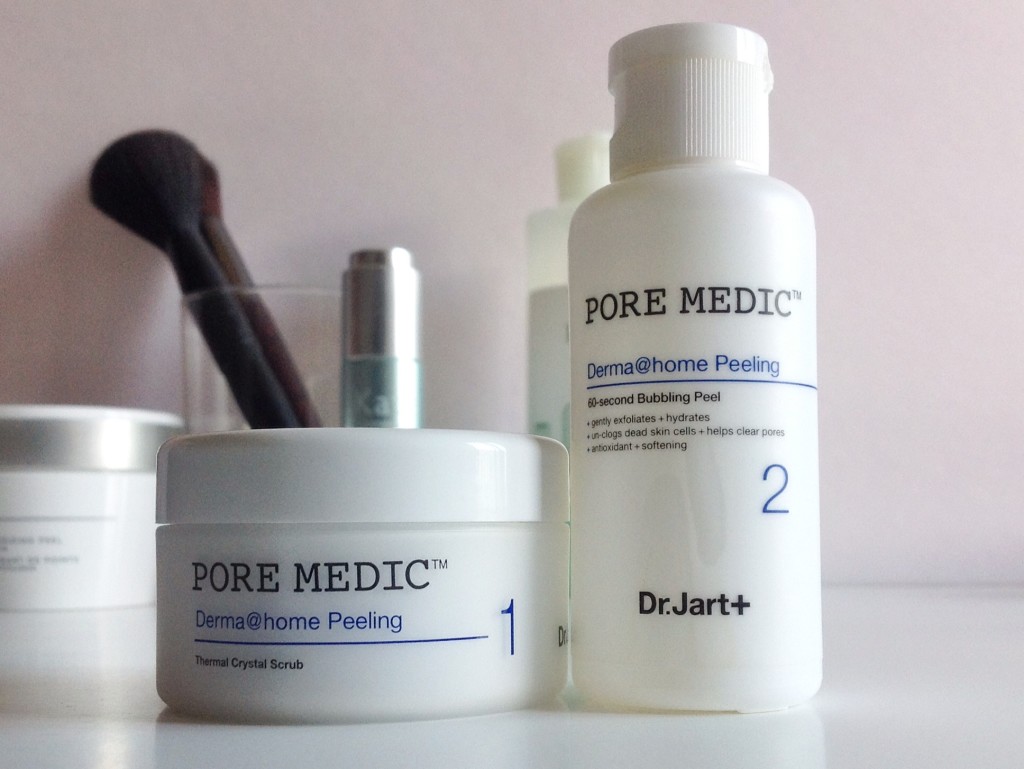 The claim made by the manufacturers of Dr Jart Pore Medic Derma at Home Peeling is that skin will appear instantly brighter with a newly refined texture and that pores will look diminished and clearer, while dark spots and blemishes will be visibly reduced. From this claim you might be tempted to think that all this happens instantly. Not so. Here's how it worked for me…Immediately following the peel my skin appeared more radiant and it felt very soft. After a about 3 weeks of once to twice weekly use, my forehead  spots began to fade. (I think it's important to note that I used a 1% salicylic acid cleanser intermittently while using this product but didn't use any other actives.)
Bottom line: I think Dr Jart Pore Medic Derma at Home Peeling is a good product to use twice weekly to maintain clear skin and/or address dullness and discoloration. It is safe for use on all skin types and  also helps to improve skin's moisture, thereby making pores less visible. The fact that there are visible changes in the skin after a three minute mask and peel, makes this a winner in my book.
Dr Jart Pore Medic Derma at Home Peeling is available Sephora at retails for $42.
—