When buying  makeup,  foundation  is the most difficult thing for me to find. Turns out i'm not alone. According to a study conducted by the NPD group, 73% of women say it's challenging to find their right foundation. Fifty-four percent of these women went on to say the most challenging part of finding the right foundation was finding the right shade. I can definitely attest to that statement because I fall into this category as well.
When I shop for foundation I generally by the shade as matched and recommended buy the makeup professional but then also ask for samples of the shade lighter and darker than my skin tone. This way I can mix-and-match until I find the perfect blend that works for me. Even when I shop the drugstore aisles I still get at least two shades of foundation then try them at home to find my perfect blend. Make Up For Ever, with its Foundation Nation events, is aiming to take the guesswork out of buying foundation.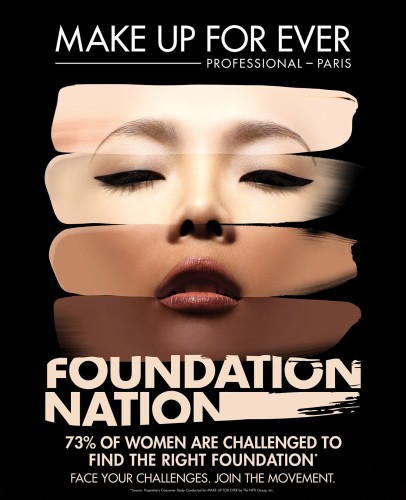 The Make Up For Ever Foundation Nation events will be held at select Sephora locations from September 19th to September 28th. During the Foundation Nation event, women of all ages, skintones, types and textures will be able to find the perfect foundation formula  and color to match their skin.  The Make Up For Ever team of professional artist will be giving complimentary 15 minutes foundation lessons to help "empower women to put their most flawless face forward." In these sessions women will be asked about their most challenging foundation issue, so, anything from texture, tone, dark spots, oiliness, dryness and everything in between can and will be addressed when each woman is shopping for her foundation.
Click here to find a Foundation Nation event near you and let the Make Up For Ever team of well trained professionals help you find your perfect foundation shade and formula.
–
Find Christene, @ChristeneCarr, on Twitter, Instagram, Tumblr, Pinterest and her blog.