Cream blush, in theory, is heaven-sent…it's creamy, dreamy and blends seamlessly onto skin. But, holy moly — Migration much? Why is it that cream blush, especially in humid/ warm weather, seems to migrate all over the place?…even when set with a finishing powder! *insert distress emoji*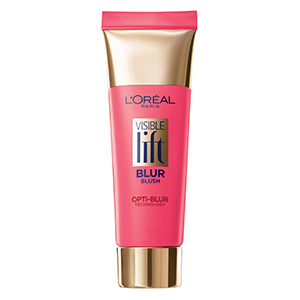 But the R&D wizards at L'Oreal are on to something with Visible Lift Blur Blush.
Perhaps it's the OPTI-BLUR technology or perhaps Visible Lift Blur Blush is formulated with discarded fairy wings, but this blush does not move, fade or lose its angelic flush for a full eight hours (based on my daily use over the last week or so). In a pinch, I even apply it to my lips, and let me tell you — just lovely. My go to shade is 503 Soft Berry.
In the video below I demo how I like to apply L'Oreal Visible Lift Blur Blush…
So, if you're in the market for a new blush, I highly recommend L'Oreal Visible Lift Blur Blush. It comes in three shades (Soft Pink, Soft Peach, Soft Berry) and retails for $12.99.