La Petite Robe Noire
Paris is my kingdom… I stroll through it at will.
My light step leaves no eyes still.
My heels echo loud, my winks conquer crowds and my smiles are vows.
Hearts are broken behind me. It's plain to see!
I have more than one trick. Breathe in my scent quick.
Trailing close, it takes hold in a bold game of hide-and-seek.
It's a chic boy magnet: a lasting mark, a signature visible in the dark.
;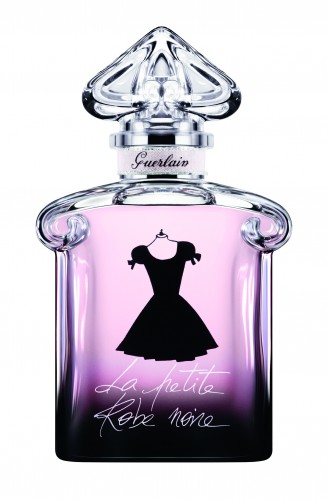 "The bottle is a replica of the famous L'Heure Bleue and Mitsouko fragrances. With its feminine upside-down heart shaped stopper, the curves of the bottle mimic that of the curve of women's shoulders. An ever-so chic little black dress designed by Serge Manseau adorns the bottle, with its gracefully plunging neckline and delicate balloon sleeves."
The Little Black Dress or LBD can be dressed up or down and there is seldom an occasion where the LBD is inappropriate. This is exactly how I feel about Guerlain's La Petite Robe Noire. With top notes of bergamot and black Cherry, the fragrance starts with a hint of sweet citrus but is soon balanced with black rose and almond that is rounded out with smoked tea, the spicy, woodiness of Pachouli, Tonka Bean and Licorice. It wears exceptionally well, day or night.
Just as a little black dress fits seamlessly into any woman's closet, so will La Petite Robe Noire fit on any woman's vanity.
La Petite Robe Noire is available exclusively at Sephora and Sephora.com.
Retail Price:
$115 (100ml EDP)
$80 (50ml EDP)
$64 (30ml EDP)
$58 (200ml Body Milk) – $57 (200ml Shower Gel)
;
;