Vitamin C has long been hailed as an antioxidant superstar in the skincare world and has lots of research to support those claims. Vitamin C helps to boost skin's radiance, promote collagen production to increase skin firmness, reduce the appearance of hyperpigmentation and more.  I was recently introduced to the Revision Skincare Vitamin C Lotion 30% and  I am intrigued! Since no one has ever complained about their skin being too radiant or too firm, I'm introducing you to this Vitamin C rich product.  Revision Skincare Vitamin C Lotion 30 % features a formula with one of the highest concentrations of Vitamin C available. It's packaged in black pump bottle to keep light and air out and prevent oxidation, thereby keeping the Vitamin C at its most potent level.  Dr. Anna Paré, a board-certified dermatologist and President of Dermatology Consultants in Atlanta, GA, shares her expertise on why we should be using Vitamin C in our beauty regimen and what makes the Revision Skincare Vitamin C Lotion 30% so effective.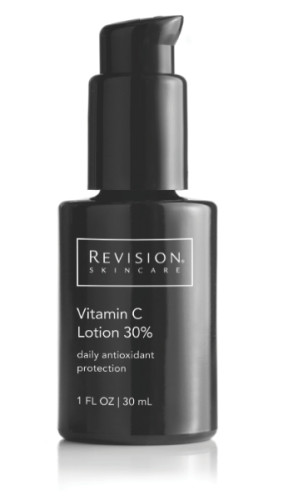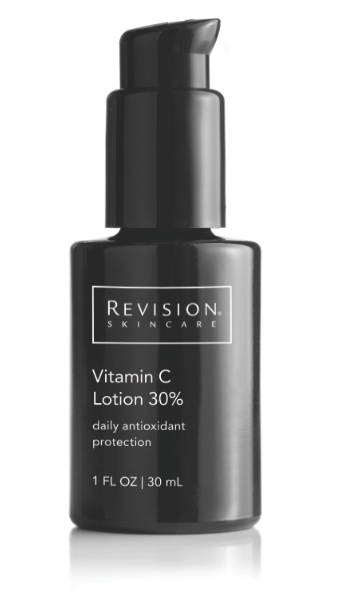 Q: What are the benefits of using products formulated with Vitamin C on your skin?
A: Anti-oxidants have many benefits for the skin. Studies now show it is just as important to have a daily anti-oxidant alongside a great UVA and UVB sun protection regimen. It is shown to act as an anti-inflammatory, reducing redness by strengthening weakened capillary walls. Vitamin C also lightens and brightens by suppressing excessive melanin production, providing a more even tone to the skin. One exciting benefit that Vitamin C has over other anti-oxidants is the stimulation of collagen production. Restoring collagen loss is important as we age – patients in my practice ask me daily for solutions to treat pre-mature aging.
Q: Why do you recommend Revision Skincare's Vitamin C Lotion 30% to your patients?
A: Unlike many of the other Vitamin C product's available in the skincare market, Revision Skincare Vitamin C Lotion 30% is well tolerated by our patients. Many serums require opening the bottle to use the product, exposing the Vitamin C, which results in premature oxidation and causes the product to be less effective. I recommend the Vitamin C Lotion 30% to patients in search of anti-aging benefits.
Q: What are the differences between THD Ascorbate and L-Ascorbic Acid? Why does it matter that Revision Skincare uses THD Ascorbate in their products?
A: Unlike L-ascorbic acid, THD Ascorbate will not irritate or cause the skin to exfoliate. THD is more potent with a higher penetration rate. L-Ascorbic Acid loses its stability when exposed to light, heat and air causing early degradation and premature oxidization. THD Ascorbate is stable in air and water and is lipid soluble, making it easier for the product to penetrate deep into the dermis layer to maximize the benefits of the product. It does not have a low PH because its lipid based, therefore it eliminates the irritation that is common with other vitamin C products.
I don't know about you but I want all the benefits of Vitamin C and I'm not talking about what I can get from oranges. Revision Skincare Vitamin C Lotion 30% is currently only available through dermatologists, plastic surgeons and medical spas. If you would like to try it, please visit revisionskincare.com to find a location near you.
—
This post was written by Christene Carr. Find her on Twitter, Instagram, Tumblr, Pinterest and her personal blog.