Now that the holidays are in full swing, and we are running around buying gifts, mailing out cards, attending luncheons/dinners/parties galore, but what we are not doing is stopping to change our makeup.  Nope.  Do not have the time – busy, busy, busy.  But how can you possibly run from a day at the office to a swanky cocktail gathering with just your pleasant but rather mundane makeup look?  You simply cannot!  A change is needed but often that change is simpler than you think.  A quick dash of liner or a daring lip can help give your look the boost needed to transition from day to night seamlessly.
Often using just one product, such as a palette that contains both eye and lip colors can be a great solution to the day to night conundrum we often face, especially during the holidays.  This Guerlain Liu Eye and Lip Calligraphy Palette is a perfect example of one that is a must have for your makeup collection.  Complete with 4 neutral eye shades and 2 bold lip colors, you will need less than 5 minutes with this palette to transform your look for any occasion.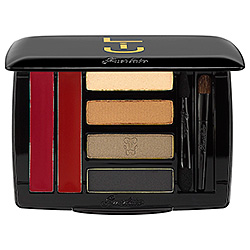 Here is a simple day look that is reminiscent of what I look like during any given work week.   Using shade 1 and 3 together on the eye, and lining with shade 4, creates a subtle and appropriate work look.  Finish it off with a neutral cheek, like Legendary from MAC and a subtle lip such as Pure Zen from MAC, and the look is done.
To transition this look to evening using the same palette, I would choose to either amp up my eyes by darkening with shade 4 in the outer corner and on the lower lash line, or my lips by choosing one of the two bold colors in the palette.  These same principles can be applied to any makeup that you might have at home – with the idea of intensifying either the eye with a liner or dark shadow, or the lip with a bolder more rich hue to make any day look suitable for evening.  Below are the finished looks using both principles – a bold eye or bold lip.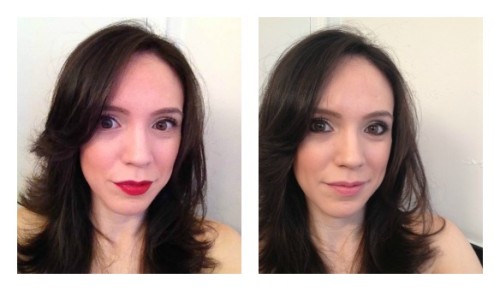 Personally, I love them both and if the event was really a soiree, I might even be so bold as to wear both together!  To find the Guerlain palette which retails for $79, visit your nearest Sephora or Sephora.com.