Cleansing is my favorite part of my skincare routine. There is something about removing all the dirt, oil and makeup from my face that is so liberating and I feel refreshed instantly. Typically I use my hand when applying and removing cleansers, but after I was introduced to a few different tools to help make the process easier,  I was hooked. Even though there are tons of devices out there to help you cleanse your skin better, the two I enjoy the most and find the least abrasive to my skin are muslin cloths and konjac sponges. Both are more mild than a cleansing brush, and can offer a slight exfoliation without irritating the skin or stripping it.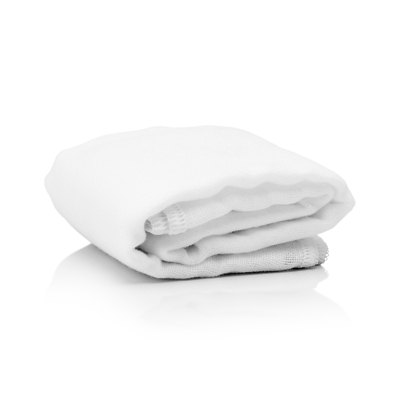 Muslin is a soft, tightly woven light fabric usually made from cotton. It is stiffer than a typically cotton cloth and thinner than a traditional terrycloth towel, but absolutely fantastic at cleansing the face. I find that muslin cloths work really well when paired with cleansing balms, but in a pinch can be effective with just about any cleanser. I like to apply my cleansers with dry hands to a dry face, massage it around to remove my makeup, place the muslin cloth under warm water and hold it against my face for a few seconds. This really helps to warm up the cleanser on the face, emulsify it and make it easier to remove using gentle circular motions around the entire face. The water softens the cloth so it's easy to work with, but the stiff fibers really help to give a light exfoliation which always takes my normal cleanser results to the next level. Many brands offer muslin cloths with their cleansers, such as Liz Earle and Eve Lom and they also offer then separately as well, so, you don't have to keep reusing the same one forever. I find that my muslin cloths can last me a few weeks if I use them 1-3x/week, but once they begin to look too ragged then I know it's time to toss them. A set of 3 is available at Sephora and retails for $22.
Konjac Sponge
Besides the muslin cloth, I enjoy using Konjac Sponges as a way to remove my cleanser and give a light exfoliation. Konjac sponges are made from the root of the Konjac plant. It feels like a rock to the touch, but as soon as you add water it become spongey and soft. I find that because the sponge is oval in shape, it does a great job at getting to more targeted areas of the face where I have larger pores. I am able to spend a few extra seconds there massaging the sponge over my skin to help break up any congestion. Though the sponge can create a slight lather, I don't use it in place of my cleanser but rather as a complement. There are many different options to try, but I prefer the Boscia Konjac Sponge ($15) or the one from Dr. Sponge.
Both the muslin cloth and the konjac sponge are great options to add to any skincare routine to enhance the cleansing experience. They add slight exfoliating properties – the muslin cloth is my favorite to use with thicker balms, while the konjac sponge is easy for me to use with gels and milks. The muslin cloth tends to give me an overall exfoliation and helps with any texture issues I may be having, while the konjac sponge is smaller and easier to use when I want to target areas with clogged pores or congested skin. Either would be suitable for all skin types, though I would recommend doing a patch test if you have extremely sensitive skin.
Have you tried a muslin cloth or konjac sponge? Which do you prefer?