I'm often asked lots of questions about my naturally curly hair:
"How do you go from curly to straight?
How do you keep your hair so sleek?
How do you prevent heat damage?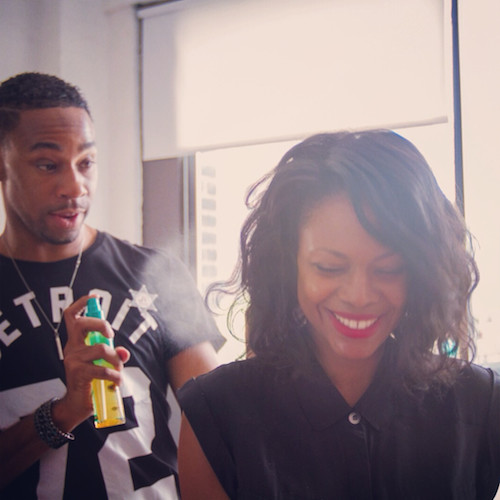 And the truth is — there's no one magic thing that I do to keep my hair healthy and amazing. It's actually a collective effort of many things:
1)     Regularly using the right hair care products for my hair type
2)     Minimizing the amount of heat styling
3)     Caring for my hair in a way that encourages health and growth
So you see, there's no ONE thing. But, since most of my readers are looking for advice on the first steps to happy, healthy hair, I'd say – start with good products with good ingredients. And while I love luxe as much as the next girl, I've come to realize that high quality hair care need not carry a luxe price tag.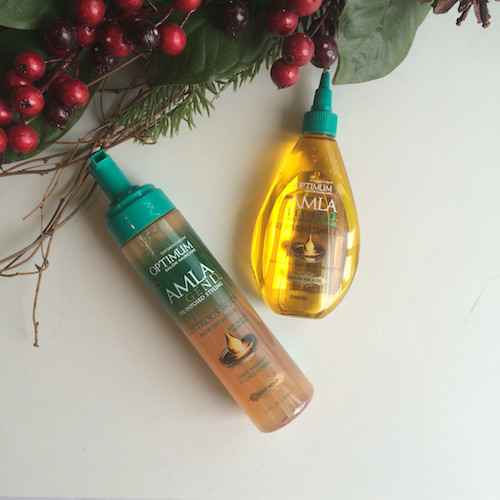 Everyone's talking oils these days…and for good reason. Oils multi-task a myriad of skincare needs from head to toe. An Oil that I'm particularly into is Amla Oil, a natural hair conditioner that visibly (and immediately) revives and rejuvenates hair upon application. First discovered by Indian women thousands of years ago, Amla Oil is touted as the key to unstoppable length, enviable fullness and super glossy shine. Rich in vitamin C, proteins, minerals and anti-oxidants, the super fruit Amla Oil is hugely beneficial to not just hair, but scalp health as well.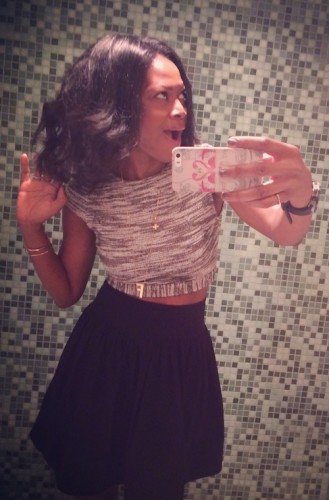 Think you have to travel to India to experience the wonders of Amla Oil? Think again! Optimum Amla Legend Rejuvenating Oil brings the power of Amla Oil to your boudoir…or wherever you do your hair (I admit to washing in the kitchen sink sometimes…eek!). Optimum Amla Legend Rejuvenating Oil is my daily go to for treating, protecting and styling. If I'm doing my hair, I'm using Optimum Amla Legend Rejuvenating Oil. Shampooing my hair? I add a few drops as a pre-poo. Blow-drying my hair? I add a few drops to damp hair as a nourishing drink of moisture. Flat ironing my hair? I apply a few drops as a heat-protectant. Styling my hair? I rub in a few drops for added shine. Prepping for bedtime? You guessed it!…I apply a couple of drops and reach for my super sexy (not sexy at all) satin bonnet.
Optimum Amla Legend Rejuvenating Oil is formulated specifically to address the concerns of dry and damaged hair…. which makes it perfect for winter (when EVERYTHING is in need of more moisture). I'm no oil newbie. I've tried them all – For hair care, Optimum Amla Legend Rejuvenating Oil definitely outperforms other popular oil extracts like Olive Oil or Argan Oil. Its do-it-all abilities (pre-shampoo, deep conditioner, finishing treatment, scalp treatment, shine booster) make it the clear winner in my book.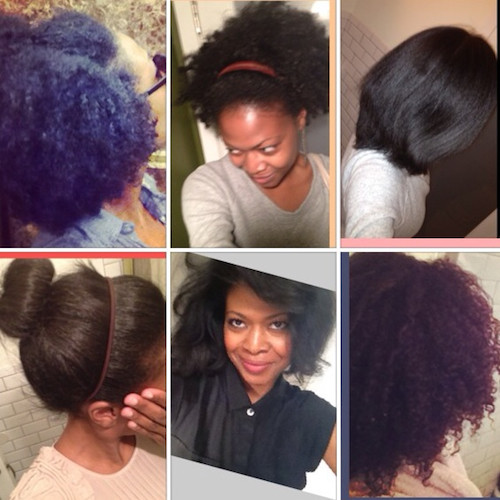 And as you can see from my pictures (I've been using Optimum Amla Legend Rejuvenating Oil daily all year) my hair is able to go from curly to straight and back to curly again, without missing a beat. So as for the Amla Oil hype, I say – believe it!
Want to see my shoulder length hair transform into an amazing Faux Bob? — THIS VIDEO TUTORIAL IS FOR YOU
Want to learn more about Optimum Amla Legend ? — www.optimumsalonhaircare.com
Also, follow @Optimum_Care on Instagram for a surprise giveaway happening soon (very soon) !!